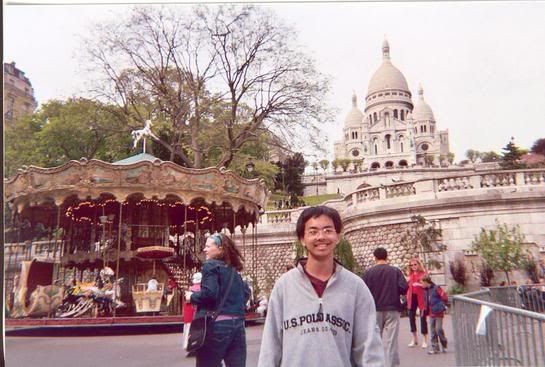 What can I say that hasn't been said about Paris? The City of Lights and Rome intimidated me because the sheer number of monuments they had. If I tried to see everything Paris had, I'd never leave. But that's not such a bad thing.
My first night in town I met Hillary from Virginia. Sadly, that old backpacker pattern repeated itself: she was really cool but she was leaving tomorrow. Hillary wanted my visit to Paris to start with a blast, so we went to the Eiffel Tower. I swallowed my fear of heights and bought a ticket to the top. The payoff was incredible. We got to see firsthand how Paris got its nickname. It looked like the stars took a vacation on planet Earth. Below the summit there was an observation deck. Panels under the windows wrapped around the deck. They showed daytime photos of Paris from the Eiffel Tower with the major buildings labelled.
I spent the first day walking on the Champs Elysees. Coming from the Arc de Triomphe, the left street seemed to have all the action. Restaurants capitalized on the famous curb appeal with sidewalk tables. I liked this place; but I liked Las Ramblas in Barcelona better. There, the street seemed wild and brimming with energy. The Champs Elysees was packed with tourists sitting at cafes, thinking of how classy they were for just being there. I was sure the true hipsters were somewhere else. I probably set my expectations too high. The Champs Elysees shouldn't have a McDonald's and restaurants shouldn't have waiters serving bottles of Coca Cola. There's no escaping America sometimes.
I'm not a big fashion person, but I was interested in seeing how French women dressed in the style capital of the world. Would they all look like supermodels ready for the runway? I kept my eyes open on the Champs Elysees. I divided the girls into three groups: the leisure class, teenagers, and the career women. The leisure class were the classic model-types you see in fashion ads. Tight shirts, tight pants, high heels, purses that wouldn't hold a pack of matches, and sunglasses pushed up on their foreheads. Teenagers tended toward denim jackets and jeans. No hip-hop touches. The career women wore black dresses and overcoats with either a black or beige color. The dresses were for the office, but their purses and shoes were where they showed their style.
The Louvre was as massive as I've kept hearing. The Mona Lisa was not as impressive as I thought and really crowded. Heard those too and they were true. For me, the highlight was the halls for French large-format paintings. Literally wall-to-wall art. Some paintings were two stories tall. Battle scenes, portraits, biblical and mythological events, it was art heaven. I took the Metro to the Louvre because it stopped there. Better than that, as you get off the metro there's a direct entrance into the Louvre. No waiting outside at I.M. Pei's glass pyramid. There were ticket lines inside, but they were short.
Getting to Versailles was more complicated than I thought. I'm pretty good with subways. But longer-distance trains worry me because if you make a mistake, you're far away from the next station. Versailles was outside Paris so I had to take one. I got to a platform and didn't see a sign. I asked the Indian guy at the door if this train went to Versailles. He answered, but the train noise muffled his voice. I got into the train to hear him better.
"What did you say?" I asked.
"I said, this is the wrong train."
That's when the doors closed behind me.
Oh my God I'm so screwed I'm an idiot damn French trains I can't talk to anyone I want my English back! Then I calmed down. I asked the Indian guy what to do. He said I should get off at the next station and figure things out. I did so, and took out my train map as I walked away from the train. Okay, I got on at Invalides. This is . . . I looked up . . . Pont de l'Alma. I traced the route from Invalides to Pont de l'Alma. If I had stayed on this train I would have ended up at . . . Chateau de Versailles. What?! I was on the right train! The warning bells went off to signal my train was leaving. I spun around and ran back to the train full speed. I dove through the doors as they closed.
Versailles was even bigger than the Louvre. Inside, there were two areas to see: the King's chamber with personal apartments; and the State Apartments. The Personal Apartments were alright. They looked old but bare. Not where I expected the Sun King to live. The State Apartments rocked! I think there were used for public ceremonies, so that's why they were so grand. Sculpted marble, crystal chandeliers, colorful tapestries hanging down the walls, Louis XIV knew the meaning of pomp and circumstance. Next up were the gardens. They went on forever and ever. The gardens were the size of football fields. I should have taken another day just for the gardens. Each garden was a park in itself, some designed with a Greek myth in mind.
French food was an attraction in itself. My new favorite snack is crepes. They're thin pancakes wrapped around a filling of your choice. I usually got chocolate filling and bananas or ham and cheese. I wished I had eaten more baguette sandwiches to taste France's great bread and cheeses. I remember reading a quote by a French leader saying, "No country with 400 kinds of cheese can ever be united."
Now that I'm through with the glamorous stuff, I think this e-mail needs a dose of reality. There's something I want to talk about that I call The Walk of Shame. I've had to do it in Barcelona and Paris. My problem is pants. I only brought one pair of pants, the one I'm wearing. When I was packing clothes, I ran into an obstacle. I stubbornly refused to buy a backpack that was bigger than me, so my backpack couldn't hold all the clothes I wanted to bring. I ended up bringing half of what I intended. There was a lot of me throwing clothes back onto the bed and muttered curses. The choice was to either bring a third shirt or a second pair of pants. I chose the third shirt because shirts get stinky faster. It was either go to one place and change clothes everyday, or go lots of places and not change clothes everyday. I was not going to give up socks and underwear to make way for another pair of pants. I was willing to sacrifice some hygiene to go to more places, but not changing underwear everyday was where I drew the line. One pair of pants it was.
It wasn't until I had to do laundry in Barcelona that I had to do The Walk of Shame. I needed to wash my pants; but what was I supposed to wear in the meantime? Cut to me crashing through the backstreets of Barcelona in my pajamas and Surfah Hawaii slippers (flip-flops to you mainlanders), holding a garbage bag of laundry in one hand and a map in another. If I slung the bag over one shoulder, I could look like a homeless bum too. People gave me weird looks. I would have said "Estudiante" but I was too ashamed to look anyone in the face. I assumed all hostels would have laundry facilities. I've since grown wiser. And when I finally found the lavanderia, all the instructions were in Spanish. "Fun" has become my euphemism for "This is going to be unbelievably frustrating." So I think doing laundry in foreign countries is fun.
In Paris, I had a problem because the washers and dryers didn't have coin slots. Where do I put in the euros? A nice African man showed me through hand gestures what to do. All the machines, including the detergent-vender, were connected to one machine, "Centrale de Paiment." Punch in the number of the machine you're using into the payment machine, put in the amount of money it asks, and your machine starts the cycle. I thanked him and offered him some donuts I'd bought to make change. They were chocolate-covered, waffle-shaped, and delicious. He smiled, but shook his head No and pointed to a back tooth. Cavities. Ouch.
I've seen people bring traditional luggage and too much stuff. They've all regretted it. Hostels are never on the first floor (floor zero in Europe) and the streets are not the smooth pavement we're used to in the states. Luggage on wheels don't handle cobblestone well. Because people pack so much, they have a hard time fitting in the souvenirs they accumulate. Better to start with the absolute minimum and buy as you go. It's tough to throw away stuff you brought but aren't using. I didn't realize backpacking would lead to such a Zen epiphany: that giving up your possessions will set you free.