The Charles Bridge in Prague with my American housemates in England: me, Dan, Ben, and Scott
Sorry this e-mail is so delayed. The keyboard at my hostel has Czech and English characters, so if any weiød symbols pop up, I apologize in advance. After a couple of fruitless attempts to learn it on my own, I had the girl at the front desk give me a little tutorial. But I still haven´t mastered it yet.
Prague wasn't originally on my list of destinations. But every backpacker I met recommended it to me: beautiful architecture, weak currency, and some of the best beers in the world on tap.
I'm really glad I started in London first. I would never have the confidence to come in cold and figure everything out. I don't speak Czech, so I'm forced to communicate solely through hand gestures and facial expressions. Good thing I took an acting class last semester. I did this a lot when I first got in, because I had to ask for directions every minute. The Czech people have been nice so far, and a little ashamed they couldn't have helped me more. I try to smile big in a way that says "Don't worry, I feel just as bad as you do that I can't speak the language."
The biggest difference between this hostel (Apple Hostel) and the one in London is the people. In London, most of the people were there to look for work, so socializing was at a minimum. Here, everyone is travelling to take advantage of Czech korunas (crowns) before the country goes on the euro. It's startling how cheap everything is. Girls have told me they're doing their big fashion shopping here, because you can buy designer labels at Wal-Mart prices. The guys are all about the high-quality cheap beer. The official beer of the Czech Republic is Pilsner Urquell. An interesting choice would be Budvar, the original Budweiser that was founded in the Czech Republic.
With its winding cobblestone streets and imposing buildings, it's easy to get lost in Prague, and I highly recommend the experience. Just when I think I've seen it all, I'll stumble into a little park with a statue that I missed the first couple times I've walked by. Prague's monuments are not as famous as those in Paris, but I think they're magnificent. And I still haven't seen them all.
Czech National Opera House
Old Town Square
The Charles Bridge is the big tourist attraction. There's scores of street artists offering to draw portraits and caricatures in under 20 minutes. When I looked closer at their easels, I noticed every artist has a blue laminated permit with their photo. I wonder if the government requires them to prove their talent before exposing them to tourists. Statues line both sides of the bridge, depicting religious scenes. There's one statue of Jan Hus that's special. He was the Queen's minister and confidant. The King suspected him or having an affair with his Queen. Hus was loyal to the Queen and did not confess, so the King had him thrown off the bridge. At the base of his statue, there's a rendering of his depontification (being thrown off a bridge). Supposedly, a halo of five stars appeared at the moment he touched the water. I've heard different superstitions about the statue. One says that if you touch all five stars on his halo and make a wish, it will come true. Another says that if you touch his likeness in the depontification scene, you're guaranteed to come back to Prague.
I got lost on my way to Prague Castle and found something equally cool instead: the Ledebour Gardens. It's a maze of gardens and stairways set against a hill below Prague Castle. The stairs go in circles and hit dead ends, but the fun is wandering all over the colorful structures.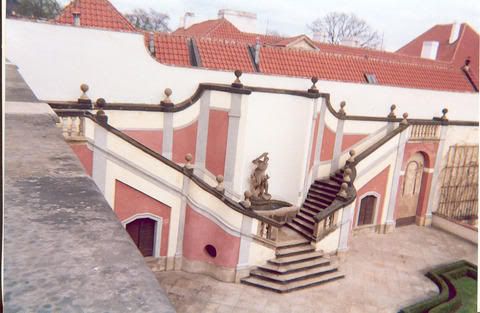 I'd look at a place I'd want to go, get on a stairway, but end up somewhere else in the gardens. It¨s wonderfully devoid of tourists. I only saw other backpackers there. There's scores of benches to sit on and admire the city's skyline.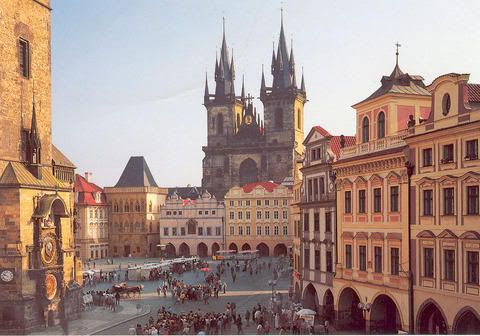 I think the most frustrating thing about travelling alone is that I'm confronted with my own ignorance over and over again. I don't speak the language, don't know my way around, don't know anyone, etc. I have to take this foreign alien place and somehow make it home for the next couple days. If I was with another American, we'd both be clueless and I wouldn't feel as guilty. There would also be someone to back me up if things went wrong. Alone, I completely have to rely on the kindness of the locals. My three-letter solution to everything is to ASK. In independent travelling, I'm learning that jerks don't last and only the humble survive. I constantly have to surrender my ego to get through the day.
The social life of backpacking is really fast-paced at times. When I meet a girl I like, I have to ask her out that second because I'll never see her again. I'm the nice guy that usually takes forever to ask a girl out. Now, I go for it by the end of the first conversation. When I got to Prague airport, I struck up a conversation with a Korean girl from Arizona. By the end of our chat, I asked her if she wanted to split a cab into town. She accepted, and we ate dinner at her hotel. We walked around the city that night, and I never saw her again. I became friends with an Australian girl the day she moved into my room. We went out to a beer hall for some pints within hours after meeting and had a lot of fun. She had to check out the next morning because my hostel was all booked up. On my last day, I met the most awesome French girl. She had a natural elegance that was radiant. I'm wondering if this trip will have a lot of revolving-door relationships?

Selene