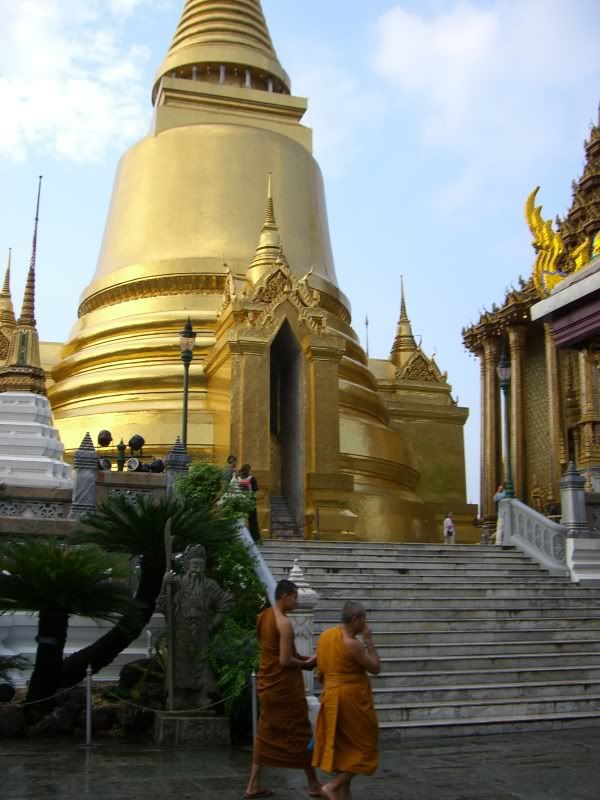 Monks strolling past a golden stupa in the Grand Palace complex. Click on the picture to view the photo album.
The first thing I noticed was that traffic in Bangkok was a nightmare. Endless cars lined the streets and moved at a snail's pace. Public transportation was inconvenient as well. Although there was a metro and the Skytrain, they still didn't go to all the important parts of the city.
My flight was pretty cheap, about US$200, but the downside is that I arrived at 10:30 p.m. The airport bus I was supposed to take to my hostel had stopped running by then, so I had to take a different one. I got off at what I thought was my stop, then realized I had made a mistake and was lost. I hailed a taxi and got in.
I started to give the driver directions in Chinese before it hit me: Thailand was the first non-Chinese place I'd visited in a long time. Since leaving China, I'd been to Singapore and Taiwan, which still have huge Chinese influences. I resorted to hand motions and the driver understood. I was surprised at how calm I was, despite being lost in a foreign country. Dealing with unexpected problems is part of travel, so I wasn't bothered anymore.
I stayed at
HI Sukhumvit
, a part of the Hostelling International association. I usually prefer to stay at independent hostels because they have more character. HI hostels are good in the sense that they're as dependable as McDonald's; most HI hostels are pretty clean and standard. The hostel was in Sukhumvit, a relatively upper-class neighborhood. I'd been warned to avoid staying at Khao San Road, the main venue for backpackers. I'd heard it was a chaotic circus there. While the hostel was very nice, I think I'll try to find somewhere more central, like Siam Square, the next time I visit Bangkok.
Like I mentioned before, traffic is terrible. The best way to see the main sights, like Wat Pho and the Grand Palace, is to go there by boat taxi. Take the
Skytrain
to Saphan Taksin station, then walk to the pier and take a boat taxi.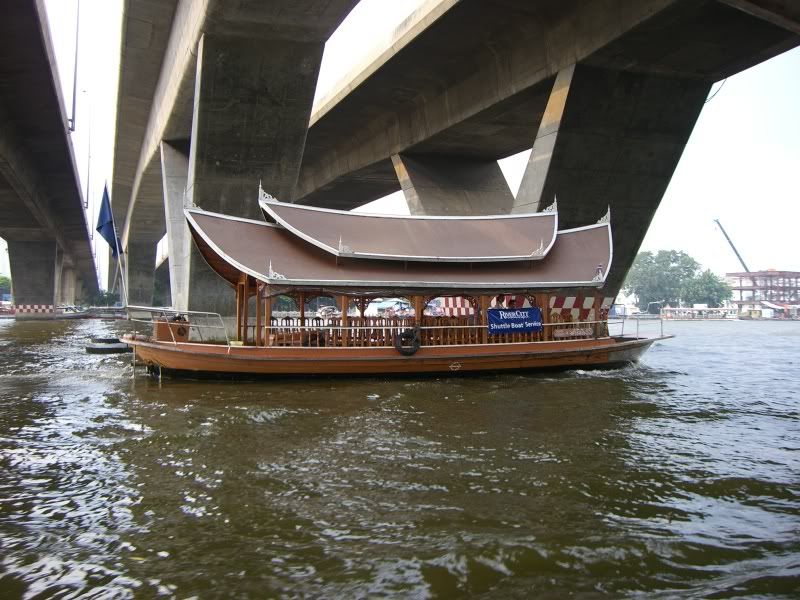 Don't go to the main ticket booth. They only sell all-day boat passes, which you don't need. Instead, buy single-journey tickets from the woman at the little wooden table next to the official-looking ticket booth. A ticket costs 13 baht (USD$0.41)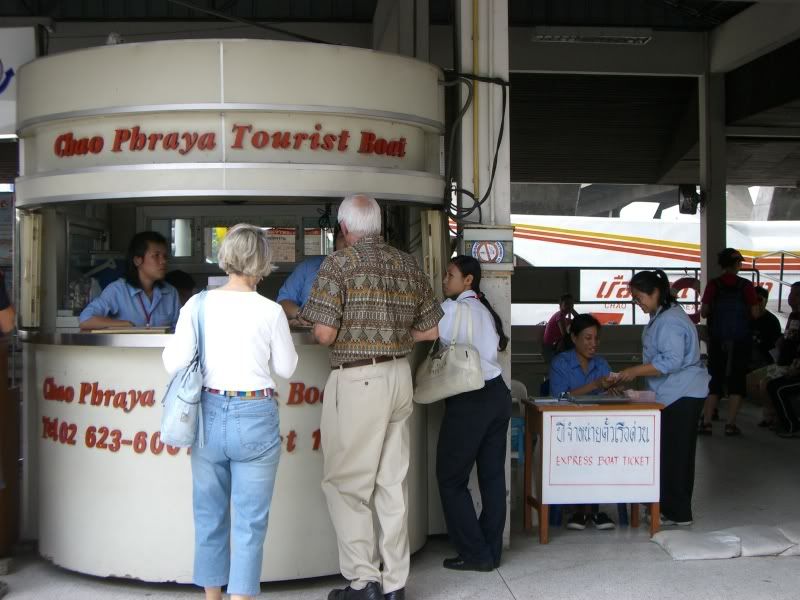 Despite being a big city, I found Bangkok people to be much more relaxed and laidback. People in Shanghai seemed much more driven and charging forward, always on the lookout for a better job, the next opportunity.
Thai food took some getting used to, as it's much more spicy and flavorful than Chinese food. Thai cooks like to put in exotic spices that aren't as widely used in China. Food is usually eaten with a spoon and fork, no knife, which reminded me of the Philippines, where it's the same. It must be a Southeast Asian thing.
Coming from the West, I'm used to people criticizing their leaders. Thai people are different in that they truly love their king, even wearing special yellow t-shirts on designated days. You'd never get Americans to wear presidential t-shirts without enormous protest.
I'm used to Chinese temples by now, so it was cool to see Thai architecture, which is radically different. Much more flamboyant, colorful and flashy. Lots of bright colors and interwoven gold. I imagined what the first Westerners to visit Thailand must have thourght. They must have believed they had stumbled into another world.
To see how the other half lives, I went to Khao San Road, the backpackers' mecca. It was as much of a freak show as I'd been told, a riot of guesthouses, restaurants, travel agencies and other businesses devoted to backpackers. I saw more Westerners and heard more European langauges there than anywhere I've been in Asia. Khao San was like a massive international flea market. I got to see the fake college degrees Khao San is notorious for.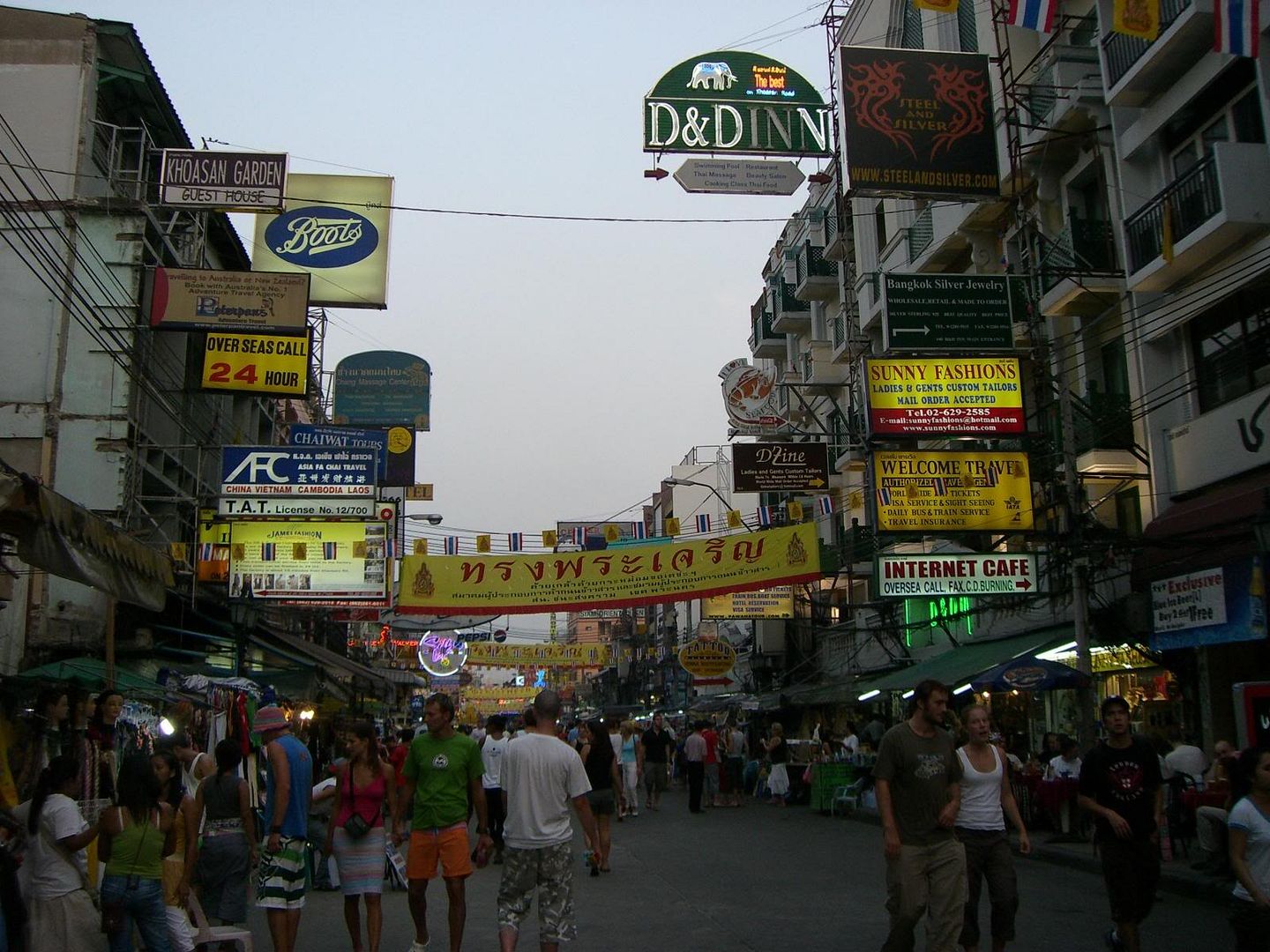 One of the coolest things that happened to me in Bangkok was when I was at a skytrain station near MBK, a huge shopping center. I heard some hip-hop music playing, so I followed my ears to the source. I stumbled onto a Thai breakdancing crew!
Although they didn't speak English, I was able to use body language to ask if I could take photos and videos of them. They cheerfully agreed. Click on the picture to see the video.
Thailand was so different from my previous experience that I actually felt homesick for China. I went over to Chinatown. The tacky electric signs and dirty streets seemed familiar. I went into a dim sum shop and ordered my dinner using Mandarin. The waitress handed me a fork and spoon, the usual Thai utensils, but I used chopsticks instead. Eating Chinese food, using chopsticks, speaking Mandarin, I finally felt at home.
A tuk-tuk, Thailand's alternative to taxis.
Inside Information
Getting into town
By bus: If you're arriving at Suvarnabhumi airport, here are the main
airport bus routes
. Here's the basic overview.
AE1: Silom
AE2: Khao San Road
AE3: Sukhumvit
AE4: Hualamphong Railway Station and MBK Mall
Where to stay
Khao San Road
is the backpackers' ghetto. The best deals are for places that are around or nearby, not on Khao San itself. One place that gets consistent good reviews from backpackers is
Bella Bella House
.
A worthy alternative to Khao San Road is
Soi Kasem San 1
, near MBK mall and BTS Skytrain National Stadium. It has a fantastic location in the city center with the best budget guesthouses in the area. Siam Square and the major shopping centers are only one stop away by Skytrain.
The
A-One Inn
is my favorite place to stay in Bangkok. Comfortable, clean, and has a good Internet cafe. The private bathrooms are tiny, but they have the best high-pressure showers! The
White Lodge
is my backup choice. Quite social in the evenings, when guests sit at the outside tables to chat.
Another place I like is
Take a Nap
. It's a budget hotel and hostel in Silom, a major business area. Close to BTS Sala Daeng and the notorious Patpong red-light district. One of the nicest hostels I've seen in Southeast Asia. Very colorful and full of personality. The dorm rooms have regular beds, not bunk beds! Dorm rooms have their own bathroom and shower. There's even an elevator, although it's the smallest I've ever seen.
For people who can't help being hip, here are two "designer hostels":
Lub D
and
HQ Hostel
. If you need a hostel near Suvarnabhumi airport, check out
Refill Now
.
You can read a detailed overview with this Travelfish article, "
What is a good guesthouse in Bangkok
?
"
Getting around
The
Skytrain and Metro lines
go to all the business areas. Great, if you weren't planning on seeing the sights!
The best way to get to the sights in Banglamphu, in the western part of Bangkok, is to go by
Chao Praya Express Boat
. "Boat buses" frequently leave from the Central Pier. Take the Skytrain to Saphan Taksin station.
Don't
buy an all-day ticket from the official-looking ticket booth. Buy a single-journey ticket from the woman at the little wooden table.
For Wat Pho, get off at "N8 Tha Thien." For the Grand Palace, get off at "N9 Tha Chang." Khao San Road is close to "N13 Phra Arthit."
Need to get to Khao San Road from the city center? Hop on a
Khlong Saen Saep Express Boat
. For photos and details, check out the
Thai Mass Transport Systems blog
. Long boats run along the
khlong
(canal) through east to west parts of the city.
Go to BTS Skytrain National Stadium. Go to "Hua Chang Bridge" canal stop. Take the boat to the end of the line at "Tha Phanfa" stop. Walk toward the Democracy Monument on Ratchadamnoen Klang and keep walking past it. Turn right on to Tanao Road. Turn left at the Burger King and cross Tanao Road to enter Khao San Road.
Where to party
Khao San Road is the classic hangout for foreigners. Lots of restaurants for international foods, bars all over the place, and there are vendors for everything you might need (legal and otherwise).
Bed Supperclub
is the most famous nightspot in Bangkok. Mingle with the jetset fashionable crowd there.
My favorite place to go is
Royal City Avenue
. It's a street filled with cool clubs, bars, and hangouts. Young Thais like university students go there for a night on the town. Best way to get there is by taxi. Just tell the taxi driver, "RCA."
The clubs play a wide range of music and the bars cater to different crowds. There's even an art-house cinema,
House RCA
. So you'll probably find a joint that suits your style.
Killer combination of designer venues, young upbeat crowd, and a lack of foreigners. Go there soon before the tourists discover it.
Getting visas for Southeast Asia
As a hub for travel in the region, Bangkok is a popular place to get visas. At the time of writing, you could get a visa on arrival for Laos and Cambodia, so it's not necessary to apply for visas in advance. Vietnam is the exception.
Vietnam Embassy in Bangkok
83/1 Wireless Road
Lumpini, Pathumwan
Bangkok 10330, Thailand
Phone: (662) 267 9602
Consular: 251 5837/ 115 / 116
For additional info, see this
Travelhappy article
.
Directions (from Travelhappy):
"Get a taxi or Skytrain to Wireless Road (Soi Wittayu) in the centre of Bangkok. On the Skytrain you get off at the Phloen Chit stop.
Walk out through the elevated skywalk and then down the stairs onto Wireless Road going towards All Seasons Place, which is a huge mall and office block. (There is a big map on a board in the BTS station - check it before you go out through the exits to ensure you know where you're going)."
Getting a Myanmar visa
Myanmar
(a.k.a. Burma) is one of the most exotic and fascinating destinations in Southeast Asia. Click here for an amazing photo essay,
The Spirit of Burma
. Although it suffers from a brutal military regime, international isolation, and extreme poverty, it is a magical place.
Air Asia
has daily flights from Bangkok to Yangon. But you have to apply for a visa in advance.
Myanmar Embassy in Bangkok
132 Sathorn Nua Road
Bangkok 10500 Thailand
Phone: (662) 233-2237, 234-4698, 233-7250, 234-0320, 637-9406
For addtional info, see this
Travelhappy article
.
Directions (from Travelhappy):
"It is very near to Surasak BTS Skytrain station. From Surasak station, go to Exit 3. Walk down onto street level and then turn right when you get to the bottom of the stairs so that you are walking along the pavement underneath the Skytrain station. You will pass the Skytrain's escalator entrance. If you don't, you are walking the wrong way down Sathorn Road!
Continue walking up the busy Sathorn Road for about 200 metres. You will arrive at a forbidding grey looking wall with big spikes on top at the corner of Sathorn Road and Thanon Pan. This is the Myanmar Embassy. Walk a few metres down the side road Thanon Pan and you will find the entrance to the Myanmar Embassy's Visa section. It is a unmarked steel door with no handle."