At the top of Borobodur, the world's biggest Buddhist stupa.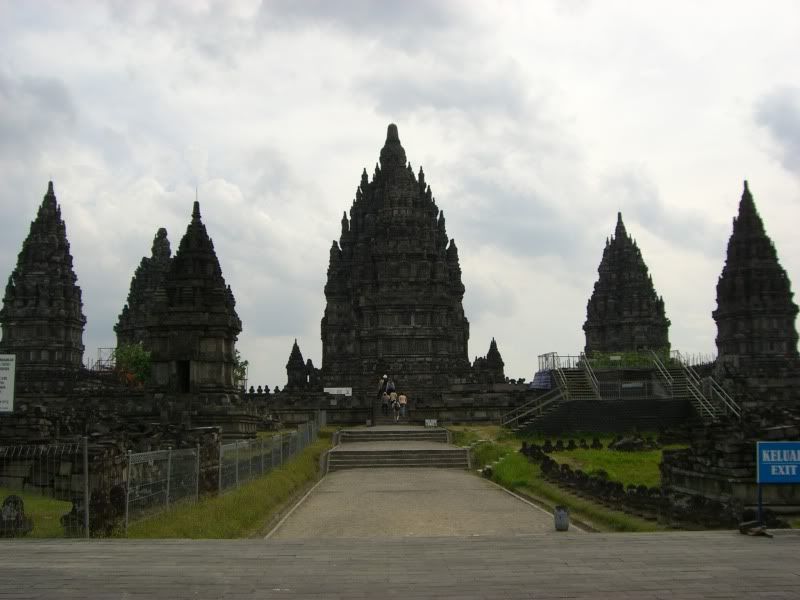 Prambanan Temples (Hindu).
"Each island in Indonesia is like a different country."
--Keetie, a Dutch traveler in Myanmar (Burma)
The hard part about traveling in Indonesia is figuring out where to go. There are over 17,000 islands and endless variety. Many cultures on these islands evolved in isolation from each other, with their own distinct languages, customs, and religions. Its strategic location as a trading post also brought in a host of influences from its major merchant partners, such as China, India, and countries in the Middle East.
Indonesia is the epitome of diversity. At the western end you have Aceh, which is governed by
shariah
law, strict fundamentalist Muslim principles. Down east there's Bali, one of Southeast Asia's premier cultural and partying hot spots.
I decided on seeing temples, and focused on going to Yogyakarta (pronounced "Jogjakarta" or "Jogja" for short). It had the final 2 spots on my temple hit list: Borobodur and Prambanan. For some reason, I felt compelled to see all the great temples of Southeast Asia. Angkor Wat alone wasn't enough.
My first impression of Indonesia was that it was very poor, like the Philippines, but the people were very cheerful and gregarious, also like the Philippines. The main difference is the Philippines is Catholic, due to its history as a Spanish colony.
After seeing so many countries in Southeast Asia, I can see which ones are more similar to each other. Thailand, Laos, and Cambodia have much in common. Vietnam is closer to mainland China in spirit. Malaysia and Singapore share a lot of heritage. Myanmar (Burma) feels utterly unique.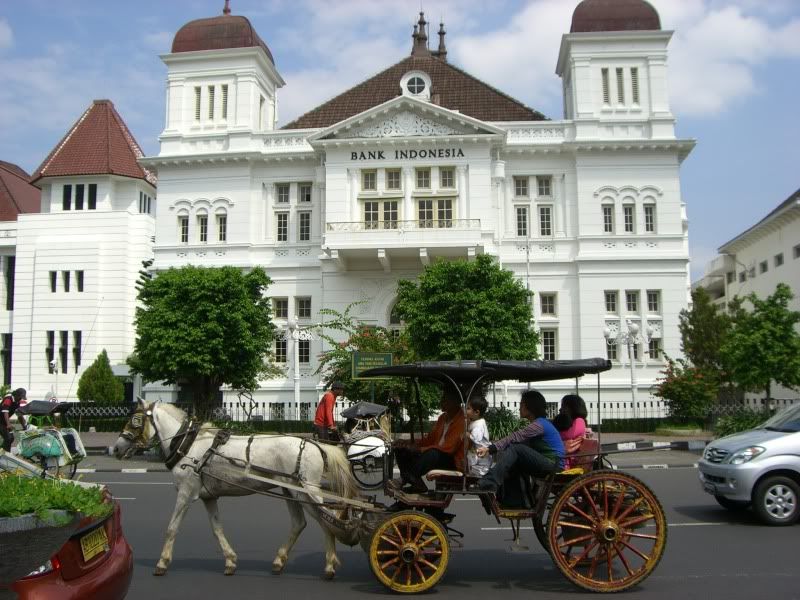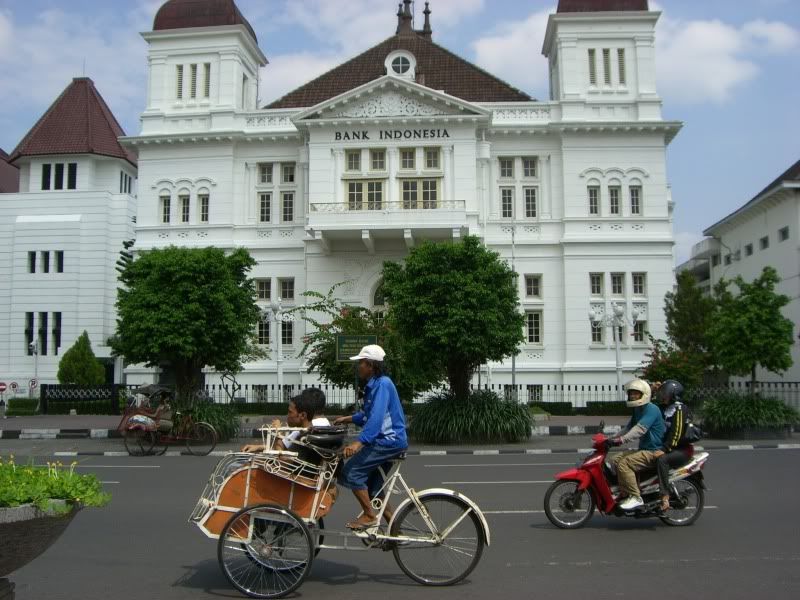 Downtown Yogyakarta, the nicest part of town.
Yogyakarta reminded me of Myanmar in one sense: it's a tourist destination without tourists. There are guesthouses, restaurants, and tour companies, but not a lot of travelers. Maybe it's because I went in the low season, but I can't imagine Borobudur being as big a draw as Angkor Wat is.
I was lucky to befriend two cool young Canadians, Peter and Jacqueline. They had traveled all over Indonesia, and were happy to share their tips. I imagine this was how information was shared on the road, before the Internet. You had to meet people coming back from where you're going, and ask them what's up.
Peter and Jacqueline at Superman Restaurant.
Now that I've done the full circuit of temples in Southeast Asia, I can comment on them better.
Bagan
in Myanmar is easily my favorite, as it's the most isolated and the main temples are quite different from each other. The barren landscape made it feel like a lost city. It was the first major temple complex I'd seen in Southeast Asia, so it had a greater impact. I'd also risked my health (and my heart!) to get there.
Sukhothai
in Thailand was good, and my photos came out really well. It seemed the most professionally-managed too. Almost Western-quality set-up of lights, English signs explaining each temple, etc. The lush greenery and fewer number of visitors made it feel like an oasis.
Angkor Wat
was my least favorite. Rampant tourism and the temples weren't as well-preserved as the other temple complexes I'd seen. One thing I did like was that the nearby town, Siem Reap, was more fun and lively than the gateway towns for the other temple complexes. Pub Street is my favorite backpacker ghetto in Southeast Asia.
Prambanan and Borobudur to me almost felt like two halves of one giant temple. Borobudur was all foundation, and Prambanan was all spires. It almost seemed like Borobodur was the bottom half of Angkor Wat and Prambanan was the top half.
To be a little nitpicky, I don't think of Borobudur as having the world's biggest stupa. The only stupa shape is at the very top. While large, it's nowhere near as big as the Shwedagon Paya in
Yangon
(see photo at link). Compare the top photo in that post to the photo at the head of this post. The difference is clear.
I think my photos describe Bobobudur and Prambanan better then I can with words. The cool thing was that there were lots of local Indonesians around the temples, but few foreigners.
Prambanan photos: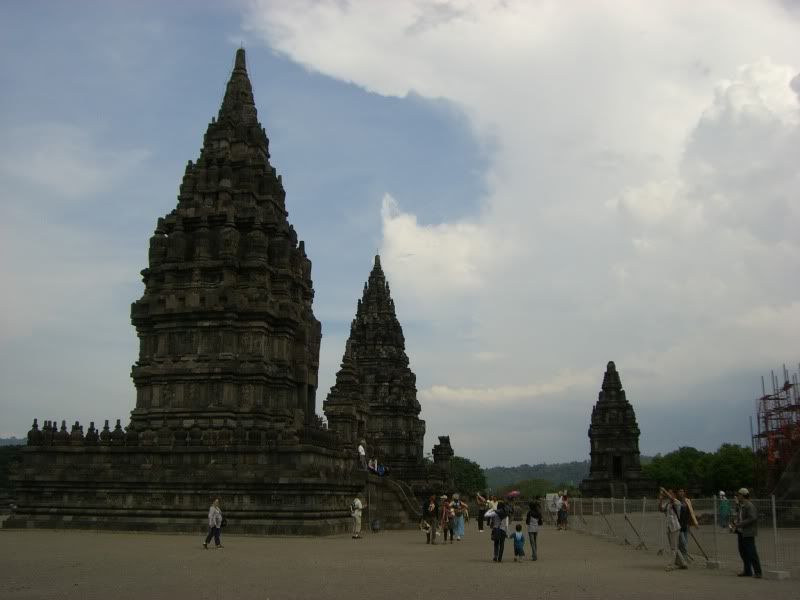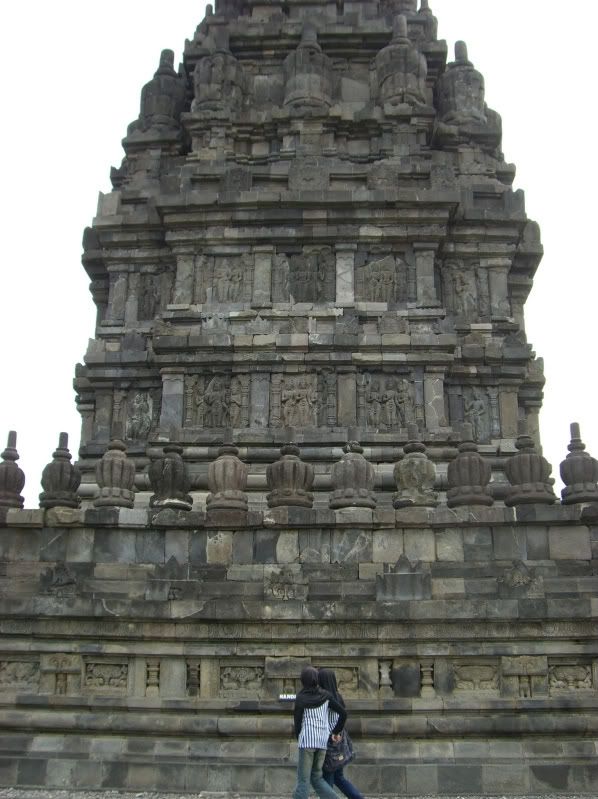 Borobudur photos: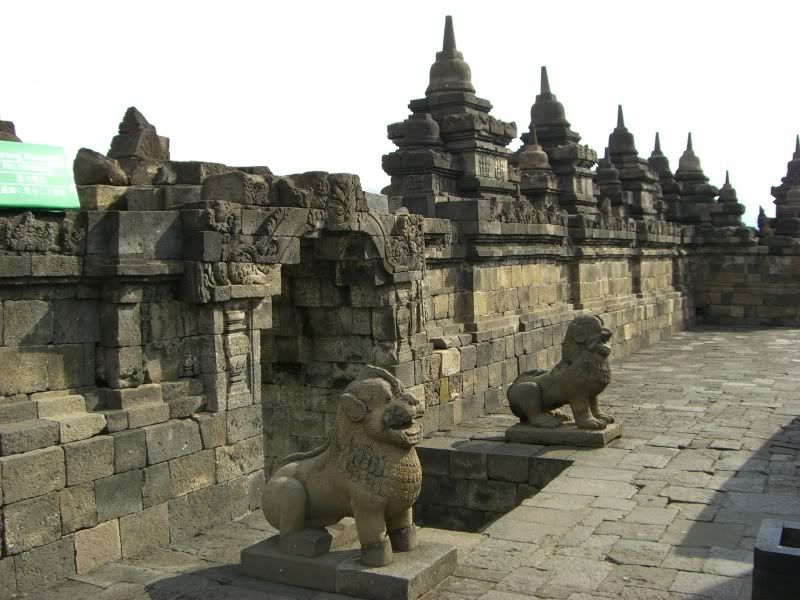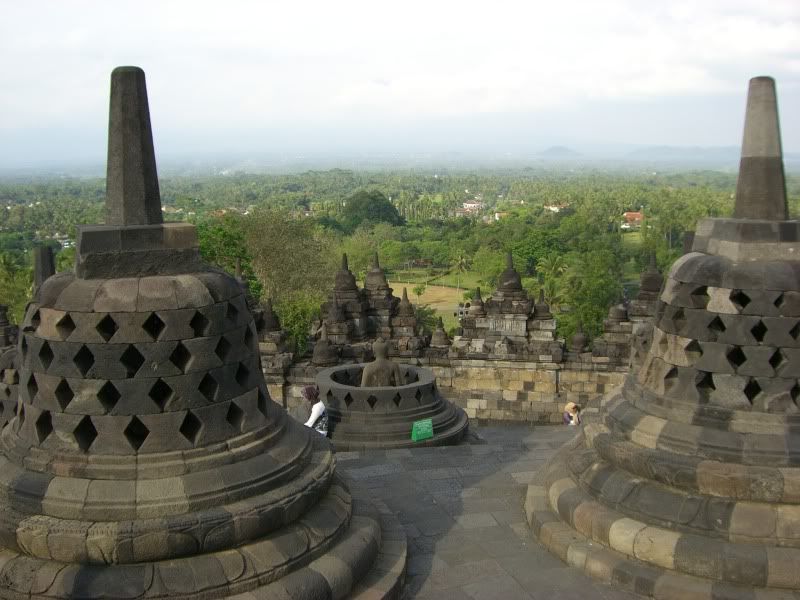 Inside Information
Getting from the airport into town
You can take a TransJogja bus from the airport to the Jalan Malioboro, the main street in the town. The bus station is a bit tricky to find, though. As soon as you get out of the airport. Go left, you'll pass airline counters on your left. At the Kentucky Fried Chicken, turn right and go into a building.
Walk through an underground passageway until you resurface into a parking lot. Look for the glass and wood TransJogja booth. The trip costs IDR3,000 takes and about 20-30 minutes. Get off at Jalan Malioboro. Before you get on, ask the attendant in the booth to tell the driver where you want to get off.
Where to stay
Merbabu Hotel
. It's on a small lane off of Jalan Sosrowjiwan ("Soswro" for short), the main budget travelers' street in Yogyakarta. Get your taxi to drop you off on that road, just next to the big yellow sign for "Superman Restaurant." Walk into that alley, and eventually you'll see the hotel on your left. I spent IDR95,000 (US$9.50) a night for a big, airy room. Only cold shower, though. Free breakfast included, and it's a good breakfast. Your choice of tasty dishes like banana chocolate pancakes, fried-egg sandwiches, etc. No Internet, but there are Internet cafes around.
I love the location of the place. There are two secondhand bookstores right outside. Lots of backpacker-oriented restaurants around, too. Although I didn't like the food at Superman Restaurant.
There is a more upscale travelers' row on Jalan Prawirotaman. The hotels, restaurants, and even the main Internet cafe all seemed a lot nicer than the places on Jalan Sosrojiwan. A bit more expensive, but seems worth it. The one drawback is that it's a bit further from things.
Getting around
The best way to get around is using
TransJogja bus
, a modern bus rapid transit system. The buses are small, clean, air-conditioned, and much more comfortable than the full-sized public buses. The website is bare bones, but here is a link to a
list of bus routes
.
The closest station to Jalan Soswrojiwan is on Jalan Malioboro, across from the Yogyakarta Library Center. Usually there will be at least one attendant who can speak enough English to help you. Just tell them were you want go. Have them write down for you what buses you may have to transfer to, and the name of the bus stop you should get off at.
What to see
The main attractions in Yogyakarta are the temple complexes of Borobodur and Yogyakarta. There are tons of tour companies on Jalan Soswrojiwan who can arrange a trip to the temples for you. They're not guided tours, they only provide door-to-door transportation to the temples.
I was there during low season, so the tour companies had trouble finding enough people to launch a tour. I ended up taking crowded, dirty public buses to the temples. A tour costs about IDR50,000 (US$5.00), while public buses cost a fraction of that, with an equivalent fraction of comfort.
I found out later that I could have taken TransJogja buses to the the temples. I'd recommend this.
--To Borobudur, take Bus 2A on Malioboro and transfer to Bus 2B later, the attendant will tell you how to do this. If I remember right, you get dropped off at Jombor bus terminal and still need to take a public bus for the final leg of the journey.
When your public bus arrives in the parking lot, touts will jump aboard and try to get you to hire them to take you around in a horse carriage. They'll make up excuses that it's too far and too hot to walk to Borobudur. Ignore them. The bus stop is only about a 10-minute walk to Borobudur. They'll also try to take you to Candi Mendut and other lesser temples. In my opinion, they're not worth seeing and can't compare to Borobudur.
--To Prambanan, take Bus 1A on Malioboro. The bus stop is about a 20-30 minute walk to Prambanan. You may want to hire a motorbike driver to give you a ride there, that's what I did.
Other things to do

Via Via Cafe
on Jalan Prawirotaman is a great restaurant, and also offers a number of alternative tours. From what I read in the brochure, they sounded a lot more interesting than the standard tours all the other companies offered.
One of their most popular tours is to travel overland from Yogyakarta all the way to Bali island.
That's "Tour 7: Overland East Java." This trip includes a journey to
Mount Bromo
, an active volcano.
A good source of travel information is
YogYes.com
, which was told to me by the excellent Peter and Jacqueline.
Entertainment
Cinema XXI is part of the Cinema 21 chain. You can get a taxi there in 15 minutes. It's a plush, luxurious cinema, and tickets only cost IDR15,000 (US$1.50)! The downside is that movies are really old, from like 1-2 years ago. When I was there, I saw a poster saying "Coming Soon! Body of Lies," the Leonardo DiCaprio spy thriller. Good movie, by the way. Peter and I went there to see Crank 2: High Voltage.