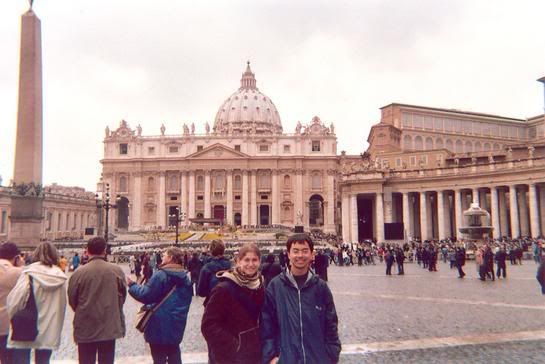 The first couple hours in a new place are the most terrifying. I'm getting better at choking back the fear. I take refuge in my To-Do List:
--Exchange money.
--Find my hostel.
--Eat dinner.
--Take a shower.
--Buy a phone card.
--Go to an Internet Cafe.
--Most important of all, make new friends.
Once I get all that stuff taken care of, I feel much more at home. Rome disappointed me at first because the first I saw of it was the Termini Central Train Station. The area around it is total slum. There were these bad-ass Italian guys in black jackets looking tough next to their scooters. Like every other place I've been to, I got lost trying to find my hostel (Gullivers House). Luckily, I walked past an Asian girl talking on her cell phone in Tagalog (a Filipino dialect). I introduced myself to her and she did more than give me directions. She walked me to my hostel.
Gullivers House is a very comfortable place. It's like staying at the house of your favorite aunt and uncle. The owners, Simon and Sara, do everything to make your stay easier. Whether it's a homemade map of all the monuments to recommendations for good pasta, they take care of you.
I met Liz, a girl from New York teaching English in France. We became fast friends and spent the day walking around to the sites. The first couple places we saw weren't as well-known. Which was nice since we had the all to ourselves. The Colosseum was even bigger than it looks in photographs.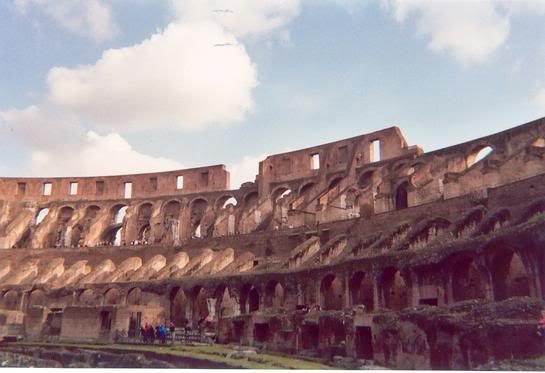 It's the original stadium. Prague had these cool little parks with statues. Rome has little secluded parks within the neighborhoods too, except they have fountains.
The Roman Forum is an archaeologist's dream come true. Acres of towering columns and assorted sculpted rubble litter the landscape. Liz has a lot of experience with Romance languages, so she translated the signs for me.
We ate lunch at a restaurant overlooking the street. I got confused when the waiter asked me what kind of water I wanted. Gas or no gas? Liz had been to Italy before and ordered the no-gas water for me. Turns out the Italians commonly drink carbonated, fizzy water. According to her, it's a nasty shock to the tongue when you're expecting a cool drink.
After walking to the Colossuem, we decided to sample the world-famous gelato. We skipped the places facing the Colosseum, working deeper into the neighborhood. We found a gelato bar. Indulge two sins for the price of one!
She got a coffee gelato and I got chocolate. It tasted like I was spooning a liquid cake into my mouth. It felt so fattening, but backpacking burns the pounds fast so I didn't worry.
Speaking of that, I'm more toned than I've ever been. All this walking and carrying a backpack and running up stairs has really got me into shape. I hope it lasts through next school year!
Here are more photos from Italy: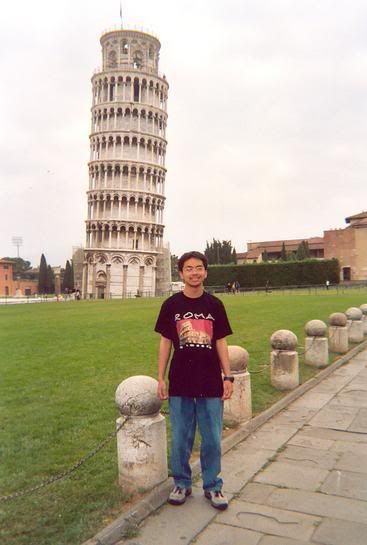 The Leaning Tower of Pisa.



On the water in Venice.