Most of my major papers and projects weren't due until April 2 and April 12. I had a lot of free time. So I hatched a brilliant plan. In an unprecedented display of initiative, I finished my big assignments three weeks early and took off for London for a couple of days in my last week of class. It was hellish. I camped out at the computer lab the whole week before, cranking out pages. But who wants to hear about that?

The Travel Shop on campus got me a good price for a train to London. I booked a hostel online, St. Christopher's Village. My main reason for going to London was to have fun. The other, more boring reason was that I wanted to test out the backpacker lifestyle before I dived into my big trip in April. I'd have a chance to stay in a hostel, see how bad I messed up my packing, and learn basic navigation skills for a big city. This was going to be my last chance to do it in English, before I drowned in the wonderful world of Romance languages.

When I got to the hostel, I presented the confirmation e-mail they had sent. The guy at the desk then asked for a photo ID. I reached for my UEA student ID, but accidentally gave him my Hawaii driver's license. He asked how long it took me to get here. Humoring him, I said about 15 hours. He shook his head and wished me a good night's sleep. He issued me a key card and gave me a brochure with the rules of the hostel.

I thought I had gotten the wrong room. There were two girls inside. One was hanging wet clothes over the heating grate. The other was eating some salad.

I asked, "Is this room 16?"

"Sure is," one girl answered.

"Oh, I thought--"

My confused face gave me away, because she said, "This hostel's co-ed, mate!"

We talked a while. They were both from Australia, coming out to England to look for short-term work. Bartending and waitressing-type jobs. Since the pound was stronger than the Australian dollar, they could save up some money, go back to Oz, and triple it from converting currency. England has favorable labor laws for Australians and Australians love to travel and socialize, so there are a lot of them in England. I thought hostels were mostly for travelling college students. But a lot of the customers were using the hostel as cheap temporary housing while looking for work. One Australian girl told me that in European hostels, the majority of people I'd meet would be American, British, Australian, New Zealander, and Canadian. I haven't met anyone from New Zealand yet, but after this stay, most of her story checked out. So I'll still have to make an extra effort to meet locals.

Even though I packed what I thought was the bare minimum, I still packed too much and didn't bring some essentials. What I brought that I wish I hadn't: a shoulder bag to hold my camera, a paperback novel, and maps. I was able to stuff the maps and camera into my jacket pockets. I didn't read because I was too busy sight-seeing. What I hadn't brought but wish to hell I had: ear plugs. Because there's always one snoring champion, doors slam, someone's cell phone/alarm clock will go off, noise from the street, and noise from the pub next door. The Australian girls told me that there's always a pub next to a hostel. That's probably where the hostel really makes money. Like how movie theaters make more money from selling popcorn and soda than from movie tickets.

I worried about getting around London. I've gone to college in California for two and a half years, and I can count the times I've been to Los Angeles on one hand. I didn't reckon on the excellent London Underground, a.k.a. the Tube.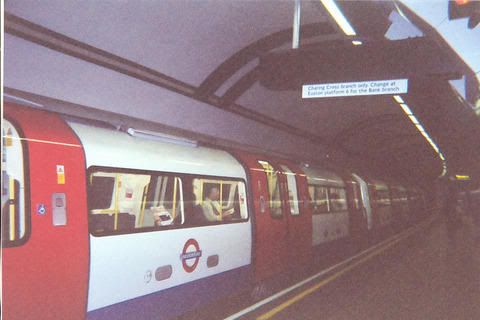 It's basically a subway that goes everywhere. It's fast, clean, and convenient. The longest I had to wait for a train was seven minutes. I got a pocket Tube map with my first ticket and used it constantly. Public transportation is top notch. Even though I've never used the Tube before, I figured it out very quickly. There were always signs to lead me to the right platform. Inside the train, there's a map of the route, an electronic sign that announces stops, and a computer voice that announces the stops too. Above ground, there's street signs pointing to the popular attractions. It was easy to find my way around.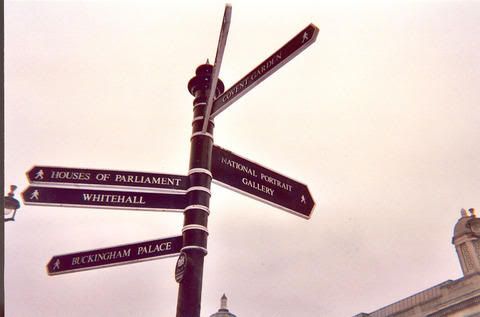 I'm trying to avoid getting sucked into landmark marathons while travelling. There's a big temptation to try to see all the sights in one trip. I knew if I did that, I'd waste most of my trip hurrying to the next line to wait in. I took a train to the center of the city and just walked around. The first place I hit was Oxford Circus. That place was a shopper's dream come true. Acres and acres of classy shops on every street. It was fun to window-shop and imagine what I'd buy if I were rich. Next up was Piccadilly Circus. I'd heard it be compared to Times Square in New York City, and I could see why. There were big-screen billboards advertising Vodafone cell phones and other products. It must look dazzling at night.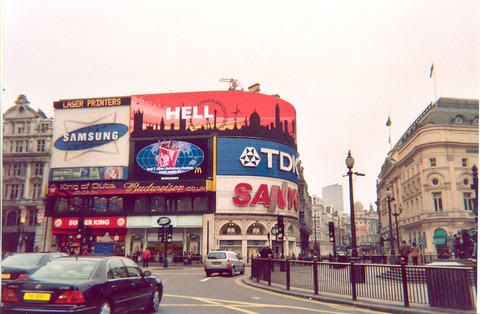 On a hot tip from a British chap at the hostel, I took a tube to Westminster Station. He said that most bus tours were overpriced and that I could see a couple of good sights by just going to this tube. I got to see Westminster Abbey, Big Ben, and the houses of Parliament. As I was walking alongside Parliament, an expensive-looking black car pulled up next to me. A man in a suit got out and opened the trunk. Two other men in suits, one young and British, the other white-haired and French, passed in front of me to the car. The British man wished the French man a good trip. The Frenchman smiled and got into the car. I thought about snapping a picture of these two bigshots. Then I went into one of my Writer Highs, where I imagine the most outrageous thing that could happen next: I take the picture, the British man assumes I'm an assassin with a poison-tipped dart in the camera and tackles me, I end up in a basement interrogation room where a balding man in a suit demands "Who are you working for, the North Koreans?!" and when I don't answer, he mashes a hot cigar into my forehead. Wow. I decided not to take that picture.

I gave in to temptation and decided to see one attraction while I was here. The place I wanted to see was near the Baker Street Tube station. Why did that sound familiar? I didn't realize it until I got to the station. In a nice little touch, the tiled walls of Baker Street station are decorated with the likeness of Sherlock Holmes, the world's greatest detective, who lived on 221 Baker Street.

What almost turned me away was the huge line of outside Madame Tussaud's Wax Museum. They were a French school group and the line went around the block. I walked around, and found that they were in a line for groups. There was another line for "pour le jour" (for the day) customers. The line was short, so I got in.

Initially, I thought I got lost and had wandered into a high school dance. The first room was dark, with Britney Spears music blasting. Then I saw why: she was their latest wax figure! I moved to the next room fast. This one was filled with movie stars. I got a picture with James Bond (Pierce Brosnan).




I had to ask a French student to take the picture. I also got pictures with William Shakespeare and Alfred Hitchcock. A great writer and a great director, just what I want to be. It was hard to get good shots, because the museum was crowded with people trying to take photos too. There was a huge figure of The Incredible Hulk, like the one in the most recent movie. The guidebook said it was so big it couldn't fit through the doors, so it had to be lowered down from a ceiling. I saw the most interesting poses when visitors took pictures with Adolf Hitler. People would act like they were punching him or giving him the finger or otherwise abusing him.

The best thing about staying in a hostel is all the cool people you meet. The worst thing is that because everyone is on a different schedule, people come and go so fast. One of the Australian girls I became good friends with my first night in London was gone the next morning. The other thing was that I met the most people on my last night at the hostel! Another valuable skill I learned was the ancient art of showering with one hand. The hostel's showers were either push-button or hand-held. Probably to encourage shorter showers because it's so incovenient to shower like that.

My last day in London, I went to go see a show. I felt like I would've been a real loser if I went to London without experiencing some quality theatre. I took a Tube to Leicester Square. It's in the heart of the West End, London's Broadway. Fortunately, the Society of London Theatre runs the "TKTS" Booth, where you can buy half-price same-day theatre tickets. It's the one booth actually in Leicester Square, and it looks like a clock tower. There are other shops around the area that claim to be the official half-price ticket booth. I was afraid of getting ripped off, so I stuck with the real thing. I looked at the listings board. I felt like watching a musical. Nothing looked promising except "We Will Rock You."

I asked the girl in the booth, "That musical, did they just take the name of the song or does it really--"

She smiled and said "All the music is by Queen, sir."

"I'd like one ticket please."

My ticket came with a map of the theatres in the area. The girl circled the TKTS booth, where I was now, and also circled the Dominion Theatre, where "We Will Rock You" was performing. The story took place in a dark future where a single mega-corporation controlled all music and made it into homegenized pop music. The funny thing was that I could actually see that happening in real life. It was a very smart show, loaded with references to music past and present, also with sly winks to current events: "We've bombed the whole planet of Mo, and we still have not located any [musical] Instruments of Mass Destruction." It was actually a cliched story. Anyone one's read Brave New World and 1984 or watched The Matrix and Brazil know how this story goes: in an oppressive society in the future, one man will rise up and challege the system. The music angle was what made it special. It drew a diverse crowd. There were young 20-something hipsters and old grandparents. A lot of the older crowd must have been fans of Queen as teenagers, because they sang the lyrics to all the songs.

And that's it for London. One more World Cafe left, and it's off to the rest of Europe. I'll be travelling to countries I've never been to before, so wish me luck guys. A lot can go wrong. I promise if I make it, I'll let you know how I'm doing. I'll have to go to Internet Cafes where you pay by the hour, so these e-mails might get shorter. I'll also be travelling by myself. I originally wanted to go with my housemates. But it's hard to reach consensus with three guys who've been dreaming of going to certain places their whole lives. Mission: Europe will be a solo operation!