Penang City Hall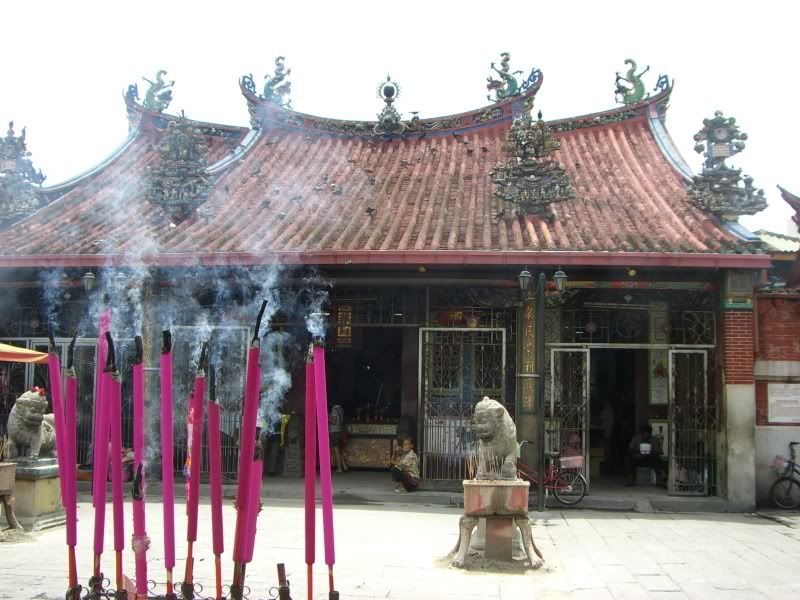 Chinese Goddess of Mercy (Guanyin) Temple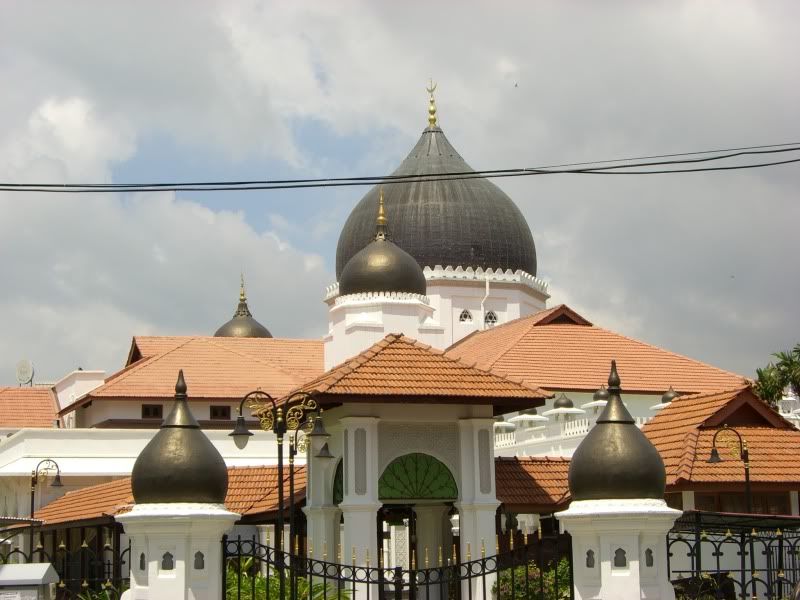 Kapital Keling Mosque
Penang is the bizarro version of Hawaii. Both places are a blend of Western and Asian influences, except those influences are different. Hawaii is American and Japanese, while Penang is British and Chinese.
It was like being in a parallel universe. I'd wonder, "Could Hawaii have ended up like Penang?" Maybe if the British had kept control of the U.S., and if more Chinese had settled in Hawaii rather than Japanese.
After staying in the small town of Tanah Rata in the
Cameron Highlands
, I was happy to be in a modern city like Georgetown. It's the main city in Penang. While
Melaka
felt like a fairy-tale town, Georgetown had more buzz, it was a place to take care of business.
I've lost the American habit of trying to see as many sights in the shortest time. I can easily lounge around for a whole week if I feel comfortable in a place. The Americans I meet on the road are usually in the biggest rush. When I run into English, Canadian or Australian backpackers, often they've been traveling for months or years at a time.
When my hostel or guesthouse has a nice common area and cool people around, it's easy to be a sloth. I'll happily spend hours chatting with travelers. On the other hand, annoying people drive me away. For a more detailed rant, see my past blog post,
Ugly Foreigners
.
Back to people I want to spend time with. Sometimes I'll wait until there is a critical mass of other backpackers who are going to see sights at the same time. Then I'll join them.
I did this with Penang Hill. It's popular to take the
funicular railway
to the top. Similar to the
Peak tram
in Hong Kong that goes up Victoria Peak, it's a train that designed to go uphill.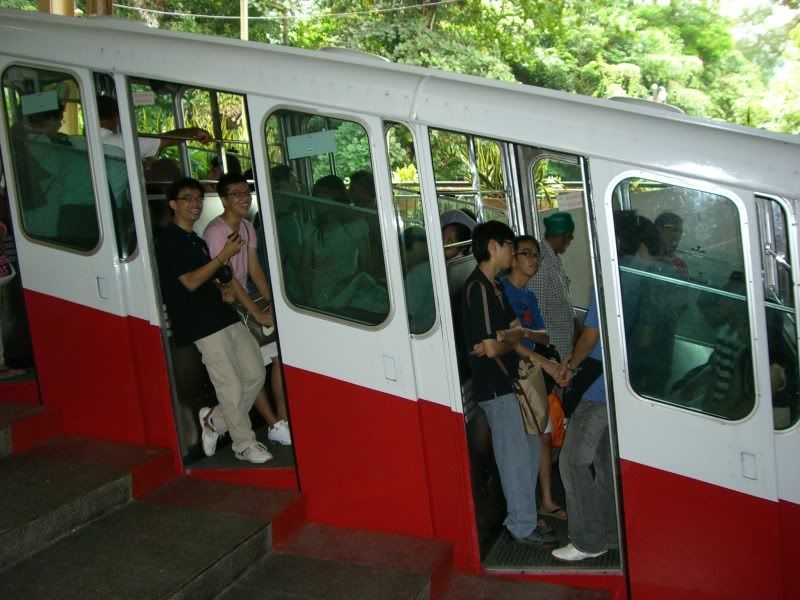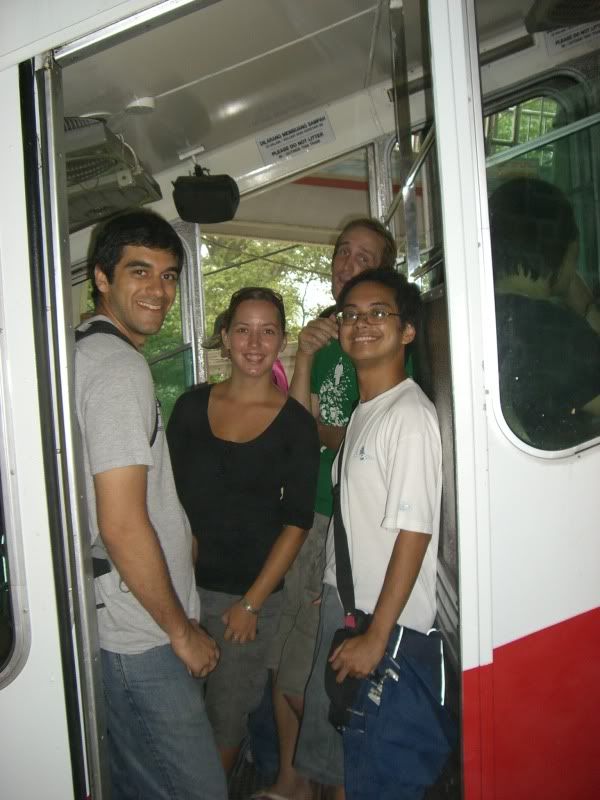 Arif, Susan, Chris and I on the funicular train
Penang Hill is pretty and green at the top. But there isn't much to see besides a small, colorful Indian temple. The main reason to go is to see the view of Georgetown. Riding the train and chatting with fellow backpackers was the real highlight.
Most of my friendships were made at
Hutton Lodge
, the hostel I stayed in. We were all relieved to be somewhere modern. Malaysia is relatively under-touristed compared to nearby Thailand. Similar to its geography, Malaysia's state of development lies somewhere between Thailand and Singapore.
We had a nicely eclectic group: Susan, a Canadian backpacker and Arif, a Pakistani-American guy who worked as a financial analyst. There was also a Scottish-Estonian couple, Kris and Kadri, who were riding a motorcycle and traveling by overland to Australia. They had passed through Iran, Pakistan, and India on the way. Their stories were amazing.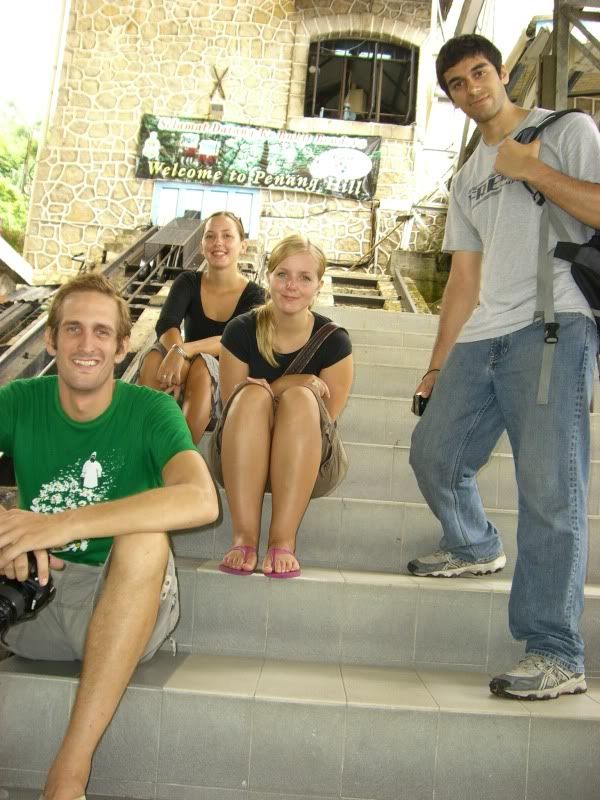 Chris (Scotland), Susan (Canada), Kadri (Estonia) and Arif (United States), waiting for the funicular train.
What I liked most about the couple was how refreshingly friendly and unpretentious they were. Other travelers who get around overland the hard way can be disgustingly smug and treat people who take planes like wimps. They didn't endlessly brag about traveling to danger zones like Iran and Pakistan. And I thought I was brave for going to Burma!
The next stop was Kek Lok Si Temple. My favorite temples are the ones that are more like complexes, with lots of buildings and rooms to explore. Kek Lok Si was like this.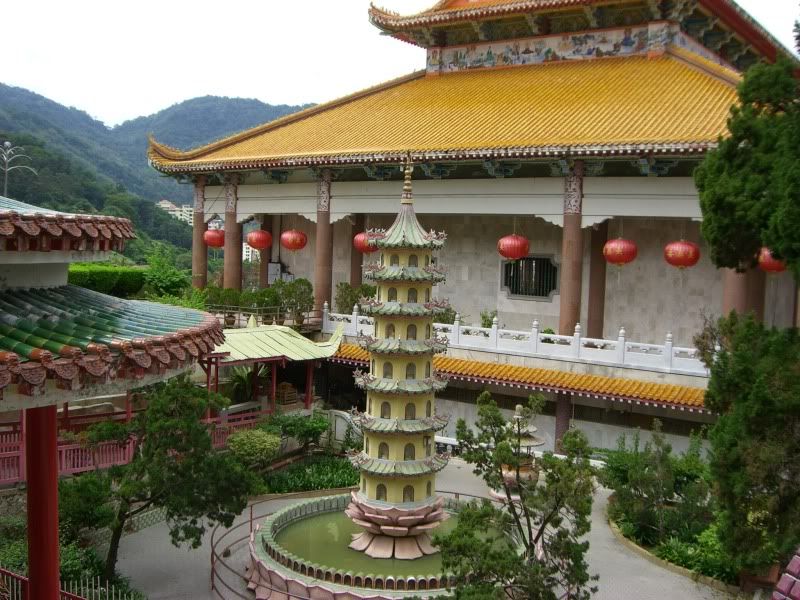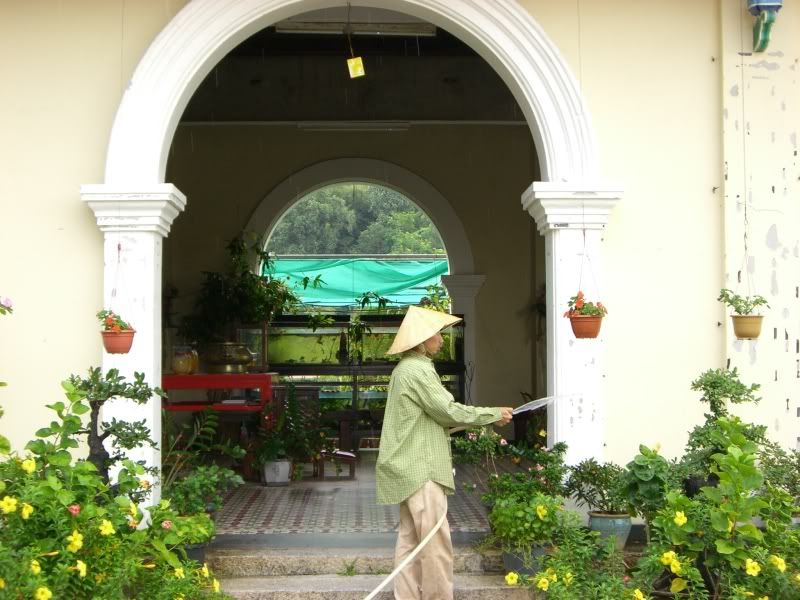 A groundskeeper watering the plants.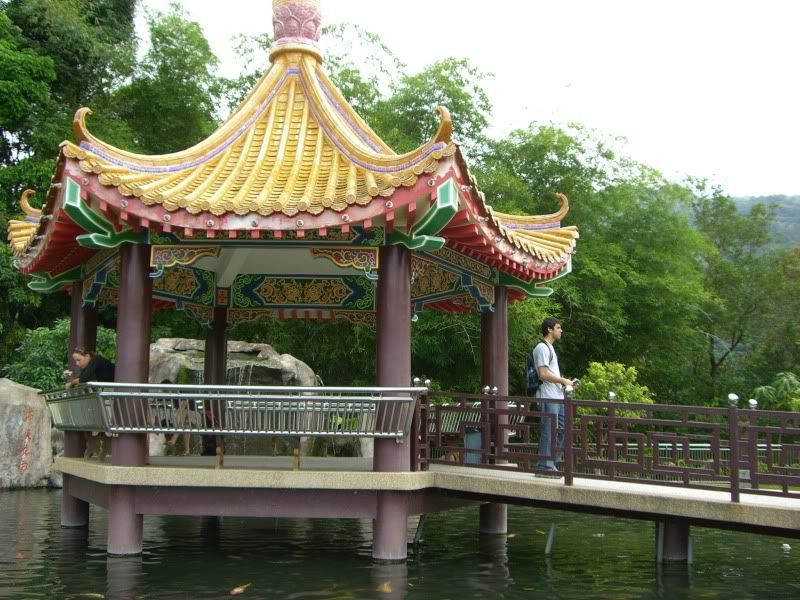 Arif meditating at a pagoda in the center of a pool.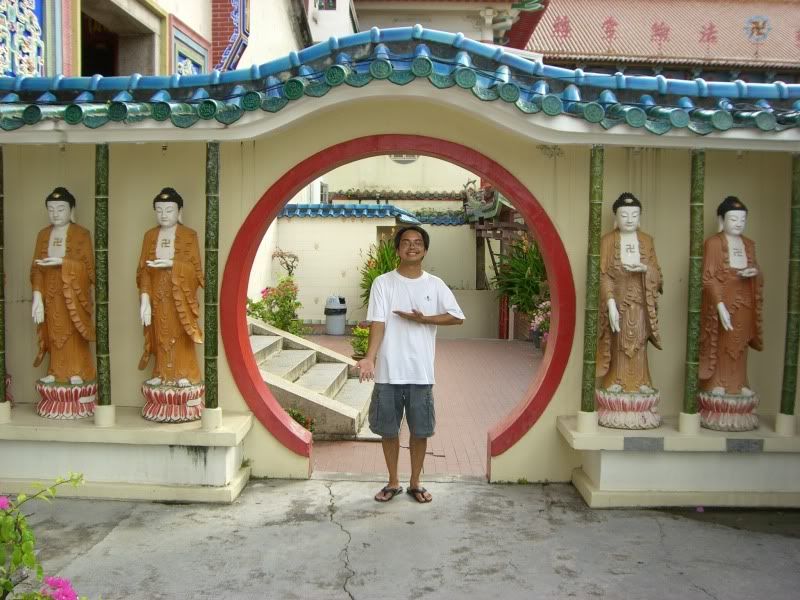 Me posing Buddha-style.
It did have one annoying trait in common with attractions in Beijing: separate fees for every zone you walk into. The biggest rip-off was when we paid an extra fee to go to the top level, where the guidebook said there was a massive statue of Mazu. She's the Chinese patron saint of sailors and fishermen.
The statue was surrounded by metal scaffolding! We were so pissed off. I hate it when that happens! Thankfully, the front of the statue was exposed, so we could still take pictures.
Mazu statue
What was more fun, we found a small sculpture garden with statues based on animals in the Chinese zodiac. We had a blast while posing for photos with the animals that matched our horoscopes.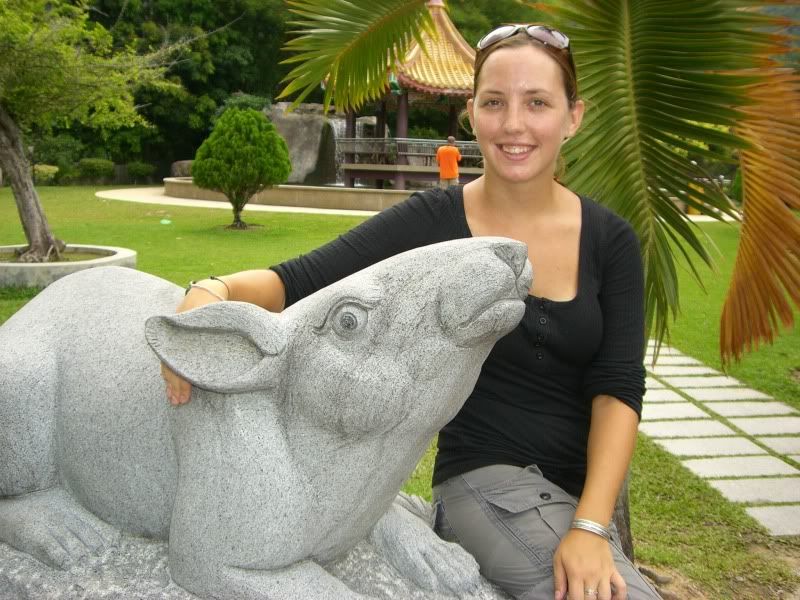 Susan with the Rat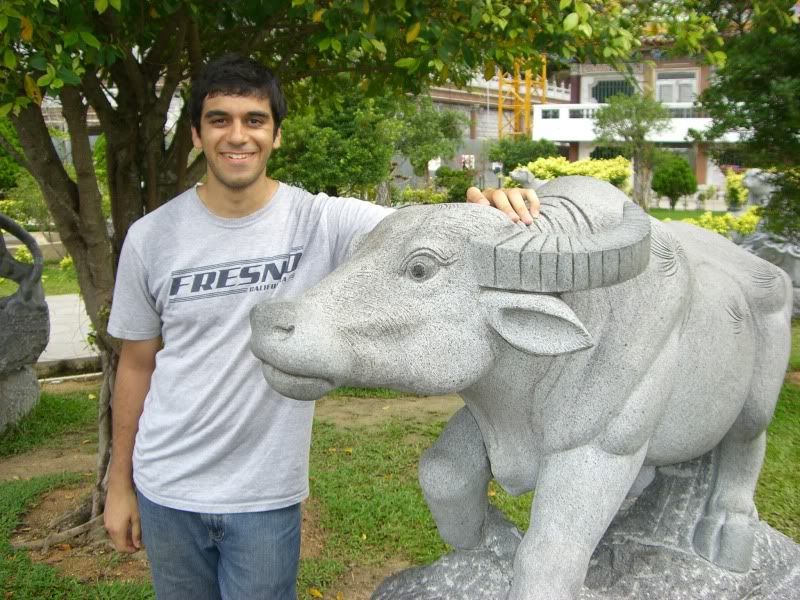 Arif with the Ox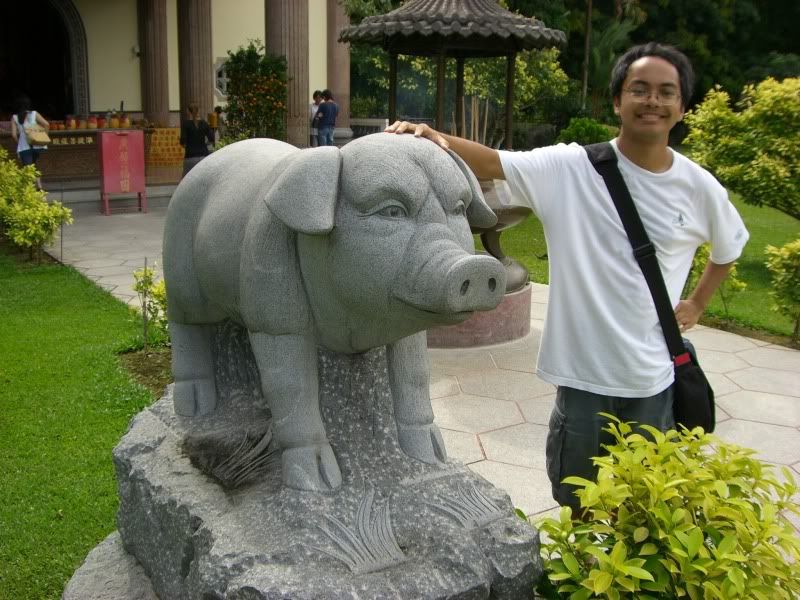 Me with the Pig. Susan thought the pig looked stressed-out and constipated.
For dinner one night, we headed to a row of Chinese shophouses near our hostel.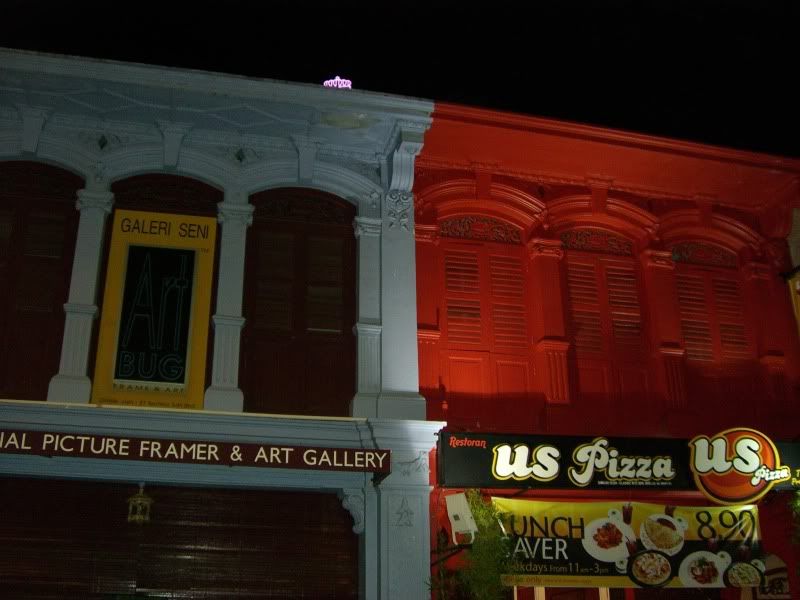 We ended up eating "steamboat," similar to
hotpot
I've eaten in China and Taiwan. The owner, a jovial Malaysian Chinese man, eagerly gave us a tour of his restaurant.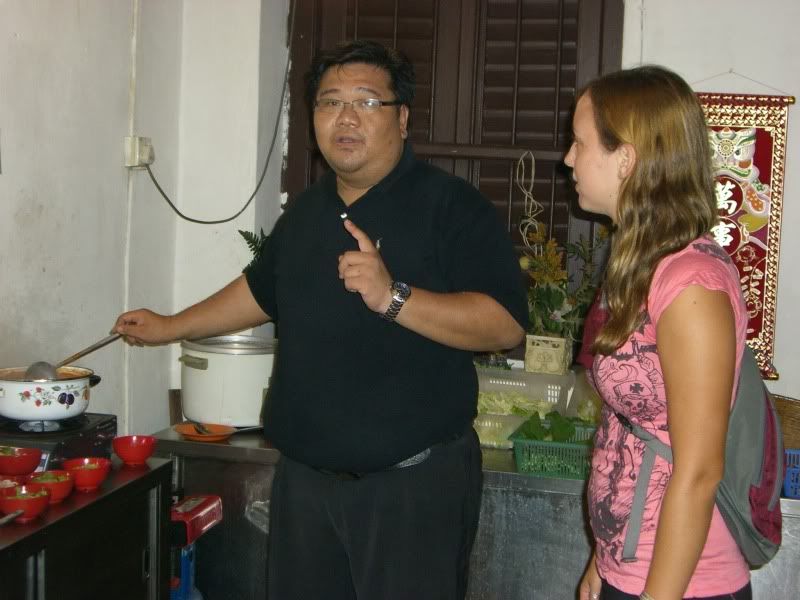 The owner explaining the dishes to Susan.
You throw vegetables and meats into a boiling pot, then eat. The main difference was that you could also fry your food around the bottom rim of the pot. But you pick and choose various condiments to make your own personal dipping sauce, just like hotpot.
Susan and Kadri dining on steamboat.
The magic ingredient is
sha cha sauce
. It's the ultimate savory sauce, made up of soybean oil, garlic, chillis, brill fish, and shrimp. You can dip anything in it, and it'll taste mind-blowingly good.
When my Canadian friend Brynn brought her mother to a hotpot restaurant in Taipei, her mother fell in love with the hotpot concept. She vowed to hit a Taiwanese supermarket and buy big jars of sha cha sauce to take back to Canada.
Nowadays, I take as many photos of food as I do of big sights. I'm turning into an Asian tourist!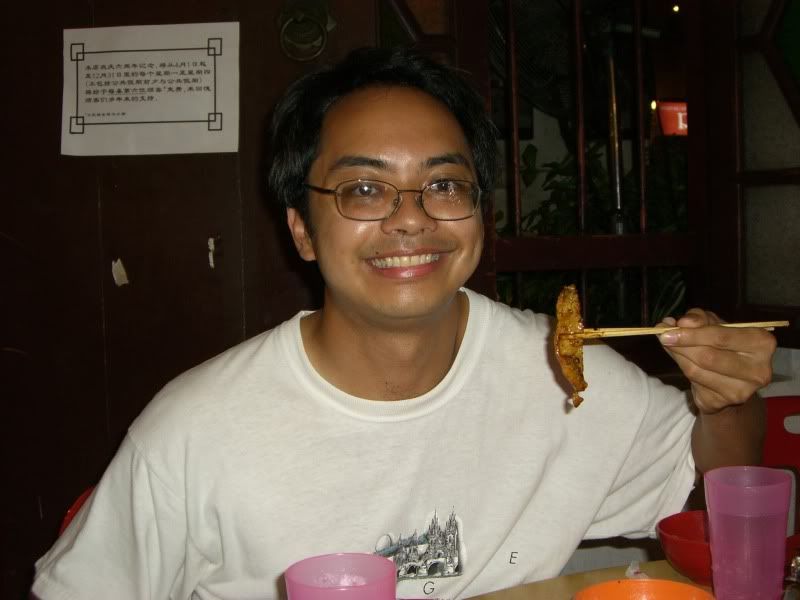 The author, enjoying some great food.
Inside Information

Getting there
Butterworth, a boring industrial town on the Malaysia mainland, serves as the main transport hub to the island of Penang. All buses stop there and the railway ends there.
From Butterworth, you can take the ferry across to Georgetown, the main city on Penang. The ferry jetty is only a short walk from the Butterworth train and bus stations. The ferry is the best and most scenic way to go to Penang.
Once you arrive at the Weld Quay ferry jetty in Georgetown, ask around until you find the
free shuttle bus
. It goes from the ferry jetty to some of the popular spots in the city, including Komtar Complex (a shopping and transport hub) and Lebuh Chulia (main backpacker road).
Buses also go to Penang via a causeway bridge, but they drop you off at Sungei Nibong bus station, an unremarkable 15-minute drive from Georgetown. Stick with the ferry from Butterworth.
Where to stay
Hutton Lodge
is the best hostel I've seen in Southeast Asia. Designed like a boutique hotel, it offers the charm of a colonial-style building, and the comfort of a modern hotel, at reasonable prices. When I first walked in, I was worried that the hostel was gone and it had been taken over by a luxury hotel. Hutton Lodge is that nice.
Banana New Guesthouse
is a well-known place, but it's often fully booked. Very popular with Western expats doing a visa run from Thailand. I get the feeling that they make their real money from their visa services, and the cheap rooms are just a way to bring in customers.
Otherwise, it's best to walk around Lebuh Chulia and check out places in person. There are plenty of budget options.
Where to eat
Red Garden
is the best hawker centre in Georgetown, with a huge selection of food. At night, there are cheesy singing and dancing performances on the main stage. Similar to the singing you see at Asian banquets and weddings.
Getting out
Penang is a good launch point to go to Thailand or Indonesia. Many guesthouses (like Banana New Guesthouse) offer visa services for both countries. It's probably better to just pay for a cab and go to the consulates yourself. I almost got a 60-day Indonesia visa through a visa agent. But I thought the guy was way too high-pressure, so I canceled it.
Most bus companies have ticket offices at Komtar Complex in the city center, but you may have to board the buses at Sungei Nibong bus station outside of town.
Konsortium Express Bus
offers a shuttle service that will take you from Komtar to the bus station, for a small fee. I imagine other bus companies do this too. Konsortium has nice buses, I recommend it.
Thailand:
Most Thai-bound buses go through Hat Yai, a border town on the Thai side. RM22, takes about 4 hours.
I've heard from travelers that taking buses to Thailand involves changing buses and long waiting times in between.
It might be more convenient to catch a train at Butterworth. Here's the link to the
Thai Railway timetables
. The Southern Line goes from Malaysia to Thailand.
Notable stops:
Surat Thani -- the main gateway to the East Coast Thai islands, like Ko Samui, Ko Tao (good place to study diving) and Ko Pha Ngan (the famous
full-moon party
). 14 hours.
From Surat Thani, you can also take a bus (3-4 hours) to Krabi, the gateway to West Coast Thai islands like Phuket and Ko Phi Phi.
Bangkok -- Thailand's capital. 23 Hours.
Visas: At the time of writing, you only got 14-day visas on arrival if you get there by overland. If you're going to spend more time in Thailand, get a visa in Penang beforehand. You get 30 days if you fly in.
Indonesia:
Ferries from Penang go to Medan in Java. RM150, 5 hours. Boats depart from Georgetown's Swettenham jetty and land in Belawan. The rest of the journey to Medan is done by bus (cost should be included with boat ticket).
Visas: You can get a 30-day Indonesian visa on arrival. If you're planning on traveling around the country for longer, get the 60-day visa in Penang before you arrive.