Backpackers wandering around the BOH tea plantation.
Confession: I hate trekking. It's tiring, sweaty, and dirty. Sometimes it can't be avoided, because in certain places, trekking is really the only thing to do. And the Cameron Highlands is one of the premier trekking destinations in Malaysia.
It was in Myanmar that I first discovered the concept of "hill stations"--where British and European expats built mountain resort towns to escape the heat of their Southeast Asian colonies. The Cameron Highlands was set up in this fashion, as a cool retreat from Malaysia's fierce humidity.
The lower temperatures were a welcome natural alternative to Asia's pervasive air-conditioning. The constant blasts of A/C everywhere sometimes left me sneezing and with a runny nose.
On my first day, I signed up for a tour with Kang Travel and Tours. I figured it would be an easy way to see all the sights in one go.
Our guide, Spencer, welcomed us to the jungle by giving us grass-weaved crowns.
A crowning ceremony
Once anointed, we were ready to tackle the trek. It wasn't that bad, compared to treks I've done in China and Vietnam. The annoying thing was that it had rained the day before, so the whole trail was muddy and wet.
Crossing rivers are always treacherous. While waterfalls and rivers look nice at a distance, they're always a pain in the ass to get across. The wet rocks make it easy to slip and take an unscheduled dunk.
Crossing the river
The longer a trek is, the more I think to myself, "The sights better be worth the walk, or I'll be really pissed off."
Me firing a blow dart at an aboriginal village.
One of the main attractions is the Rafflesia, which is billed as "The World's Biggest Flower." They have very short lifespans, so tour guides are always forced to hunt for fresh ones to show tourists.
A Frenchman almost died in the taking of this photo
This Rafflesia was on the side of a steep hill, which made viewing difficult. I asked a French backpacker to take this picture. He got so involved in framing the perfect shot he almost fell off the hill! I was like, "Dude, it's okay if it's not perfect. Just don't kill yourself in the process."
My favorite part of the tour was viewing the
BOH tea plantation
. The gleaming green mountains were magnificent, and you could view them comfortably from a hillside tea-shop veranda.
Me with a cup of tea
Tea is always better with good company, and I was lucky to meet Lianne and Andrew on the bus from Kuala Lumpur to the Cameron Highlands. They were a cool couple from England doing an around-the-world trip after graduating from university. A nice way to cap off an education, by doing a world tour.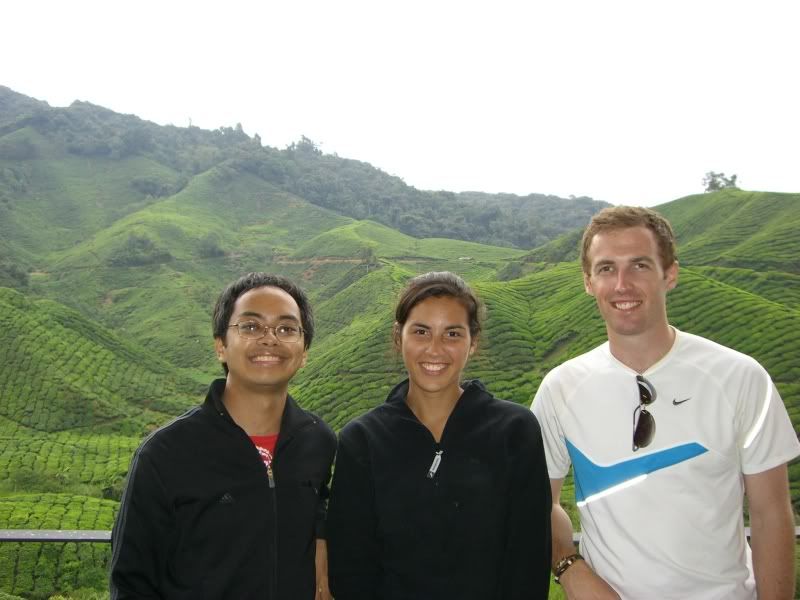 Me, Lianne and Andrew
Inside Information
Getting there
Bus: A
few bus companies
depart from Kuala Lumpur's Puduraya bus station. The trip takes about 4 to 5 hours. Kurnia Bistari is one bus company that serves Tanah Rata, the main town in the Cameron Highlands. They depart every 3 to 4 hours, cost RM23.
The KB buses were adequate, but not as nice as other buses I've ridden on, like Transnational. The final 30 minutes of the ride consist of non-stop hairpin turns up the mountainside.
Since buses go to Tanah Rata so infrequently, it's best to plan ahead. Check the schedule at the bus station the day before you intend to go, to make sure you get a seat.
Where to stay
I stayed at
KRS Pines
, a nice guesthouse. Very clean, but a little too quiet, like being in a hospital. The management own a more budget-oriented guesthouse,
Twin Pines
, that's supposed to be more social.
Daniel's Lodge
has lots of backpackers, but it's gotten negative reviews online.
Father's Guesthouse
is supposed to be good, but I've heard they're really strict about rules like quiet hours.
What to do
The Cameron Highlands has hiking trails, strawberry farms, tea plantations, and other sights. You can see them independently, or as part of a tour. I went through Kang Travel and Tours (attached to Daniel's Lodge) and had a good time.