Angkor Wat: The Temple of Temples
My tour guide was rattling off more boring statistics about temples when I stole a glance at my watch. 11:00 A.M. Maybe . . .
"So we go on to Angkor Wat?" Samnang asked.
"No, take me to lunch," I said.
"Eh?" He checked his watch. "But it is only eleven o' clock!"
"I know, it's okay."
Samnang turned to the tuk-tuk driver and translated my request into Khmer. The driver nodded and steered the tuk-tuk toward restaurant row.
My day in the ancient city of Angkor had not started well. My guide took me to several lesser temples first, saving Angkor Wat for last. Those temples had been clogged with tourists. I couldn't avoid shuffling along slowly behind everyone else, struggling to frame the other people out of my photos. Angkor Wat was the main temple, and it probably was going to be the worst for crowds. How could I get out of this?
Then I had a brainstorm: take an early lunch.
Our tuk-tuk pulled up in front of a restaurant. The guide said he'd wait for me outside with the driver. As I rolled into the restaurant, I took a look around. Empty of people. I found a waitress and ordered some food. She said it might take a little longer to cook. I was the first customer and they hadn't warmed up the oven yet. No problem.
By the time I finished my meal, shortly after twelve o' clock, the restaurant was packed with travelers. Time to move.
I ran out to the tuk-tuk. "Angkor Wat. Now!" The driver fumbled on his helmet and the guide and I jumped in. He revved up and we roared off in the direction of the famous temple.
"It is lunchtime, so there will be very few tourists at Angkor Wat," Samnang remarked.
"That's the plan!" I said.
"Ah!" he said, understanding. "You should have the temple all to yourself until 2:30 p.m."
"Excellent."
Sampang aided my effort by having the driver drop us off near the back entrance of Angkor Wat. As we walked up, I was struck by the serenity and silence. The place really was deserted, except for the forest we passed through. Glimpses of Angkor teased us. The feeling of discovery was exciting.
Angkor Wat through the back door
We stopped by a flimsy wooden fence and chatted a bit. It was unreal, having a casual conversation with one of the great wonders of the world just beyond us.
Finally, I started exploring inside. Turns out Angkor Wat wasn't empty after all. Cambodians were celebrating their Khmer New Year by burning joss sticks and praying to Buddha. Their holiday occured in April at the same time as the water-splashing festival (songkran) in Thailand, Myanmar and Laos. Vietnamese New Year (Tet) is different in that it followed China's, usually happening in January or February.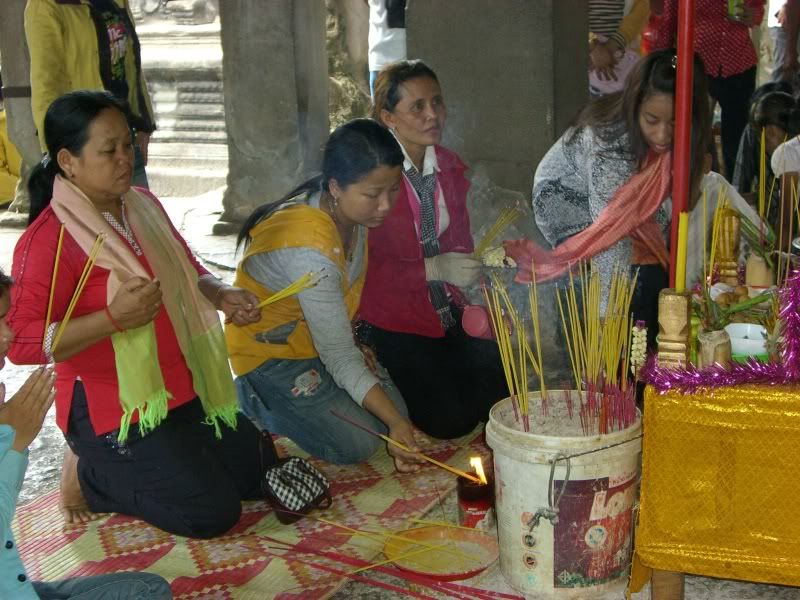 Cambodians praying
I couldn't believe my luck: not only was I dodging tourists, I was also getting to see locals carrying out their traditions too.
All this came at a high cost ot my health. Sampang warned me that I was visiting Angkor Wat during the hottest month of the year (April) and at the hottest time of the day. I sweated my water weight several times over. It got really bad when the metal on my camera burned my fingers, because it absorbed the sun's heat. I thought my camera would overheat and break down.
Although Angkor Wat was certainly massive and spectacular, I wasn't as awed as I should have been. Probably because I wasn't a temple virgin anymore, having been to both
Bagan
and
Sukhothai
. Does that make me a temple slut?
One reason I was disillusioned was that Angkor Wat had more visible damage than other temple complexes I'd seen. Bagan and Sukhothai were relatively well-preserved. Angkor Wat, on the other hand, showed the scars of generations of looting and vandalism.
Buddhas get no respect
Samnang explained that wars with Siam (old name of Thailand), French colonization, Japanese occupation, and Vietnamese invasion all had an impact on Angkor Wat. Buddha heads were cut off, whole statues carted away, embedded jewels dug out of walls, etc. Most treasures went on the black market in Thailand and ended up in the homes of wealthy private collectors.
I became fascinated by the behind-the-scenes facts Samnang told me. A Korean hotel company operated Angkor Wat (Sokha Hotel Co. Ltd.), ran the ticket booths and other administration. A veritable United Nations of archeological groups handled restoration for the temples. Teams from Japan, China, India, and France had all sent experts to aid the effort. For more information, see this
Los Angeles Times
article,
Spirit Reset in Stone
.
Sadly, the freedom from tourists didn't last. I had to see the obligatory sunset from a hill. Seemed like every famous temple demanded you stay until sunset. This was what I saw.
Sunset at Angkor Wat: tourist hell
Even worse, Angkor Wat was a tiny speck far away in the distance! At first, I couldn't even find it. I walked around the hill in a circle, looking out, and saw nothing. Then a local pointed out Angkor Wat to me. (This shot was taken with maximum zoom)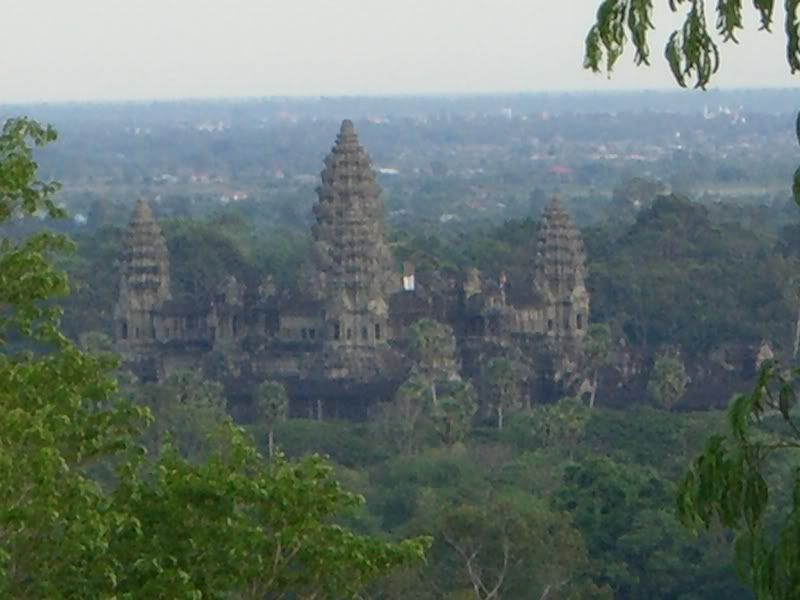 I was like, "That's it?! That's so bullshit!" Totally not as impressive as the vast landscape of temple ruins in Bagan: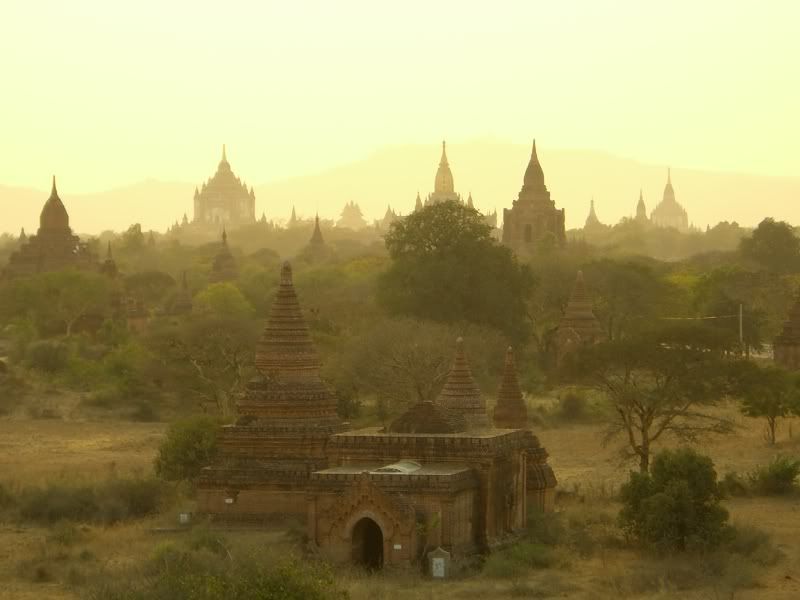 Bagan, now that's a real sunset. (No zoom necessary)
Overall, Angkor Wat is definitely a must-see. But I couldn't help feeling disappointed. I did still have high hopes for the last two temple complexes on my list, but they were in another country.
Lake to the side of Angkor Wat
Inside Information
Visas: Most Westerners can get 30-day visas on arrival. Bring US$20 and one passport-sized photo.
Arrival
Flights arrive at the startlingly modern Angkor International Airport. For a third-world country, the airport is amazingly luxurious, tastefully decorated with Khmer sculptures. It looks more like a nice museum than an airport.
Many hotels will arrange to pick you up if you book in advance. Just make sure to include your flight number and arrival time with your online reservation. Otherwise, you can negotiate with a tuk-tuk driver.
Currency
Cambodia almost universally uses U.S. dollars for any transactions with tourists. Even the ATMs dispense U.S. dollars, so it's a good place to get some if you're running low on hard cash.
Don't bother exchanging money for Khmer riels. You'll get what you need when you receive change. Spend all your riel before you leave Cambodia. Just like other former Indochina countries like Laos and Vietnam, you can't exchange that money outside of the country.
Vietnam and Myanmar also have dual-currency systems. This is where they use U.S. dollars for big travel expenses like hotels and air tickets, and local currency for restaurants and markets. But in Cambodia,
everything
is paid with U.S. dollars.
Where to stay
I stayed at
Mandalay Inn
. My room was nice and the service was friendly. For dorms, go to
Siem Reap Hostel
.
What to do
The main attraction are the temples of Angkor. Angkor is the name of the complex of temples, Angkor Wat is the main temple. You can do them as a tour, rent a bicycle or hire a tuk-tuk for the day. For seeing temples, I've always hired a driver, it's the most convenient way to get around.
Where to party
Pub Street is my favorite backpacker ghetto in Southeast Asia (I can't stand Khao San Road in Bangkok). Restaurants are spacious, 2-story French-style shophouses, stylishly designed and serve good food at reasonable prices. As a bonus, there are street food stalls at one end of the road if you want something cheaper and local. Best of both worlds in one place.