On the move at Mae Taeng Elephant Park
"The complete backpacker package" is how my
Rough Guide to Southeast Asia
on a Budget
describes the northern Thai city. Couldn't be more apt. Chiang Mai has temples for culture vultures, markets for bargain hunters and nightlife for partiers.
But Chiang Mai is more of a place to
do
stuff, not see stuff. This became
apparent when I saw the stacks of brochures all over the place. Travel
agencies and guesthouses have binders as thick as phone books about
the tours they offer.
They describe every kind of activity you could imagine: jungle trekking, elephant riding, river rafting, even more shockingly modern pursuits, like go-cart racing and paintball! Looking around at all the travel agencies, guesthouses and tour companies, I could see what Luang Prabang in Laos was trying to become.
Chiang Mai is a fun factory that could keep a traveler busy for months. As much stuff as I did, it was only a fraction of what was available. Browsing through those binders reminded me of the
Choose Your Own Adventure
books I read as a kid. Except for real.
Here are some of my adventures:
Bamboo river rafting with Maria and Manuel (Spain)
Ox cart riding
Doi Suthep temple
I've softened my stance on tours. I used to be militantly against any and all tours. But now I just hate package tours, where a company controls your entire trip. Day-long tours to visit attractions are fine. Convenient in that they arrange transportation and pick you up at your hotel.
Make sure you're ready to go 15-20 minutes before the tour is scheduled to start. Every time I've done a tour, the guide came to my hotel early. If they say the tour starts at 10:00 A.M., expect them to come around 9:45 A.M. The tour company has to collect guests from different hotels so they can depart from the city on time.
There were a few close calls when I was caught with my pants down--hurrying to finish up my business with the toilet before rushing out to the tour van!
Tours are also good for meeting people. Accommodation in Southeast Asia is so cheap that I often stay in hotels. Great for privacy, but harder to meet people than if I stayed in a hostel. So tours are a good way to socialize.
In places that have so many tour companies, it can be hard to choose one. I think if you like your hotel, it's pretty safe to book tours through them. If you're staying in a backpacker-style place, their tours will probably have younger travelers as well.
Chiang Mai felt like backpacker central. The city's main draw is tourism, it doesn't have a variety of industries like Bangkok. This will sound blasphemous, but I think of Bangkok as being more Thai than Chiang Mai. Yes, Bangkok's more modern, but it didn't seem completely devoted to chasing tourist dollars like Chiang Mai. I've heard if you want to sample traditional Thai life, check out
Isaan
.
Being a university town, there's a great youthful energy to the place. Cultural classes are as popular as outdoor activities. You can study the language, Thai cooking and many other things.
I found this out when I was having a drink at
Rooftop Bar
. I met a group of Japanese girls at the table next to mine. After exchanging introductions, we got to talking. Turned out they were all in Chiang Mai to study.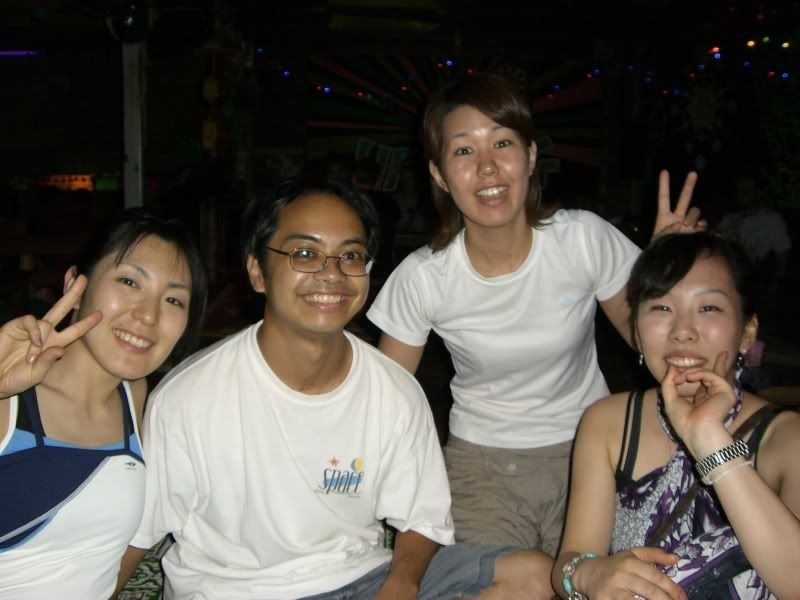 Miho, Keiko and Mayumi (Japan)
"What are you studying?" I asked.
"We study Thai massage," Keiko said. She explained they were training to be physical therapists, and wanted to learn some foreign techniques.
Later, we talked about mistaken identity. Everywhere I went, I got mistaken for a local person. One of my tour guides was surprised to see me when she picked me up at a hotel. Why would a Thai person want to take a tour?
"Sometimes people think I'm Thai," I said. "How about you guys? Do people ever think you're Thai?"
Keiko translated my questions for the others. They answered. She said sadly, "No, people always know we are Japanese."
Inside Information
Getting there
By train: Most travelers go to Chiang Mai via overnight train from Bangkok.
It's a really long ride if you go by bus.
Buy the train tickets at Bangkok's Hualamphong Railway Station. Avoid the
smiling "information officials" who will try to get you to buy train tickets
from the travel agencies. They'll charge you unnecessary commission fees.
The official ticket clerks in the glass booths will speak enough English to
handle a transaction. If you want a sleeper berth, buy your ticket a couple
of days in advance. They sell out quickly.
If you're really keen on getting to Chiang Mai as soon as you land from overseas, you can take airport bus AE4 straight from Bangkok Suvarnabhumi airport to Hualamphong station.
You might find yourself stuck in Bangkok overnight if all the sleeper tickets are sold out. In that case, you can go to
The Train Inn
, which is very close to the station. Signs outside the train station will you guide you there.

Here's the rough timetable for the two most convenient trains from Bangkok
to Chiang Mai. Double-check with the ticket clerk before you buy, or with
the State Railway of Thailand. Chiang Mai is on the Northern Line.

No. 13 Special Express Train
Depart: 7:35 P.M.
Arrive: 9:45 A.M. next day
Duration: 14 hours
air-conditioning, no fans
Cost upper/lower bunk: 791 baht / 881 baht

No. 110 Rapid Train
Depart 10:00 P.M.
Arrive 12:45 P.M. next day
fan-cooled, no air-conditioning
Duration: 14 hours 45 minutes
Cost upper/lower bunk: 531 baht / 581 baht



Where to stay



CM Blue House has nice rooms at reasonable prices. It's where I stayed. Julie Guesthouse and Daret's House are popular backpacker places. Beware of guesthouses that have really cheap rooms. They're more likely to pressure you to book tours through them.



What to do



Any guesthouse should have reams of tour-company brochures in the reception area. The company I used through CM Blue House was Sompong Tours. Good prices, air-conditioned vans and cheerful tour guides.



Shopping



Chiang Mai has the most secondhand bookstores I've seen in Southeast Asia. Gecko Books is the most famous, but Backstreet Books is also big. There are about a half-dozen bookstores around Chang Moi Kao Road, opposite Tha Pae Gate.

The Chiang Mai Night Bazaar is also fun for buying local crafts. Relaxed and charming, great for wandering around.



Getting out



As great as Chiang Mai was, I heard from backpackers that it gets better the more north you go. Chiang Rai, Mae Hong Son and Pai came highly recommended, especially for trekking. Pai is supposed to be a hippie town with lots of art cafes and live-music clubs, and fun for hanging out.

Buses leave from Chiang Mai's Arcade Bus Station. Since Chiang Mai is that last stop on the northern train line, any onward travel has to be done by bus.