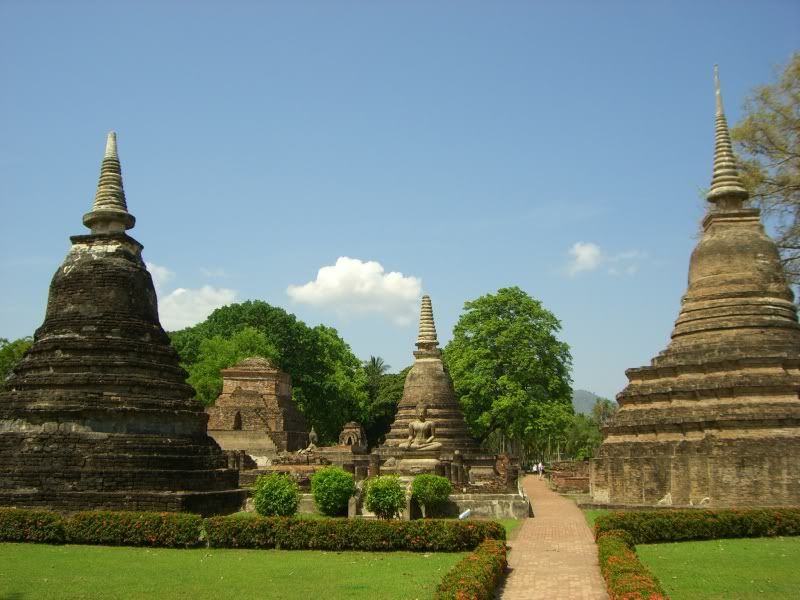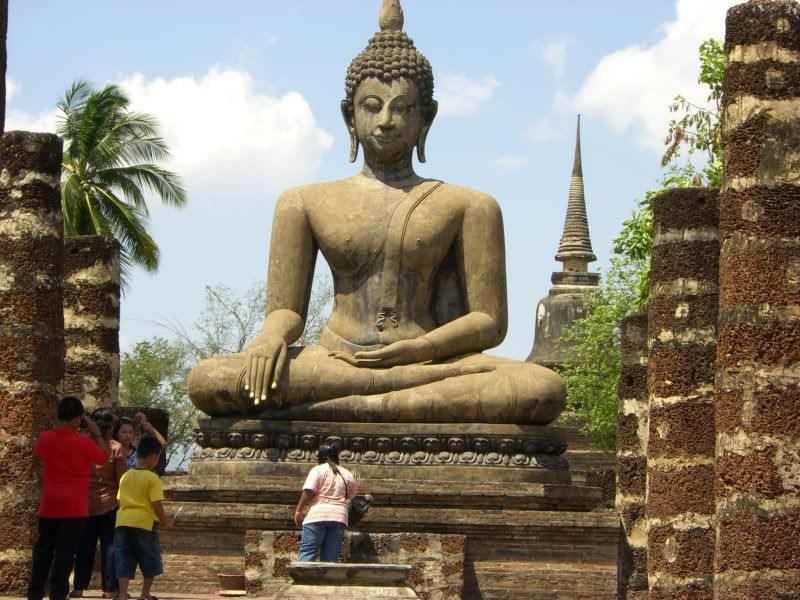 After seeing Bagan in Myanmar, I got the Indiana Jones bug. Ancient temples were my new playgrounds.
Sukhothai was the next target on my hit list. It's the cradle of Thai civilization, where the alphabet was invented.
I was torn between going to Ayutthaya or Sukhothai, the two main temple cities in Thailand. Once I weighed the factors, I eliminated Ayutthaya because:
--a lot of it was destroyed by Burmese armies in the past. Sukhothai is better preserved.
--Ayutthaya's traditional and modern architecture are all mixed together. Old and New Sukhothai are kept separate.
What grabbed my attention were the little accoutrements of civilization that marked Thailand as more advanced than Myanmar: footlights strategically placed around each temple, glossy new displays with English-language descriptions, and tasteful landscaping.
It was pretty cool to see sidewalks and rows of bushes leading to each temple. While walking around, I had the feeling of being in an outdoor museum. Sukhothai was a good example of proper temple maintenance.
Bridge to Wat Trapang Ngoen
The lush greenery was a pleasant surprise. In Bagan, the various kings had cleared the forest, lending the place the barren atmosphere of a desert on Mars. Sukhothai felt more in harmony with its natural environment.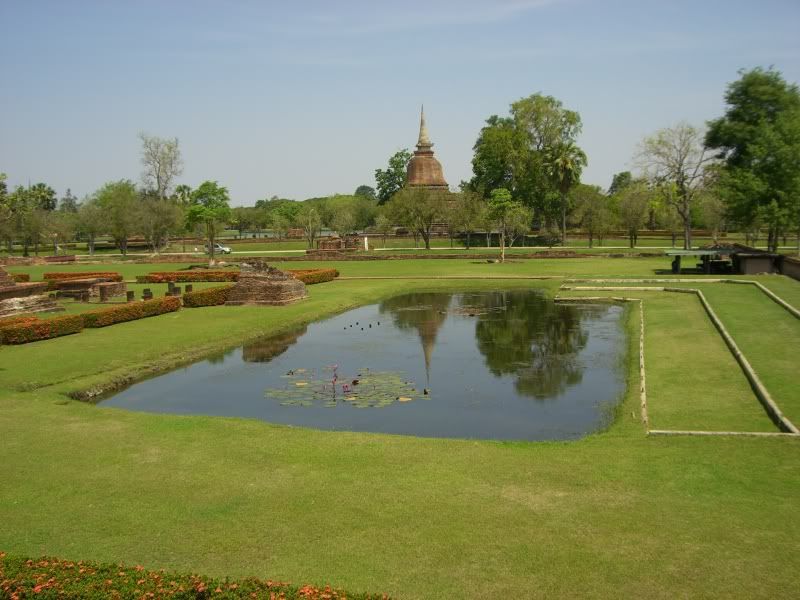 Like I did in Bagan, I rented a driver for the day. Ended up with a motorized
tuk tuk
instead of a horse cart. Again with Thailand being more modern than Myanmar!
Backpackers usually prefer to see temples the cheap way: taking a public bus or
songthaew
to the main entrance, then renting a bike at the site. I saw this in Bagan too.
I prefer to save my energy for climbing around the temples and taking photos, instead of getting from place to place. Riding around in a tuk tuk also served as a natural fan, with the wind in my face cooling me down.
The Wat Mahathat temple complex was the first site I hit. The soaring stupas and scattered ruins made me think this was the Thai equivalent of the Roman Forum in Italy.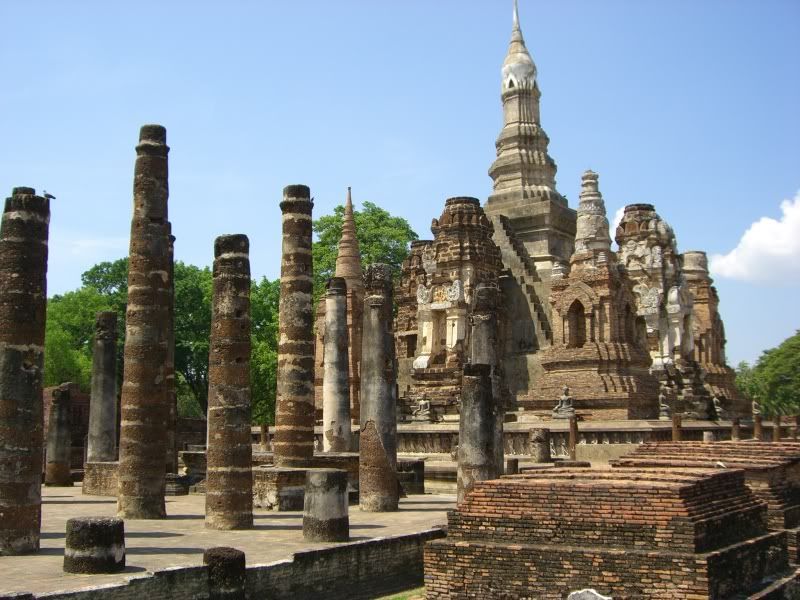 Photos of Wat Mahathat complex
Later, at Wat Sri Sawai, I saw Hindu temples built in the Khmer style. They were a good preview of what I'd see at Angkor Wat in Cambodia.
Wat Sri Sawai
After a while, I recognized a standard layout for Sukhothai temples: two lines of columns leading up to a seated Buddha with a lotus-bud
stupa
behind it.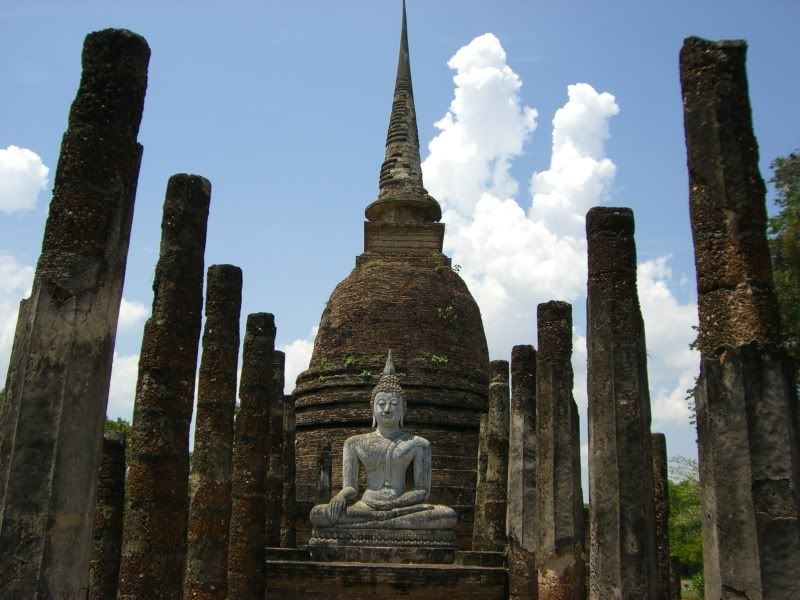 The standard Sukhothai temple setup
Comparisons with Bagan are unavoidable, and one of the first things I observed was that Sukhothai's Buddhas were a lot smaller. Burmese also love to coat their Buddhas in gold leaf, while Thais leave their Buddhas with a more natural stone appearance.
The one Buddha that could take on any in Bagan was at Wat Sri Chum. That specimen was a monster. Although I usually prefer not to have tourists in the same photograph as monuments, this was an exception. Having this mere mortal in the photo really gives you a sense of the scale of this Buddha.
A man prays in Wat Sri Chum
Thailand is the tourism capital of Southeast Asia, so I was surprised at how few tourists there were. While I was on the train, I got the impression that most people head straight to Chiang Mai and skip Sukhothai. For me, it was a nice spot to break up the trip between Bangkok and Chiang Mai.
Wat Trapang Ngoen Buddha
Inside Information
Getting there
Bus: Depart from Mo Chit Bus station in the north of Bangkok. You can take the Skytrain to Mo Chit Skytrain station, then take a 10-minute taxi ride the rest of the way. Buses leave frequently and take 6-7 hours.
Train: The closest train station is in Phitsanulok. Getting to Sukhothai this way is a transport marathon. The train from Bangkok to Phitsanulok takes 5-6 hours. Then you have to take a bicycle rickshaw from the Phitsanulok train station to Phitsanulok bus station. Take a bus for 1 hour to Sukhothai bus station. Then take a songthaew to your guesthouse.
Where to stay
I stayed at
Garden House
in a bungalow with private bathroom. There was this weird smell in my room, so I wouldn't stay there again. The
Ban Thai Guesthouse
next door seemed better.
Garden House
11/1 Pravet Nakhon Rd
Sukhothai, Sukhothai Province
Tel: (055) 611 395

Ban Thai Guesthouse
38 Pravet Nakhon Rd
Sukhothai, Sukhothai Province
Tel: (055) 610 163
Where to eat
Dream Cafe -- a gourmet restaurant that serves Thai and Western dishes. A classy choice in otherwise drab New Sukhothai.
Dream Cafe
88/1 Thanon Singhawat