Me and Junko in Ximending

When I first moved to Taipei, I was struck by how Japanese it felt. The interior design of department stores and fine restaurants have that sleek, ultramodern look. Lots of white floors and walls, crystal-clear glass and cheerful uniformed women bowing and opening doors for customers. It became even harder to distinguish between Taipei and Tokyo when I had a night out with some Japanese girls here.
I first met Junko at a house party thrown by Julie, a French girl I used to work with. One of the things I'll miss most about living abroad is meeting people from all over the world. It's good to feel positive again, especially after I ranted and raved about foreigners in
my last post
.
She's one of my favorite people because she's very non-Asian, and I mean that as a compliment. Too often, I run into Asian women who like to giggle, act like little girls and pretend to be stupider than they really are, because that's what they think is attractive to Asian men. To be fair, Asia doesn't have a monopoly on this type of girl. I've encountered their equivalents in the West as well. In contrast, Junko is very down-to-earth, well-traveled and can talk articulately about a variety of subjects.
Junko called to invite me out on Saturday. A couple of her friends from Tokyo were visiting Taiwan, and they asked her about nightlife in Taipei. She immediately called me, since she considered me to be the expert on clubbing.
I met up with Junko and her friends in
Ximending
, where her friends were staying at a hotel. That made sense, since Ximending is the most Japanese part of Taipei. Junko aptly described it as a "wannabe
Shibuya
." I think that Japanese neighborhood is much more extreme and colorful than its Taiwanese counterpart, though.
When I arrived, Junko introduced me to her friends, Junko and Aya.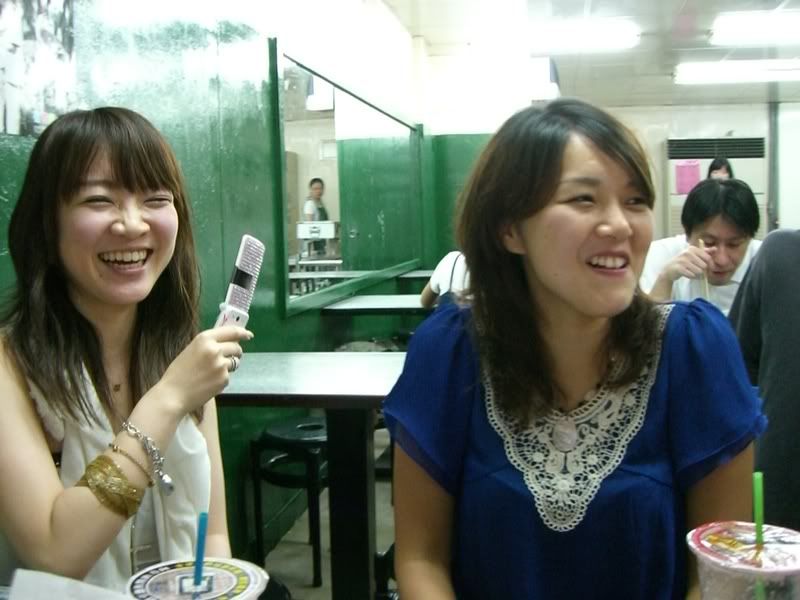 They had come out to visit Junko, who worked as a translator for a Taiwanese company. Japan is one of Taiwan's biggest trade partners.

The Taiwanese often look to Japan as a trend-setter, so I was interested in hearing their opinions. I asked them what they thought about the local fashion. Junko said, "I think Taiwanese girls wear shorter skirts than Japanese girls."

I burst out laughing at her blunt honesty. Indeed, summertime is a paradise for men in Taipei, because the girls love to show off their legs. Even the most demure and shy among them think nothing of wearing shorts that barely cover more than underwear would.

Over dinner, I learned that Aya and the Junko that lived in Taipei had both studied abroad in the states. I've noticed that when Asian students do high school exchanges in America, they always end up in small towns in the south or middle of the country, not world-class cities like New York or San Francisco.

I'm worried that they base their impression of America on living in the worst parts of it. When I once asked another Japanese friend what she thought about America, she said, "I thought the U.S. was #1. But your electronics are so old!" I remember cringing in shame. I've read that the iPhone isn't that popular in Japan and South Korea because their cell phones are already way more advanced than ours.

After the introductions were over, they did what Asians do best: eating and shopping. In my travels, I've found that Western travelers are more into "cultural tourism." They want to visit temples, historic sites and see local people acting local.

In contrast, the Asian tourists I've encountered always seem to head straight for the department stores and local markets. We're talking repeat visits. This baffles me, since most of them could easily buy Louis Vuitton handbags anywhere in the world, including big cities back in their home countries. To get a better idea, check out this Taipei Times article about the first wave of Chinese tourists to visit Taiwan.

As for night markets, I'm so over them now. I can understand going once while you're in Taipei, but every night?! They're hot, crowded and noisy. Then again, that's Asia, so maybe there's a familiarity that's appealing to them. I get the impression that while Western tourists get an idea of a culture by looking at its history, Asian tourists explore a culture by sampling its food.

Whenever I asked my local friends about traveling, the first thing they'd mention is whatever dish a certain place was famous for.
"Bejing, you have to eat roast duck!"
"Chengdu, then you must try kung pao chicken!"
"Shanghai has the best xiao long bao."
"You can't go to Hong Kong without having dim sum!"
"How long have you lived in Taiwan? Have you ever tried stinky tofu?"
(I have, and it tastes better than it smells, thank God)

Colin, one of my best friends, constantly bitches about how he's so sick of taking his visiting friends to Shilin Night Market. That place is like a mecca for overseas Chinese. It's insanely popular with Singaporeans and Hong Kongers. I think it's even more popular with Asian tourists than the National Palace Museum and Taipei 101.

Ximending caters to teenyboppers, so the Japanese girls checked out a manicurist's shop. The girl who worked there was a typical friendly Taiwanese and was happy to talk to people from Japan. Taiwanese are really into Japan and Japanese pop culture.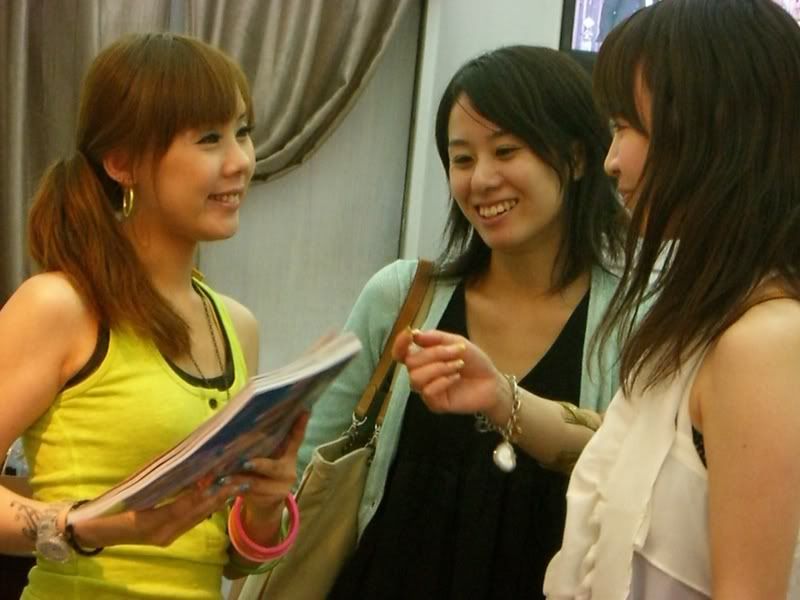 Later, we wandered into a clothing shop. It was one of those places that likes to write outrageous and humorous statements on t-shirts, in English and in Chinese.
I thought about buying a shirt, but I have a policy about not buying clothes with language I can't read. In extreme cases, I've heard of dumb Westerners getting Chinese characters as tattoos, without knowing what they actually meant. You never know when a tattoo artist might be playing a joke at your expense.
Supposedly, there was a guy who got the Chinese character for woman,
"
女
" (Nǚ), tattooed on his arm, as a way to show how much he loved Asian women. He loved them so much he had the artist write the character three times. The problem is,
女
女
女 (jian)
arranged in a triangle means "rape." And he wondered why he had trouble picking up women in clubs.
As we entered Ximen MRT station to go to a club, I heard people calling out my name. It turned out to be Ivy and Claudia, two Taiwanese girls I've often run into when I'm out clubbing.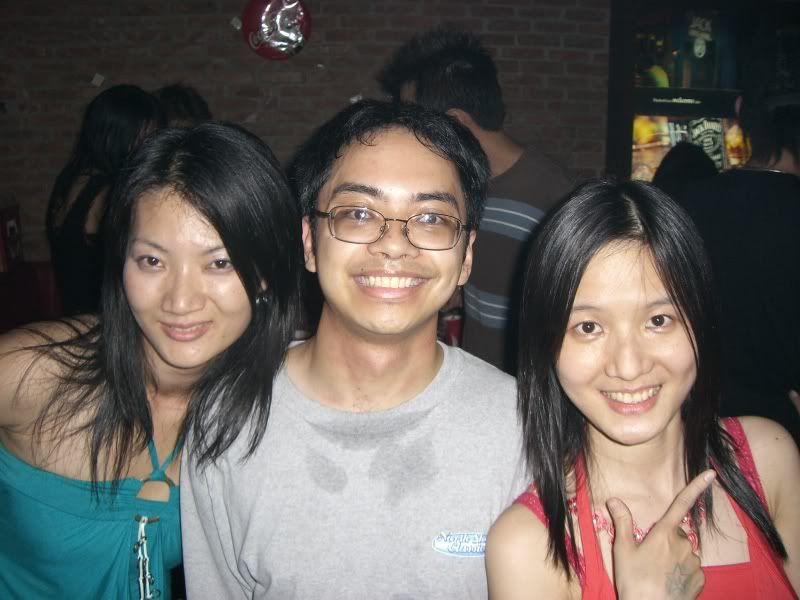 For a city of 2 million people, Taipei is such a small world sometimes. I had just gone out with them on Wednesday to
Room 18
.
I introduced the Japanese girls to them. Claudia asked where we were going. I said I was taking them to
Luxy
. It's big and grand, so it's a good showpiece club to take visitors.
"What's it like?" the visiting Junko asked Claudia.
"Oh, it' so cool!" she answered. "Good music and the
Luxy showgirls
are very hot and dance very well. You'll have fun!"
Once we got into Luxy, I led the group to the front of the dance floor, close to the DJ. Whenever I go to a club, that's the area I go for, since there tends to be less people and more space to dance. A lot of times, that's where the good dancers are, so I can observe them and pick up new moves.
It was good timing, the DJ played a series of high-energy songs. While the Japanese girls were a bit surprised at my dancing, they eventually took turns dancing off against me, busting out Tokyo-style moves I hadn't seen before. Quite educational!