The serious business of eating:
my friends Colin, Sandra and Ted figure out what to order at my birthday dinner. Click on the photo to view the album.
I hate throwing parties for myself. Especially birthday parties. It's like, "I'll get all my friends together and remind them how great I am." I abhor that stink of self-aggrandizement. I marked my last birthday by eating a pizza alone and reading a book I'd just bought.
That being said, I decided to make an exception for my quarter-centennial. I had to do
something
to mark my quarter of a century on this planet.
By throwing a party, I had to break my lifelong habit of keeping my friends separated. I find it easier when my various groups of friends don't know each other. That way, they can't cross-reference information and discover more about me than I'd prefer them to know. Example: "He's so quiet and shy at work. I had no idea he goes to nightclubs and busts out hip-hop dance moves!"
Colin and Sandra
The other stressful part was deciding who to invite. I had to keep things confidential, because I didn't want to offend the people I didn't invite. The stumbling block was that some of my friends had friends that I found annoying. It's amazing how often I'll have a friend who's really cool and fun, and one of their close friends will be someone who's just the opposite. Maybe opposites attract in friendships as well as relationships.
Ken, Lee, Marcus, and Brynn
After struggling with this, I decided to risk looking like an arrogant snob by telling my friends they could not bring along specific people. As I get older, I'm less and less willing to voluntarily spend time around people I don't like. Luckily, my friends all readily agreed. Maybe it added a sense of exclusivity to my party.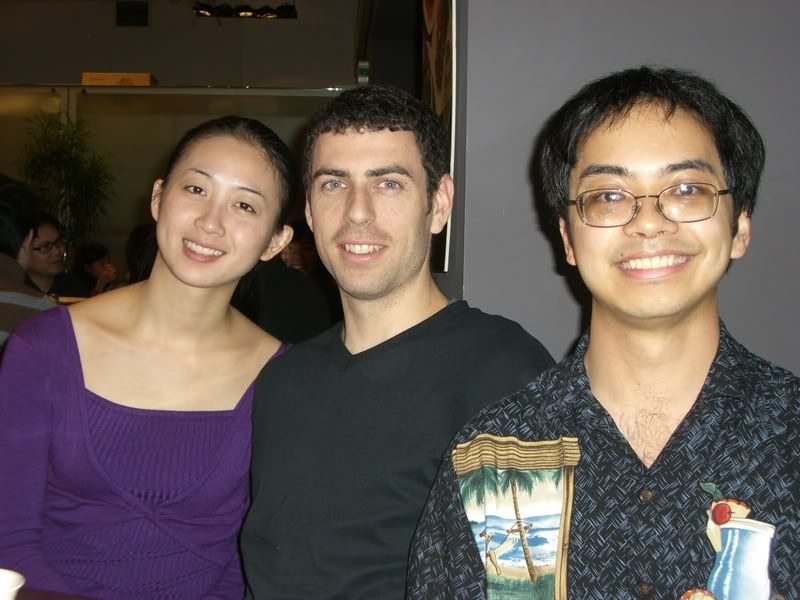 Shin-yi, Silas, and Marcus
My dinner party was at
Chili House
, a restaurant that specializes in Sichuan (a.k.a. Szechuan) cuisine. Sichuan Province in China is famous for its hot and spicy food. It's one of my favorite Chinese restaurants in Taipei. Chili House and
Madame Jill's
were my top choices because I love both of them. Since the latter is a Vietnamese restaurant, Chinese cuisine triumphed.
The other reason I chose Chili House is that it's near lots of nightlife, in case people wanted to go out after dinner. It's better to be within walking distance. If we had to get separate taxis to go to a club or bar, everybody would get lost. It's happened to me so many times when a group tries to move on to the next venue.
At Sofa Bar after dinner: James, Thomas, Marcus, Brynn, Colin, and Ken
The weather was rainy and crappy on the night of my birthday dinner. I was worried that no one would show up and I'd look like a fool. I arranged to meet at an MRT station, then we'd walk over to the restaurant, to reduce the chance of people getting lost.
Eventually, half my friends showed up and we began walking to Chili House. It's a fair distance away from the MRT station, but that turned out to be a good thing. There was more time for my friends to chat and meet each other before we all sat down. "How do you know him?" was the common question. The usual reply was, "Oh, we lived in the same hostel" or "We used to work together at the news agency."
When we got to the restaurant, everyone else showed up, and then some. Now I had the reverse problem: I wasn't sure if there were enough seats for us. The waitress said we might have to split into two tables. I really didn't want that to happen, because I would've felt bad for the people marooned off in the second table.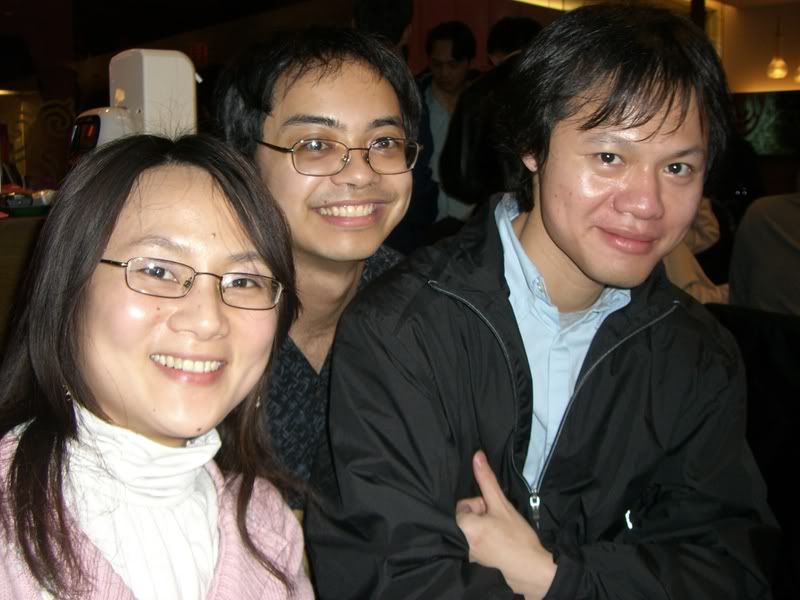 The Latecomers:
Sandra and Ted
I stood next to my friends who came late and chatted with them, so they wouldn't feel awkward about not being able to sit down yet. I did it out of reciprocity, I hate it when a friend brings me to a party, then abandons me to talk to people they know. Meanwhile, I stand by the wall not knowing anyone and feeling stupid.
After what seemed like an eternity, the waitress came back with extra chairs and everyone was able to sit at one table. Now I could relax. The other reason I don't like throwing parties is that sometimes it can be hard work, I have to allocate myself fairly so that all my friends get to talk to me and I have to make sure they're having a good time.
Once everyone was settled and talking to each other, I could focus on having fun and enjoying the food. My favorite dishes at Chili House are the kung pao chicken and the dumplings in chili sauce. Both are exquisite with subtle, complex sauces.
The nice thing about being the host was that I got to hand-pick my favorite people from the different crowds I move in. My friends meshed together well, despite meeting each other for the first time. There's always the risk that some people might not get along. I specifically invited friends that were gregarious, well-read and good listeners, to guarantee fun conversations.
The funniest part was when Colin went on his usual rant about the "Breakfast Club." It's an early-morning class that he teaches, not
the classic 80's movie
. Watching this video instantly transports me back to those good old days of living in Taiwan:
As I looked around at my friends, I felt proud. They were a diverse, interesting bunch: English teachers, translators, journalists and above all, avid travelers. Brynn, an English teacher and one of my close pals, smiled and leaned over to talk to me. She said, "You have
really
cool friends!"
That made my night.