My Chinese textbooks. Except for "An Easy Approach to Chinese," all my learning materials were published in Taiwan, not China. For a complete discussion of the two places, read this post:
Studying in Taiwan vs. China
.
Finally, after literally years of telling my friends how I planned to quit my high-pressure job to teach English and study Chinese, I've finally done it! It's a good thing too, because I was getting sick of hearing myself say it. It's a resolution that I just haven't been able to keep until now.
I really wanted to enroll in a university program, like at National Taiwan Normal University (commonly known as "Shida") or at Chinese Culture University. The problem was that their class terms last 3 months, while the English classes I teach change every 2 months. I was worried that my fluctuating work schedule would interfere with my Chinese studies.
In the end, I opted to go with a tutor at a private language school near
Chiang Kai-shek Memorial Hall
. Although it costs more, I have more flexibility to reschedule classes if something comes up at work. At a university, I'd have to follow their timetable.
My teacher is also able to tailor lessons to suit me. Our first few classes didn't go so well, because she had trouble getting a grasp of what my Chinese fluency was. She thought my vocabulary and listening comprehension were quite good, which made her think I was more advanced than I really was. I've never studied reading and writing, so I'm a complete novice in those areas. Finally, she figured that she can move faster on teaching speaking, using only Chinese. For teaching writing, she goes slower and uses English more frequently.
I supplement my lessons by doing language exchanges. This is when you and a local meet at a casual place like a coffee shop to help each other learn a language. I actually don't think this is a good idea for a total beginner, because you simply won't be equipped to handle even the most basic conversation in Chinese. It'd be better to spend the first few months trying to build up your vocabulary and learning useful sentence patterns before doing a language exchange.
To keep a language exchange from veering off too much into a conversation in English, I like to bring a notebook with words and sentences that my LE partner can translate. Writing things down in English also helps my LE partner, as many times it's easier for them to understand a word by reading it instead of hearing it. Most non-native English learners have studied reading and writing in English, but not speaking.
Just before meeting for a language exchange, I like to write down a list of words about a particular topic that I want to be able to talk about in Chinese. There's a lot of cool things about the language that you'll never learn in class.
My greatest treasure was a notebook of slang I built up after doing a year of language exchanges in China. Examples: "Yellow movie" means porno movie and "vase" means bimbo. One thing I noticed is how Chinese use animals to refer to bad people. A "color wolf" is a dirty old pervert, a "snake woman" is a femme fatale, and a "yellow bull" is a scalper who charges exorbitant prices for train or concert tickets.
Ideally, a language exchange partner should be able to speak enough English to explain something to you, but not so much English that they can easily carry a full conversation. It's too easy to lapse back into English. This is hard for me to find in Taipei, since it tends to draw the best and brightest from around the island.
My other problem is that I have a hard time concentrating on studying the language during my LEs. It's too easy to get distracted. Consider some of my LE partners: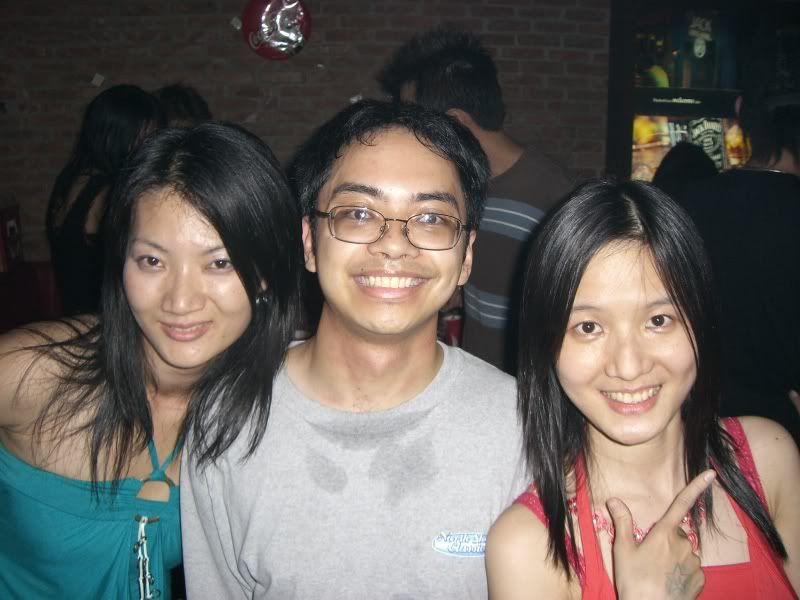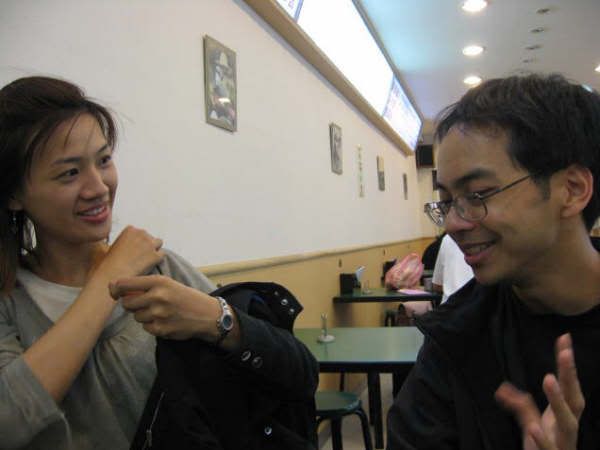 This may only be my experience, but I find that girls are more interested in learning English than guys. I see this all the time in my English classes, where females outnumber males by a large margin. Even when I was a university student, all my creative writing classes were dominated by girls.
Appendix: My Chinese books
Far East Everyday Chinese--virtually all universities and language schools use the Practical Audio Visual Chinese books published by Shida. I've heard they're too dense with grammar and the words are outdated.
The Far East books are very practical in daily life. From the first lesson, you're already learning to ask how much something costs, which is much more practical than learning how to introduce yourself.
An Easy Approach to Chinese--The Chinese book I used in Shanghai. I didn't like the textbook my teacher was going to use, so I went to the Foreign Languages Bookstore on Fuzhou Rd. After sifting through a lot of books, I chose this one because it focused on speaking and didn't teach Chinese characters. At the time, I wanted to learn the language for survival, not literacy.
A Guide to Proper Usage of Spoken Chinese--This is a handy decoder for Chinese grammar. There's often two or more very similar ways of saying something in Chinese, but they're different enough to cause confusion. This book explains Chinese grammar in a very clear, simple style.
Everyday Chinese for Travelers--Also published by the Far East Book Co., this is by far the best Chinese phrasebook I've ever seen. Page after page of useful vocabulary and phrases.
This book is my cheat sheet when I need more vocabulary to do my Chinese homework. The only downsides are that it focuses on Chinese as spoken in Taiwan rather than China, and uses traditional Chinese characters instead of simplified.