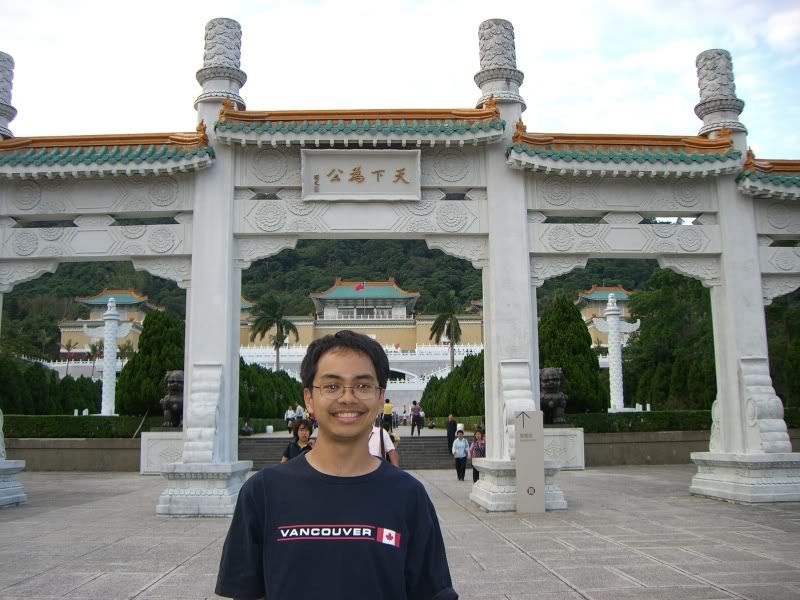 National Palace Museum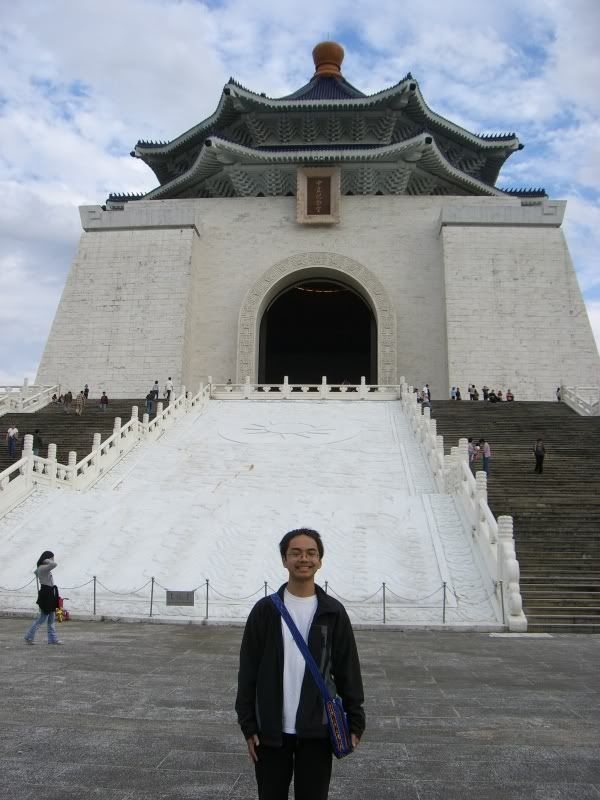 Chiang Kai-Shek Memorial Hall
During my initial job hunt in Taipei, employers would always get more interested after they found out I had lived in Shanghai. "Oh, you lived in Shanghai! What's it like? Which city do you prefer?"
When you've lived in another country and move, you may have left the place, but it takes longer for the place to leave you. For the first few months in Taiwan, I started every sentence with, "When I was in China . . . ,"
Taiwan has a heavy dose of Chinese culture, so I expected things to be the same and I could avoid culture shock. I was wrong. Although things on the surface seem similar--crazy traffic, huge crowds, hearing lots of Mandarin spoken--Taiwan also has loads of differences. As a result, all I could talk about when I first came were the differences between Taipei and Shanghai.
First, let me get this out of the way. Taipei is not a beautiful city. It won't be topping Prague or Kyoto anytime soon. When Chiang Kai-shek fled to Taiwan with 2 million refugees in 1949, Taiwan was considered a temporary base for his forces to launch a military campaign to reclaim China from the Communists. My theory is this thinking led to haphazard, sloppy construction. Things were meant to be functional, not fashionable. Why waste time on making buildings beautiful when they were planning on going back to China anyway?
In contrast, Shanghai has not one, but two of the best skylines I've ever seen in the Bund. The Puxi side has funky retro-European architecture, while the Pudong side has futuristic, spaceship-style buildings. It also has a fleet of soaring skyscrapers, so you really feel like you're in a big city. Taipei looks like a big city, until you realize how quickly you can get around and how often you keep running into the same people. Since Taiwan gets hit by earthquakes, most of the buildings are short. This is great, because most big cities in Asia have so many tall buildings they crowd out the sky. Taipei is like a small town disguised as a big city. I like that though, since it has the conveniences of a city and a human scale.
One great thing I like about Taipei is that it's all central. The city center started in the west and development steadily moved east. Shopping centers, restaurants, and bars sprang up to follow the trend. This way, every area has everything you need to live. One guidebook said something like, "If Los Angeles has no center, than Taipei is all center."
In Shanghai, there's a big difference between living in Puxi (the old area) and Pudong (the new area). All the nightlife and entertainment is in Puxi, while Pudong is cleaner and nicer, but has absolutely nothing to do after work. Taipei's
Xinyi District
is like Pudong, except it's fun. I do miss
Xintiandi
in Shanghai, though. The neighborhood has It preserves the old
shikumen
architecture and houses some of the best restaurants and bars in town.
Traffic is pretty bad in both cities. Taipei's MRT is pretty extensive and is still growing. Shanghai had like three metro lines when I first arrived and they added two in the one year I was there. Construction in China goes at warp speed compared to Taiwan. Taipei's buses are much nicer than the ones in Shanghai, but it really varies because there's so many local bus companies. Some are brand new and magnificent, and others screech along like they've just been plucked from a remote village. The big plus is that Taipei has an English-language
bus website
. In Shanghai, I had to rely on my Chinese friends to tell me which buses to take. I've become really spoiled by the subways in Asian cities. If it takes more than 20 minutes to get somewhere, I think it's too far.
A huge difference is population. Taipei has 2 million people, while Shanghai has like 18 million. To put that in perspective, remember that Taiwan has 23 million people. Shanghai alone has almost the same population as all of Taiwan! Taipei's MRT is only packed at the morning and afternoon rush hours. Shanghai's metro is packed to bursting
all the damn time
. People must be working at all times of day and night. Whenever I got felt crammed in a subway car in Shanghai, I'd be reminded that I was in the biggest city in the world's most populated country.
Colin
, one of my friends, put it best when he said that Taipei had a great "lane culture." Travelers love to talk about discovering cool stuff in the back streets. Taipei is totally like that with its myriad lanes and alleys. Since the city is surrounded by mountains, people make use of every last inch of available space. Wander down a stray alley and you might stumble onto a night market, cafe or bar you'd never seen before. This is especially true in the student districts near the universities. I could live here for years and still not know about all the cool places in the back streets. There's lots of great spots to chill out and chat with friends.
Speaking of mountains, Taipei has a really diverse environment for a city. There's beaches, mountains, and a national park all within an hour or two of the city. Longtime expats tell me the way to go is to get out and live in Taipei County, the area surrounding the city. If you live near an MRT station, you can be in Taipei in 30 minutes. They tell me you get cleaner air, beautiful scenery, and lower rents by living in the county. Taipei County is great for hikes, seeing little towns and a million other diversions.
Elizabeth
, my English flatmate in Shanghai, came to visit Taipei and said she thought it had more variety for day trips than Shanghai. Taiwan is smaller and mountainous, which forces places to be closer to each other. China is so friggin' gigantic that it takes forever to get anywhere.
The real treasure of Taipei is the people. Taiwanese are legendary in Asia for being super-friendly. It's almost impossible to stumble around without a Taiwanese person offering to give directions, invite you to a meal or go out of their way to help you out. If Taiwanese remind me of Hawaiians, then Shanghainese are New Yorkers: aloof, driven, ambitious, and a bit snobby, fully aware their city is on the cutting edge of the world's economy.
In Taipei, the locals are more likely to speak English and be more well-traveled than their Shanghainese counterparts. Taiwan has a history of being a U.S. ally in Asia, so many Taiwanese have studied in the United States or the West. If Hong Kong is an amalgam of China and England, then Taiwan is a combination of China and America.
The taxi drivers capture these different personalities perfectly. In Shanghai, the taxi drivers are surrounded by a wall of plastic glass. They tend to be really quiet and professional. They only open their mouths to ask if you're going to pay with a public transportation card or with cash: "Shua ka haishi xianjin?" In Taipei, the taxi drivers are cheerful and love to talk to visitors. "Where are you from?" is the first question many taxi drivers ask. If you speak Mandarin, then you end up having really long conversations with them.
I didn't notice it when I visited, but after I moved here I realized that Taipei feels really Japanese in places. No surprise, since Taiwan was a Japanese colony for about 50 years during World War II. A lot of the shopping centers and nicer restaurants have the sleek, ultra-minimalist style of Japan. There's also lots of Japanese restaurants, especially around Zhongshan District. The heavy Japanese influence feels familiar to me, because there's so many Japanese tourists and Japanese-Americans in Hawaii.
Taiwan also reminds me of Hawaii in other ways. It's an island, and the people seem more laidback, even though they work as hard as anyone else in Asia. People worked 6 days a week until only very recently, when they added Saturday to the weekend. I was glad to see people walking around in flip-flops and wearing shorts again. There's lots of drink stands selling iced teas, smoothies and fruit juices, because of the tropical weather.
Since I've been in here for almost a year now, I almost forgot to mention some things that immediately stand out to newcomers. For example, the scooters! Taiwan must be the scooter capital of the world. They only cost about US$1000 or less, so almost everyone has one. It's not necessary in Taipei, though, because it has the MRT and an extensive bus system. But anyone who lives outside of Taipei has to get a scooter. It's amazing how many people and groceries Taiwanese are able to balance on those things. Scooter-riding in Taiwan qualifies as a circus act sometimes.
Taiwan also has an amazing amount of convenience stores. You're never than a 1-minute walk away from one. In Honolulu, the closest 7-Eleven was a 5-minute drive from my house. The other thing that makes them so great is that you can take care of practically all your affairs at a convenience store. Pay utility bills, buy tickets for events, and even express-mail parcels internationally. I read that Taiwan has the densest concentration of convenience stores in the world, but an American who was teaching English in Japan disputed this and claimed that title for the land of the rising sun.
No visit to Taiwan is complete without a trip to a night market. Even in the middle of a big modern shopping district, you can find markets selling cheap food. They're a godsend when all the other restaurants are closed in the evenings. I once edited an article on how
Taipei is a 24-hour city
.
Speaking of food, one of the great debates between expats is which place has better Chinese food, China or Taiwan? The classic argument is that many master chefs fled China to Taiwan and Hong Kong around 1949. They brought along their recipes and traditional methods of cooking. Some of my translator friends, many of whom studied in Beijing, insist that the mainland has better food, though. One made a good case by saying that China has more access to the ingredients, because they're grown there. In any case, Taipei has a huge variety of Chinese food that is relatively cheap and high-quality compared to what you'd get in U.S.
Nightlife is another big consideration for me, since I love dancing. Shanghai has lots of new clubs and bars opening all the time. The quality of dancing isn't quite there yet, though. In Taipei, hip-hop has really penetrated the youth generation, so I see a lot more accomplished dancers here. Almost every time I go out, I see c-walking, crip-walking and breakdancing. That didn't happen in Shanghai as often. Like Singapore, I also think Taipei's clubbing scene is very underrated.
Luxy
is one of the coolest clubs I've been in.
One of the smaller things I noticed is the magazines and websites for expats. The ones in Taipei are so crap compared to Shanghai! I miss my
SH magazine
,
City Weekend
,
That's Shanghai
, and
Smart Shanghai
. They were much more slick and cool. In Taipei, I have to make do with
Taiwan Fun magazine
and the truly godawful-looking
Tealit
. My theory about this is that the expats in Shanghai are younger and more party-oriented, while Taipei has a lot of expats who've been here 10+ years and have married local women.
One of the big things I miss about China is the feeling of adventure. China feels more wild and unpredictable, and you never know when you might see some crazy shit. Check out the China Daily's
Odd News
section for abundant examples of this. Taiwan is a lot tamer in comparison.
Brian
, an English teacher, summed it up best: "Taipei is a better city to live in than to visit." Taipei doesn't have the big ancient sights of
Beijing
or the brash modernity of
Shanghai
, but it's a lot more comfortable. It's smaller, less chaotic and a relatively soft landing for a newcomer to Asia.
Reaffirming what Brian said, most of the foreigners I meet in Taiwan are here to work and/or study, rather than just taking a short vacation. It's sad how obscure Taiwan is. Actually, people who've never been here sometimes get Taiwan and Thailand confused with each other! Or it's known as the place where everything was manufactured in, before everything became "Made in China."
The Rough Guide to Taiwan
says it is "the most underrated tourist destination in Asia."
Taiwan
has spectacular scenery (think
Taroko Gorge
), loads of Chinese and indigenous culture, and friendly people. All the right ingredients for a great trip. They just don't get the message out. Hawaii spends way more on marketing itself. I think it's because Taiwan already makes so much money from the
high-tech industry
, so it doesn't bother with tourism revenues. While
Japan
and
South Korea
are better-known for their electronics,
Taiwan is a technology powerhouse
.
I think
Taipei
hits the sweet spot. Developed enough to be convenient, but not so much that it has a high cost of living. Westernized enough to be comfortable, but Asian enough to be exotic. Big enough to have everything you need, yet small enough that commuting is easy.
So which city is better, Shanghai or Taipei? If you want life in the fast lane, being at the center of all the action, and looking to ride on China's wave of growth, than Shanghai is the place to be. If you're aiming to just kick back, have fun and enjoy life, then go to Taipei.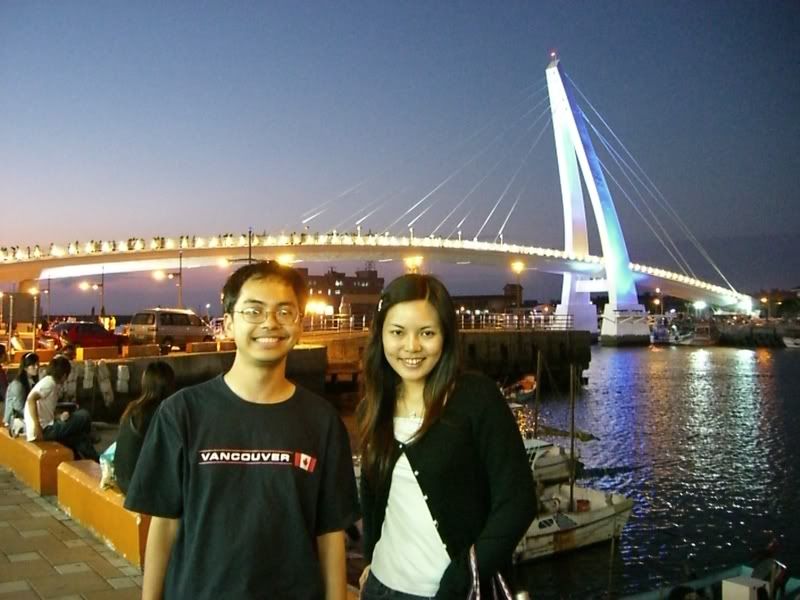 Me and Lianne in Danshui Township, Taipei County



Inside Information

Getting into the city

Most international flights land at Taoyuan International Airport. Follow the signs to the buses. To get into the city, you can take the Kuo Kuang bus (pronounced "Guo Guang") to Taipei Railway Station in the center of the city. It tends to be faster than other buses, because it makes fewer stops.

You'll get dropped off at a taxi stand next to the railway station. It costs NT$125 and takes about 45 minutes-1 hour. The MRT (Mass Rapid Transit) station is also nearby the bus stop if you really want to save money.

Also check the website of your hostel for directions. Often, they'll tell you which airport bus will drop you off the closest to them. Here's the complete list of

airport bus routes

.

Where to stay

It's really all about

Chocolate Box Backpackers

. Super-social, you'll meet loads of cool travelers, and the staff will become your new local friends. Minor complaints: the beds are hard as concrete, the 2 bathrooms are always occupied at night, and everyone has trouble with the electronic keypad on the 2nd floor door.

Another good spot is

Eight Elephants Hostel

. They have a really smart bathroom set-up: 3 shower stalls, 3 toilet stalls, and 3 sinks. So you never have to wait if you need to take a shower, use a toilet or brush your teeth. The beds are also softer.

Both hostels are near National Taiwan Normal University (everyone calls it "Shida"). But Chocolate Box is much closer to the action. The Shida area is the main place for international students to study Mandarin Chinese, so there are tons of bars, clubs and restaurants catering to foreigners. There's also the Shida Night Market, which is bursting with local color. It's definitely the area you want to be in.

Getting around

The

Mass Rapid Transit

system (MRT) is relatively simple compared to the subways of Seoul or Tokyo. All signs are in English and Chinese. If you're staying at least a week, it's worth buying an

EasyCard

, a stored-value card you can use on the metro and buses.

Where to eat

Shilin Night Market

is a food mecca for Taiwanese, Asian tourists, and overseas Chinese (especially from Hong Kong and Singapore). Among Asians, I think this night market is a bigger attraction for them than the National Palace Museum or Taipei 101.

Din Tai Feng

is a world-famous Taiwanese restaurant that is renowned for its

xiao long bao

(Shanghainese steamed soup dumplings filled with ground pork). There are many branches (even in North America!), but the original is on Xinyi Road, near Yongkang St. There's always a long line of Japanese tourists waiting to dine on the sumptuous dumplings.

Yongkang St.

is a well-known restaurant row with eateries from all over the world. It really comes alive at night, when Taiwanese stroll around looking for the perfect meal.

For cheaper international fare, explore the lanes that run off of Shida Road near the university. The global student scene ensures a wide variety of eats. Nearby is the Shida Night Market, with lots of local delicacies as well.

Gongguan is one of my favorite places to find food. The side of Gongguan between Tingzhou Rd. and Roosevelt Rd. is full of great Asian restaurants, from Vietnamese to Sichuanese to hotpot. The side of Gongguan between Roosevelt Rd. and Xinsheng Rd. has lots of cool cafes and international restaurants.

For more good leads, check out this great food blog,

A Hungry Girl in Taipei

. It has tons of reviews and photos of restaurants in the city.

Where to party

Taipei has great nightlife. Lots of international students studying Chinese and English teachers from the West create a real party atmosphere. Young Taiwanese love to party up as well.

The big drawback is that nearly every club plays the same Top 40 hip-hop songs. Good house and electro clubs are harder to find.

Shida has more student-style funky hangouts, like

Roxy 99

and

Jr. Cafe

. The more stylish lounge bars and trendy clubs are around Taipei 101 and Warner Village.

Luxy

is a good showpiece club I like to take visitors. It's at MRT Zhongxiao Dunhua Exit 2. Look for the Starbucks, and walk into the building, Ton-lin Plaza. The best night to go is Wednesday for Ladies' Night.

Entry to Luxy is FREE before 11:00 P.M. on Wednesday, Friday and Saturday (even for guys!). Luxy has professional dancers, bartenders who put on a fire show, and showgirls offering free shots. You won't find a better deal anywhere in Asia.

The other hot clubs of the moment are

Spark

, in the basement of Taipei 101 and

Primo

, which is close to MRT Yongchun Exit 1, in the ATT Building.

Taipei also has All-You-Can-Drink clubs, which I've never seen anywhere else. You pay NT$500-600 for a voucher, get a cup with your first drink, and use that cup the whole night to get free drinks. It's not just a special promotion, this is for

every night

.

Two are close to Shida:

9% Night Person

is on Jinshan Road off of Shida Road.

Club W

(formerly known as Club Wax) is near MRT Guting Exit 4, next to Starbucks.

There's also a small live-music scene.

The Wall

is the most important venue.

Riverside Music Cafe

and

Underworld

also host local rock bands.

VU Live House

tries valiantly to organize parties with all kinds of non-mainstream music.

For English-language info on gigs and music events, check out

Gig Guide TW

.

Getting to the airport

Buses from the Kuo Kuang East Terminal leave every 15 minutes for Taoyuan International Airport. You can take the MRT to Taipei Main Station. Go out Exit M5 and walk straight ahead. You'll see a modern-looking bus station with buses to the Airport and Keelung. Make sure you buy your ticket from the right counter.

Studying Chinese in Taipei

Taiwan is a great place to learn Mandarin. For an extensive look, check out my article,

Studying Chinese in Taiwan vs. China

.

Teaching English

Many Westerners stay in Taiwan long-term by teaching English. You can save more money in other cities, like Taichung or Kaohsiung.

Taipei is the most expensive city since it's the capital.

Taichung

is considered one of the best places to live because it has the best weather and is wealthy and cosmopolitan. Buildings there are newer, so apartments there can be much nicer and cheaper than Taipei.

Kaohsiung

is shedding its reputation as a polluted port city. It's been cleaned up considerably and has a brand-new MRT system.

Taiwan is relatively saturated with English teachers, so salaries have been stagnant for years. Companies rarely offer accommodation or pay for flights. Visa runs are at your own expense. Employers who sponsor your alien resident certificate (ARC) will pay less than what you could get by doing private tutoring.

In general, South Korea is better for saving money, if that's what you're after. Although I've repeatedly heard English teachers from Korea say they think Taiwan is the better place to live. Welcoming people, relatively cosmopolitan, more English-friendly environment, etc.

The best time to look for a job is in August. A lot of Westerners leave Taiwan to return to their home countries, and school directors are scrambling to fill open positions before the terms start. It's better to work at elementary schools and high schools rather than the private cram schools (called "buxibans"). For the names of specific schools, send me an e-mail and I can send you more information.

Here are some links to get started:


Tealit.com

-- the main website for finding teaching jobs, apartments, and language websites. Definitely the

worst

expat website in Asia I've ever seen.

The Beijinger

and

Smart Shanghai

are so much better I almost want to return to mainland China.

Forumosa.com

-- discussion board for expats. Has a well-deserved reputation for witty comments and sharp irony. If you're posting a question, choose your words wisely! Any questions you can think of, has probably been answered here.

Taiwan National Immigration Agency

-- government-run website with official information and helpful advice. The visa information is a must-read for anyone seeking a job in Taiwan.

Finding a place to live

For such a wealthy city, Taipei has a lot of really crappy apartments. Figure on visiting at least 10 places (some friends advise 20!) before you find something you really like. Here are some ways of finding an apartment.

Use English websites like

Tealit.com

and

Taiwanted.com

-- be prepared to pay higher rents and have less choice of locations. Most apartments are near Shida and Taida (NTU), for foreign students studying Chinese. If you get a job somewhere else, it can be harder to find a place close to your work.

Use local websites like

591.com.tw

and

Tsuei Mama

-- the downside is that the websites are in Chinese, but you can get much cheaper rents and much greater selection of apartments all over Taipei.

Neighborhood bulletin boards -- grab a Taiwanese friend and walk around a neighborhood where you want to live. Keep an eye out for the "red notices" (租屋啟示), little square pieces of red paper with apartment ads on them. Get your friend to translate and contact local landlords. The downside is that local apartments can be

really

ugly.

Real estate agents -- they usually charge half a month's rent for their services. Again, find a neighborhood you like and walk into the offices of real estate agents in that area. Especially in Taipei, there should be at least one person who can speak English. Bring a Taiwanese friend, just in case. The apartments should be nicer, but can be more expensive. Be very clear about what you want, don't want, and are willing to pay. Fans of this method say you save a lot of time from seeing crappy apartments.

For more tips, check out

Poagao's tips for apartment-hunting in Taipei

. The Forumosa thread

Finding somewhere to live

also has lots of good information.