Living on the edge: click on the photo to see the full album.
I'm not actually an outdoors person. Hiking, trekking and camping are not my thing. Being from an island and surrounded by nature all the time, I prefer to travel to big cities instead.
But Tiger Leaping Gorge just sounded too cool to pass up. Claire convinced me to gather more info, then maybe give it a shot.
We went to a hiking club in Lijiang and asked some of the Chinese staff about how difficult the gorge was. They assured us that it was a relatively safe hike, with lots of guesthouses along the way to eat and rest.
I had only alloted four days in Lijiang, and the hike would take at least two. If I wanted to do it, I had to decide today and go tomorrow. I told Claire I'd do it. She was excited.
I couldn't sleep that night, because I totally believed I was getting in way over my head. I'm not in the best physical condition, so I worried that I would slow Claire down. She'd down some hardcore trekking in the highlands of Vietnam. When I travel, I hang out at cafes and bookstores. I couldn't resist the symmetry of it, though. I started my China trip at the Great Wall, one of the biggest manmade wonders of the world. I would end my trip at Tiger Leaping Gorge, the deepest gorge in the world, a natural wonder.
We took a bus bound for Zhongdian and got off at Qiaotou, a small town at the beginning of the trek. To get the latest info, we hit up the Gorged Tiger Cafe. It's run by a cool Australian lady named Margo.
We had coffee and cookies while she gave us advice about the trek. The most important thing was the weather. Margo said that the weather was supposed to be perfect, so now was definitely the time to do it. Once we finished our coffee and used the bathroom, we were off!
The trek wasn't too bad, at first. We were mostly walking on trails. Everything changed once we turned around our first mountain: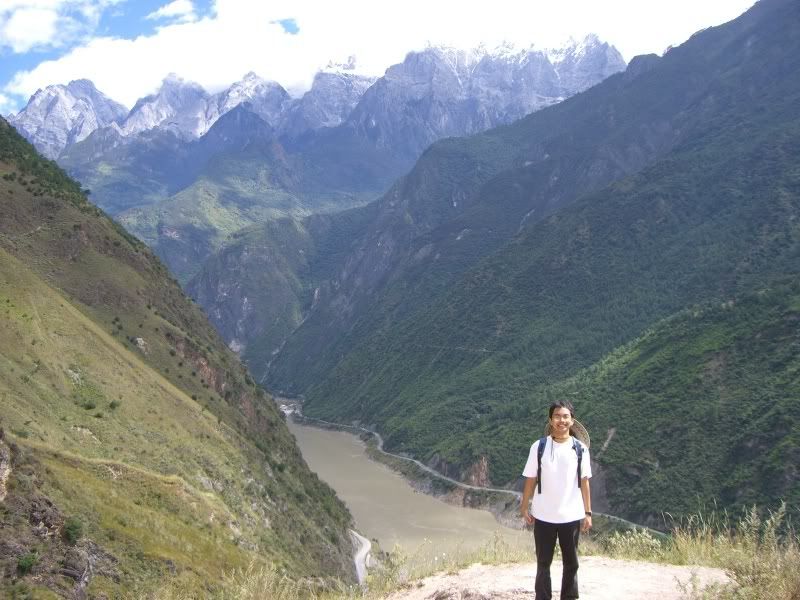 After that, I was hooked. Now I could see why people were willing to get sweaty and push themselves to the limit on treks. When you see stunning natural vistas like these, it more than made up for all the hassle involved.
Although Tiger Leaping Gorge is a really popular thing for tourists to do, we were alone for most of the time. We did walk for a while with a small group of people from Hong Kong that had been with us on the bus to Qiaotou. One of the women was an investment banker, so I ended up talking to her about business in China. She recommended some Chinese companies that would make good investments. I felt weird though, getting stock tips while walking thousands of meters above sea level. Travel sometimes brings out these totally weird situations that would just not happen back home.
While the Hong Kongers were cool, sometimes the locals could be annoying. Local folk on horses would walk behind us for hours at a time, hoping we would get tired and pay them for a horse ride.
Touts in China are legendary. Wherever there's tourists, they'll be people trying to sell you stuff. I've had touts try to sell me picture books at the Great Wall and now the horse rides. What's worse is that the horses would sniff at my ass while I climbed.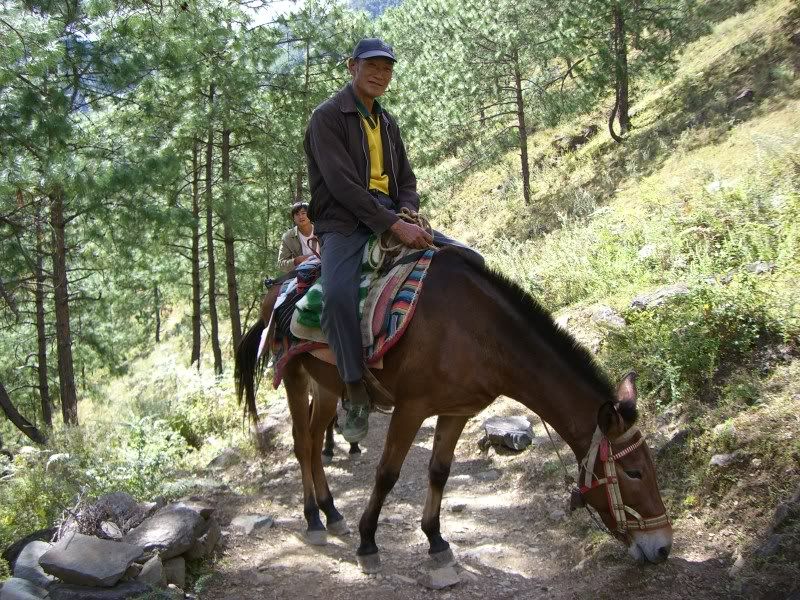 At the end of the day, we encountered the 28 Bends. It's a murderous path of sudden turns and switchbacks at steep angles. I couldn't enjoy the scenery because I had to concentrate 100% on mantaining my balance. By the time we finished, I thought my knees were destroyed.
I'd never been so excited to rest in my life. We spent the night at the Tea Horse Guesthouse. The rooms were perfect, a beautiful wooden lodge.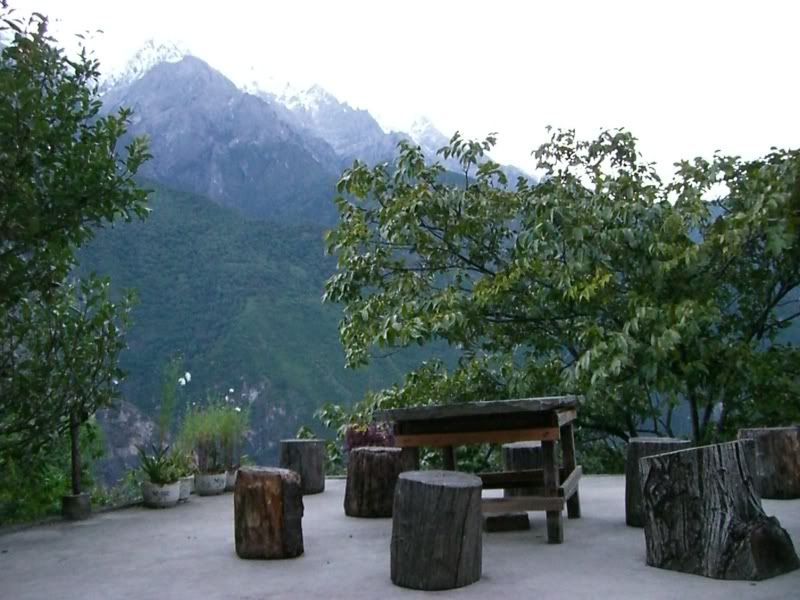 The bathrooms were another story. The "toilets" were a set of bleak concrete stalls. I had to squat over a little gutter and the water would sluice my donations off to their fate. As for the shower, it was an absolutely disgusting wooden shack with a single showerhead. I felt more dirty than clean after bathing in that place. I've spared you guys the photos here, but you can find them in the photo album.
One benefit was that we met this cool couple from Denmark, Peter and Mette. They joined us when we hiked the next day.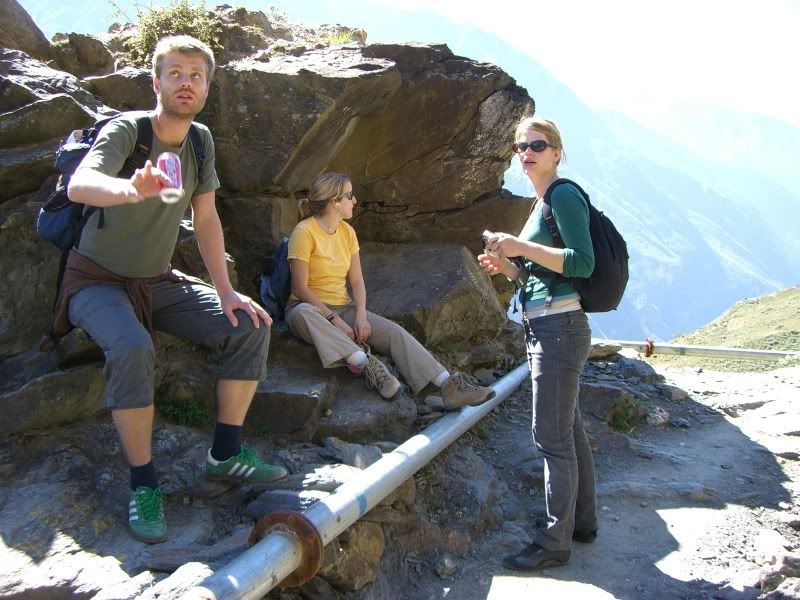 The second day was when I saw the coolest stuff. The rock formations become much more different and weird-looking. I probably took more pictures that day then the day before. Here's one of my favorite shots, I snapped it when my hiking mates were treading under an outcropping of rocks:
The best was still yet to come. We came across a waterfall. As we got closer, it got bigger and bigger, until the waterfall took up the whole side of the mountain.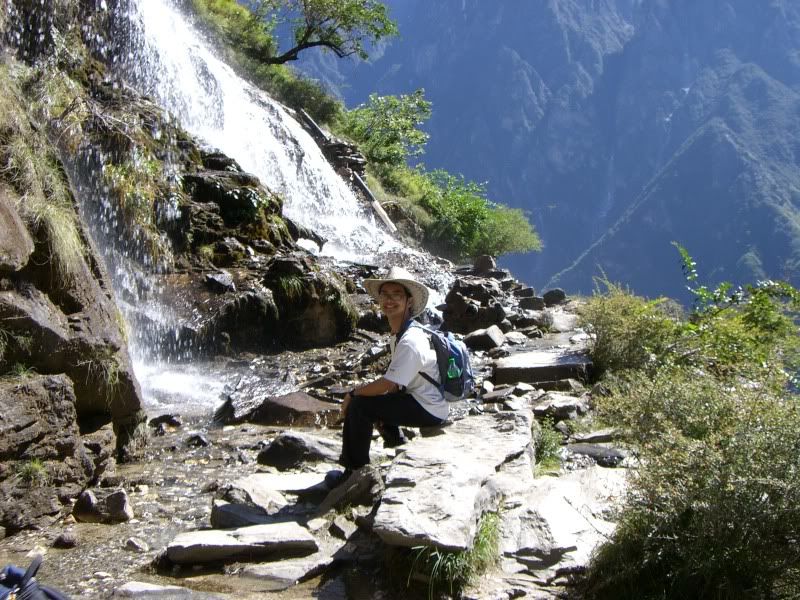 I learned something that day. Waterfalls are pretty to look at, but a pain in the ass to cross. The rocks were unbelievably slippery, so I was freaked out that I'd fall over and get swept by water off the mountain.
I managed to make it across alive, much to my relief. My feet hurt, but the trek was almost over.
We ended our trek at
Walnut Garden
, a guesthouse run by Sean, a Chinese man with a deformed arm. Nearly everyone uses copies of his hand-drawn map when hiking Tiger Leaping Gorge, since it's available in all the backpacker-oriented cafes in Lijiang. It was so nice to sit back in a beach chair and enjoy the scenery. After everyone finished their drinks, it was time to figure out how to get back to Qiaotou. From there, we'd get another bus back to Lijiang.
I asked some of the waitresses if there were any buses, but they said there were none. Maybe their English wasn't good enough to understand. I sought out Sean, the manager.
"Excuse me, is there a bus back to Qiaotou?" I asked.
"You already asked the waitresses! Why do you ask again?! No! There's no buses!" Sean said.
Taken aback by his vehement response, I asked, "When is the next bus?"
"No buses! Not until tomorrow! Why do you keep asking for bus?! Why should I have to get you a bus?"
Claire broke in, "Because you're the manager and we're customers."
"What? You have my map, everyone have my map, you think is free to print so many maps?!" Sean went on.
"Do you know how much I paid to fly to China from England?" Claire countered.
I gave up on him by this point. Claire stayed to argue with him longer. A German backpacker I'd met at the guesthouse went down to the street with me to look for a ride. She needed to get back to Lijiang as well. In a minute, we flagged down a van that would give us a ride for a low price. No rides until tomorrow, yeah right. The German girl said she couldn't go with us now, she was still waiting for a few friends. I thanked her profusely.
I retrieved Claire and we piled into the van. She was as angry as I was. It sucks when you put so much time, money and effort into a trip, and some jerk ruins it like Sean did. He soured me on the whole hike.
Claire was more street-smart than me. She said Sean must have been lying about the lack of buses, just so we'd be forced to spend a night at his guesthouse. What a hustler.
Our driver was an old Chinese man who chain-smoked as he drove us back along the mountain road, whipping around curves and barely bothering to use the brakes. This wouldn't have been that scary, except there was no guardrail on the road. So if he took a turn too fast and skidded to the side, there was no barrier to keep us from falling off the mountain.
The crisis point hit when we passed under the waterfall we'd crossed earlier by foot. Water flooded the road, the tires lost traction and we started to slip sideways--toward the edge.
I was sitting next to the window that overlooked the cliff. I wish I could say I was brave when I looked death in the face, but I cringed away from that window as much as possible. Meanwhile, Claire leaned past me to take a look. The driver, he just didn't care. He was puffing on his cigarette and steering as if nothing was wrong.
Finally, the tires bit back into the ground and the van heaved back from the edge. It took me a while before I remembered to breathe again.