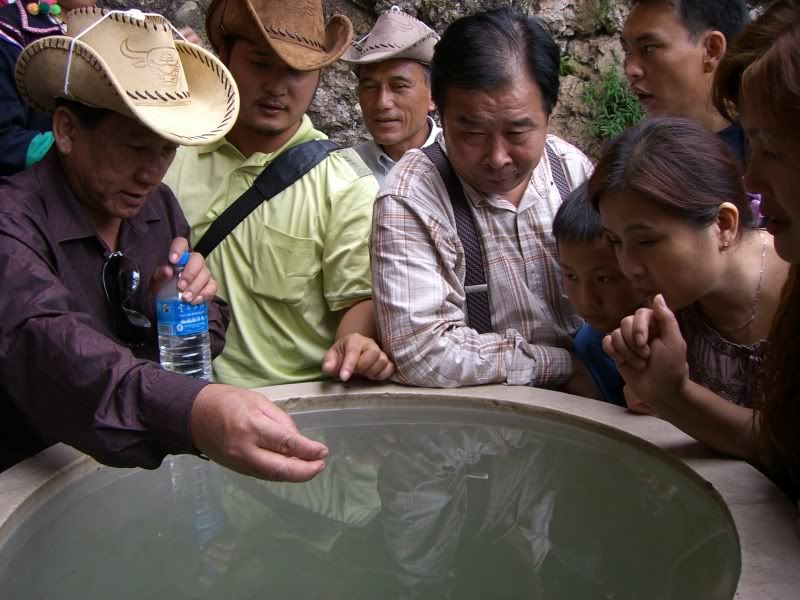 Tourists dropping coins into a fountain for good luck at the Western Hills. Click on the photo to see the full album.
By the way, I think those Tibetan hats are awesome. Makes those guys look like Chinese cowboys!
* * *
Now I could relax. After Beijing and Xi'an, I didn't have to endure an endless marathon of sightseeing. Time to kick back and take it easy.
Yunnan province was actually the place I was the most excited to visit. If you could only backpack through one province in China, then Yunnan was it. It's one of the most culturally, racially, and environmentally diverse places in the world. The northern part of Yunnan leads into Tibet. The southern and western parts of Yunnan share borders with Laos, Vietnam, and Myanmar (a.k.a. Burma). In between you have a rich mixture of minorities to balance against the dominant Han Chinese.
The first stop was the provincial capital, Kunming. It's nicknamed "The Spring City" because it's supposed to have great weather year-round. It didn't live up to the hype. Rain dogged my entire visit there, but it didn't diminish the charm of the city.
On the surface, it looked like any other Chinese city: big billboards, department stores, etc. I stayed there a week to hide from the onslaught of tourists during the National Day holiday, so I had more time to appreciate the differences. People seemed more casual and laidback than Shanghai. I was grateful for the wide, relatively clean streets. That made Kunming much more pedestrian-friendly than good ol' SH. There were a lot of cafes and restaurants that catered to Western backpackers; later I found that this was a trend throughout some of the other main cities in Yunnan.
I stayed at the
Camellia Hostel
. It's actually a hotel with a floor in another building set aside for dormitories. I was relieved to find that it was clean and had good service. They're also a good place to get visas for Laos and Vietnam.
The best thing about Kunming was the backpackers. Kunming is the closest major city in China to Southeast Asia. I met tons of travelers going down to Southeast Asia or coming up to China from there. As cheap as I thought China was, I heard from my roommates that SEA was even cheaper! They were full of stories about their adventures: crappy sleeper buses where everyone smoked, finding strange animals in their soup, and motorcycle trips through the jungle. I was so jealous of them.
Although I swore off sightseeing after Xi'an, I did drag myself to a few sights. I went to the Western Hills first. It's a string of pagodas and temples on a mountain with great views of Lake Dian.
Getting there was easy: take Bus No. 5 to the Yunnan Hotel, then switch to a minibus going to the Western Hills. Getting back to Kunming was a nightmare. There were a million tourists pushing into the cheaper buses. I almost wanted to give up and splurge on a taxi. Instead, my friends and I hunkered our shoulders and charged into a bus.
I slacked off for the next few days, afraid of having to deal with crowds again. On my last day, I summoned up the courage to see another local attraction: the Stone Forest in Shilin. I'm really glad I did. The scenery was beautiful and the rocks were different than anything I've seen before.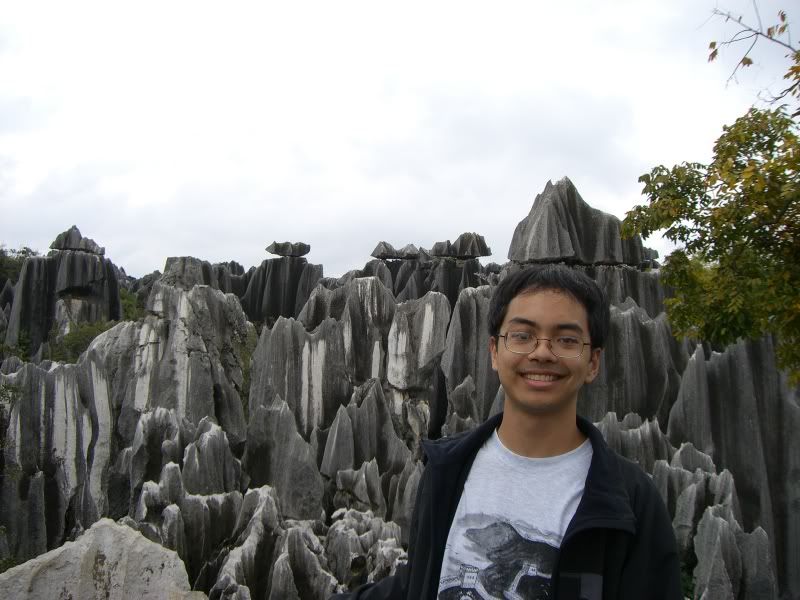 Another interesting thing is that I'm meeting different kinds of backpackers. When I backpacked through Europe, it was mostly Australians, Canadians, and Americans. In China, I'm running into lots of Europeans. Many are French-speaking -- Swiss, Belgians, and well, French. It's a trend I've encountered before. When I go somewhere, I meet more travelers than locals. I've made more British friends in Shanghai than when I studied in England. Strangers in a strange land tend to flock together.