Fuxing Road in downtown Dali. Click on the photo to see the album.
There are some places where backpackers go and never leave. Dali is one of those places. It vies with Lijiang and Yangshuo for being the top backpackers' hangout in China. Traditional architecture, beautiful natural scenery, loads of cheap guesthouses, and restaurants serving Western cuisine are the ingredients for a travelers' paradise.
Aside from Kunming, there aren't many trains within Yunnan province. There is a train between Kunming and Dali, but it's usually faster to travel by long-distance bus. I know some Chinese people who prefer deluxe buses to soft-seat trains. Deluxe buses have cushioned seats, TVs playing Hong Kong movies, hostesses, and sometimes even on-board toilets.
Travelers talk about the toilets in China the way soldiers tell war stories. Some of the worst toilets I've seen are at the rest stops during long bus trips. Probably even worse in remote villages.
Again, the possibility of finding a Western toilet in a hostel pretty much ends after Kunming. I stayed at the No. 5 Guesthouse (a.k.a. Old Dali Inn) my first night in Dali. It's really big and social, with a jungle treehouse atmosphere. The rooms were uninspiring: the beds consisted of a wooden board on chairs at each end, with a paper-thin mattress on top. Then I saw the bathrooms. The urinals were carved-out wooden barrels! The urine-stained squat toilets were the last straw.
I visited every hotel and guesthouse on Huguo Road, the main drag for bars and restaurants in Dali. I saw lots of clean beds at reasonable prices. The deal-breaker was always the bathrooms. The rooms with private bathrooms had Western toilets, but those rooms were too expensive. When an 80 RMB ($10 USD) - a- night hotel room was "too expensive," it meant that I'd been in China too long. I could have gotten a cheap private room and use the common bathrooms, but they had squat toilets. Unacceptable.
At long last, I came across the No. 3 Guesthouse. It's attached to a good Korean restaurant. The shared dorm rooms were spotless, with wooden bunks that allowed you to draw a curtain across your bunk for privacy. The showers were nice, with lots of shelves and coat hooks to put your stuff. The finishing touch was that the common bathroom had a Western toilet! All of this was mine at 20 RMB ($2.50 USD) a night. I moved in the next day.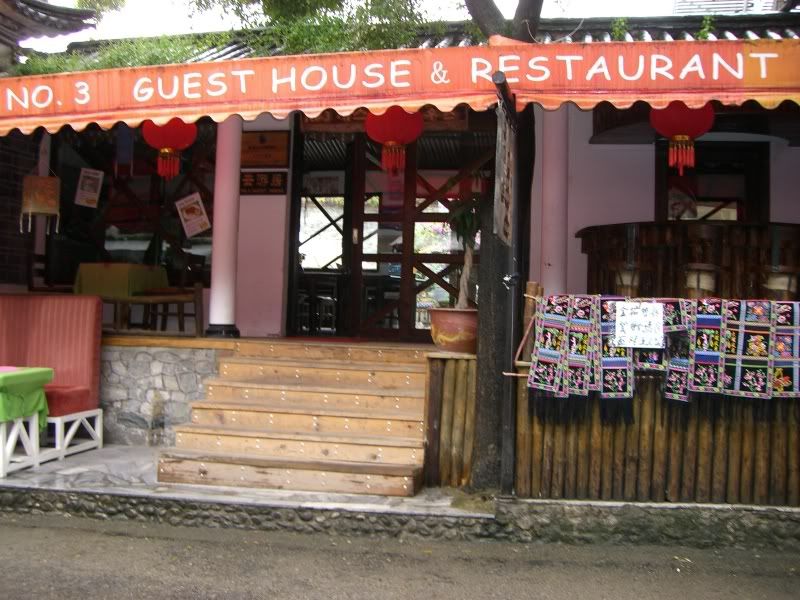 Now that I had proper accommodations, I could get on with enjoying the city. I booked a trip to the Shaping Market. One of the interesting things about Yunnan was the abundance of minority groups. The main minority in Dali were the Bai. Shaping Market was supposed to be a great place to observe them in action.

I was walking around the stalls when I saw something that stopped me dead in my tracks. It wasn't some weird Chinese thing. Not snakes in a jar or little kids shitting on the street. No, instead it was a reminder of a place that was as far from China as I could imagine.
It was a girl wearing a university sweater. I could have been more polite when I said hello, but instead I said this:
"HOLY SHIT! You went to Redlands?!"

She froze and said, "Oh my God."
"What are you doing here?" I asked.
"I was studying up in Beijing. What are you doing here?" Jenny asked.
"I was teaching English in Shanghai. How could this happen?" I wondered.
"Whoa," Jenny said. "Like the other side of the world!"
There were so many factors against me meeting someone from my own university. First of all, my university was small. The student population increased to over 2000 only recently. Second of all, we didn't stumble into each other in a major city like Beijing or Shanghai. We were in the Shaping market, which was an hour away from Dali and 5 hours from Kunming. This was in the middle of nowhere.
Once we settled down, we caught up on what what we'd been doing in China. Jenny talked about how she was into "social entrepreneurship," promoting local business as a way to preserve indigenous culture.
Luckily enough, we ran into her business partner when we got back to Dali. The woman took us back to her shop. The colorful patterns and designs of the Bai minority were a far cry from the usual Han Chinese things I'd seen.

While Jenny and her talked business, I wandered around the shop. In a back room, I found the coolest blue shoulder bag.
On the outside, it looked ordinary. But when I turned up the flap, it revealed an intricately-woven picture underneath. I wasn't planning on buying any souvenirs, but I had to have this bag. I needed a smaller bag anyway to hold a map, umbrella, and other traveler essentials when I walked around a city.
The woman gave the bag over to her older sister, so she could adjust the shoulder strap for me.

The next day, I had lunch with Elmer, an American I'd met at the Old Dali Inn, before I moved over to the No. 3 Guesthouse. Elmer was one of those backpackers who came to a place and just never left. After we finished eating, he spotted a Chinese guy he knew and waved him over. Turned out that this guy knew kung fu. I told him I was interested in wing chun. Some of my friends who study kung fu recommended wing chun for its practicality. It's designed for little people fighting against big people. Maximum damage using minimum effort. The kung fu teacher agreed to give me a lesson.
We said goodbye to Elmer and he took me to a park. Some of the moves he showed me looked ridiculous, until he explained what they were for. There was this one hopping sideways move that looked stupid, until he said that it was one method of deflecting a kick. The one thing I learned from that afternoon was not to use high kicks. There were too many ways to take someone down if they tried to kick you.
The lesson went well, until he got too excited once and backfisted me in the face. NOT COOL.