Caroline and me at the Forbidden City. Click on the photo to see Beijing album #1.
More photos in
Bejing album #2
I've finished up my contract teaching English, so I've set out to travel across China. Choosing the first stop was easy. Beijing has the classic relics of ancient China. At the same time, it's at the forefront of a nation modernizing in a hurry.
Part 1: New Friends
I always feel the same nervousness when I arrive at a new place. Not because I'm worried about my safety; Los Angeles felt more dangerous than any other place I've been. It's because traveling by myself it gets lonely sometimes. This is especially true on my first night at a hostel. Everyone else seems to be laughing together, talking, all the old-timers know each other. I'm the new kid with no friends.
I stayed at the
Beijing Jade International Youth Hostel
. The place was really nice, but there was still another important factor that wasn't certain. In the elevator, I actually crossed my fingers and prayed for cool roommates. The people you meet on the road can make or break your experience.
This time, I hit the jackpot! My two roommates were Ben and Colin, two cool guys from Scotland. The story got better. They were studying abroad in Singapore with loads of other students from all over Europe. A big group of them were visiting Bejing and staying at the same hostel! I was happy beyond belief. My first night, and I've already made like 20 new friends!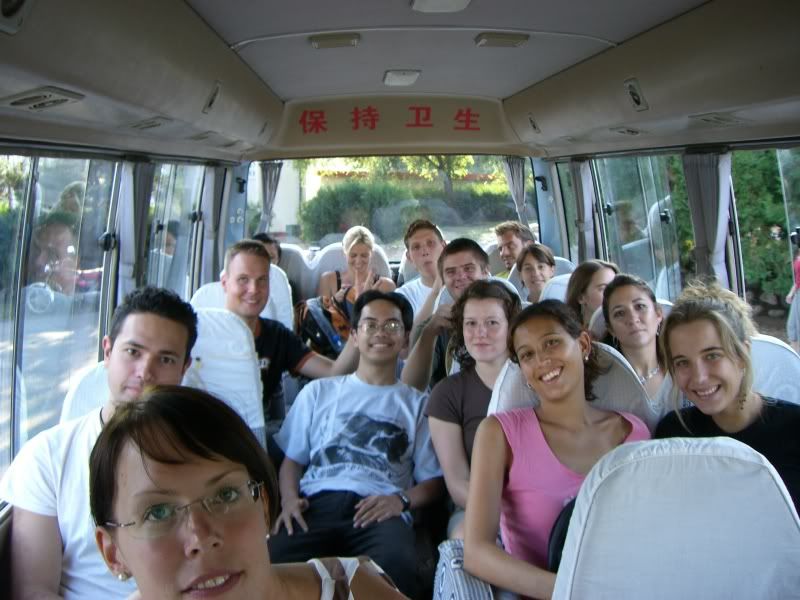 The Singapore group, on our way to the Great Wall

Part 2: Beijing Roast Duck

One of the joys of China is the food. The flavors run the gamut from the fiery peppers of Sichuan to the refined cuisine of Hong Kong.

Beijing Roast Duck is one of the most popular dishes in China. I've found it on pizza, at Kentucky Fried Chicken, practically every restaurant has some version of it.

The place to go in Bejing is the Quanjude Roast Duck Restaurant. The walls carry framed photos of Fidel Castro, former U.S. President George H.W. Bush, and other world leaders who've dined on the best roast duck in Beijing.

The service is excellent. A dapper chef carves up a fresh roast duck at your table:



Looking at these pictures makes me wish I could go back there!

Part 3: The Wall

"All those other places are okay, but it's really all about The Wall. It's such a fucking big wall!"
--Joe, roommate at my hostel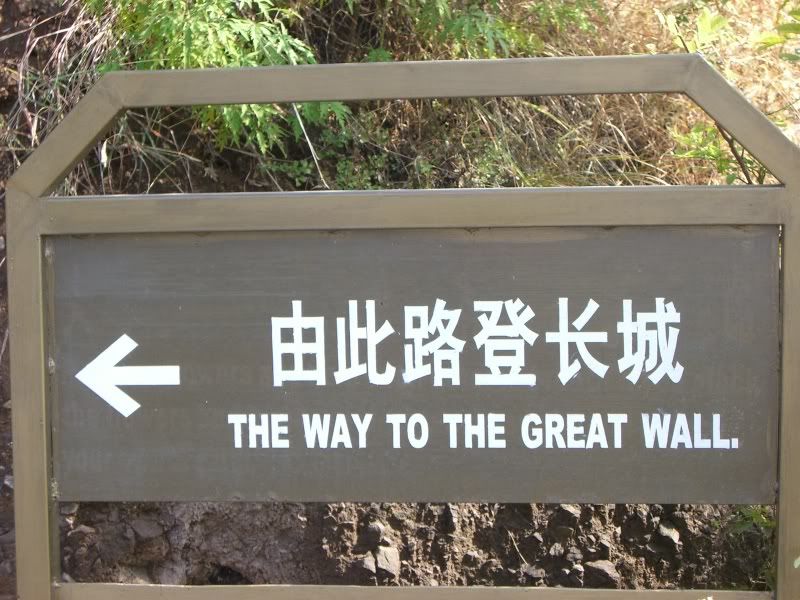 The Great Wall is divided into sections, so you have to pick which spot to visit. Badaling is the most touristy and commercial. Jiankou is really remote and more authentic. A popular option for hardy trekkers is to walk from the Jinshanling section to the Simatai section.
Our group settled on Simatai. It's a good middle-ground choice. Simatai has the restrooms and conveniences of a tourist trap; but it also had considerably less tourists.
Most tours to the Great Wall go to Badaling and include a visit to the Ming Tombs. My friends who've been there said the Ming Tombs were empty and boring. Luckily, our group got around that by chartering a minibus and going on our own.
Bring comfortable shoes! There's a lot of walking up steep steps. Learn to say, "Bu yao [don't want]," because hawkers will try to sell you postcards, picture books, and other crap along the way. If there's one thing that almost ruined Beijing for me, it was the hawkers. They're lurking at every major tourist attraction.
At Simatai, you walk up a mountain pass. You make a turn into a rock building, and suddenly you're on the Great Wall!
I was so excited I never felt tired. Every step was like walking across the top of China. Just when I felt like stopping, there was a always another tower in the distance promising even greater views.
Finally, I felt the climb starting to catch up with me. Just one more tower! As I wheezed over the last step, here's the sight that greeted me: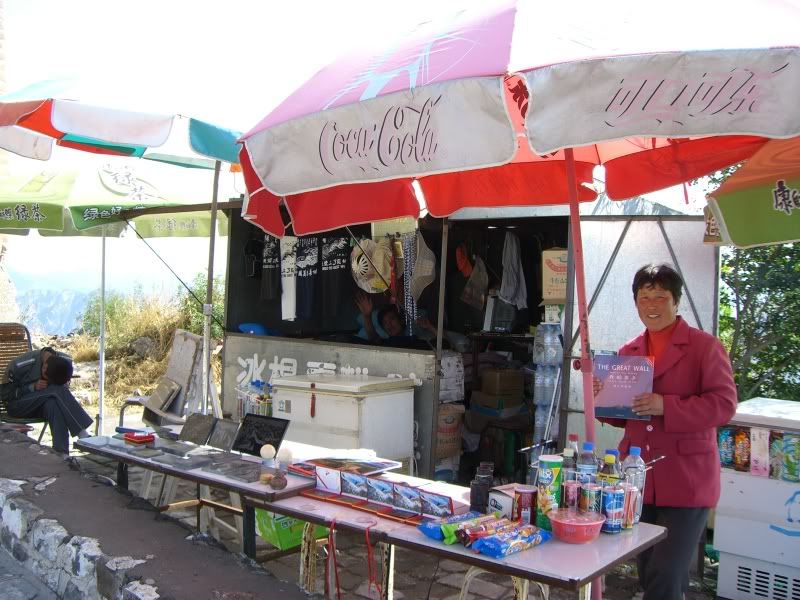 Another tacky souvenir shop! I couldn't believe it! I climbed up the Great Wall for this?!
I gave up and bought some ice cream bars. Food never tasted so good. It wasn't just the ice cream. My one year in China flashed in front of me: I spent my first month in Hell, studied one of the most difficult languages in the world, and finally made it to the Great Wall. This was the sweet taste of victory.