I didn't expect to find the ancient version of San Francisco in Europe. Lisbon has a couple of things in common with SF: twisting streets going up steep hills, trolleys, and being coastside. I was interested in going to Portugal because it seemed like the little brother of Spain that gets overlooked.
Lisbon postcard of the city center
I've been forced to get creative with Lisbon and my next destination. RyanAir and EasyJet, my two usual low-cost airlines, didn't have direct flights to these places. I flew into Faro on EasyJet and took an EVA expresso bus for four hours to Lisbon. It was a pain in the ass, literally. But sacrifices are necessary.
The individual neighborhoods are landmarks in themselves. Baixa, the big people center, is laid out in a strict grid pattern. It's almost boring because I was walking in perfect rectangular routes. Lisbon is a bit dirtier than the other cities I've visited. It hasn't quite caught up to the rest of Europe. Certain parts reminded me of Los Angeles. The funny thing about the Alfama area was that I knew I was there because I had gotten lost. The Alfama is San Francisco's Lombard Street, blown up to an entire neighborhood. Streets snarl upwards and disappear. Old men sit on benches and chat. Half of the people who walked by me were old women with shawls wrapped around their heads.
After visiting this many cities, I got kind of tired of cathedrals and museums. There´s always one must-see church and museum everywhere I've gone. Since I was going through to the Alfama, I couldn't help but come across the Castelo de Sao Jorge. Might as well check it out. The interior was nothing special. The prize was in a small room off to the left of the entrance. There was a glass case about 10 feet fall and 6 feet wide. In it was a meticulously crafted model depicting a long train of people coming to make offerings to the baby Jesus in a manger. The lady at the desk told me it was called the Christmas Crib. A royal procession rode down a hill. Cherubs and angels smile down from the ruins above the manger. Villagers lined up with food in their hands.
I didn't bring my guidebook, so I've had to come up with all sorts of tricks to substitute for one. Getting a map from the airport, hostel, and/or tourist information office is one. A quick way to get a feel for what the popular sights are is to make the rounds of the postcard stands. Certain pictures will pop up over and over again. One that caught my attention was a castle-type thing near the sea. The great thing about this method is that I can use the postcard to ask how to get there. No language fluency required. I showed the postcard to the man behind the cash register. He said it was the Torre de Belem (Tower of Belem).
I took a bus to Belem from my hostel, Pousade de Juventude de Lisboa, the official HI hostel, the first and last HI I've stayed in. The bus dropped me off in front of the Monasteiro dos Jeronimos, a monstery I'd seen on a lot of postcards too. The Cloisters were beautiful. It's a gorgeous courtyard used by the monks for relaxation and meditation. A fountain was in the middle, with four paths radiating from it in each direction. Benches around the courtyard were carved into the rock. I sat there for a while, reading a book I'd bought at Copenhagen airport, "The Best Democracy Money Can Buy" by Greg Palast.
Next up was the Torre de Belem. It was a stone tower on the sea.
I think it was used as a naval defense post. I had to walk across an overpass over the train tracks to get there. Once inside, I peeked out through the windows. Cannons were laid at each window. I went to use the bathroom. I reached for the toilet paper, and horror of horrors, there was no toilet paper. I hurried up and talked to one of the employees.
"Excuse me, there's no toilet paper," I said.
"Toilet, yes. It's there," He pointed down the stairs.
"I know where the toilet is. There's no toilet paper." I made a motion of pulling a roll down and ripping off a tissue.
"No understand English." The last words I wanted to hear.
I went back to the bathroom. I paced around. Think man think! I searched my pockets. I found some napkins from the snack bar where I'd gotten a ham and cheese baguette for breakfast. It wasn't toilet paper, but I was going to make this work . . .
That night I made friends with two cute blonde German girls. I met them up on the top floor of the hostel, a meeting area that's always empty because it's far up. I went there on a whim and discovered them. They looked really young, so I made sure to act as a total gentleman. From talking, I found they had just graduated from high school and doing some traveling. We made plans to explore Lisbon together the next day. Downstairs in the TV lounge, one of the finals soccer games was going on. The Portugal team from Porto and Monaco. One girl wondered aloud who won. Just then, a cacophony of car horns and joyous shouts came from the streets below. Porto had won! The shouts lasted all through the night, ruining any chance of sleep. Lisbon is hosting the European Football Championchips later this month. This place will be soccer city then. Craziness.
We went to the Museum of Modern Art first. Some of the stuff was cool, like the collages of paper shapes, other stuff was just weird, like a wall projection of a photo of hands. My favorite place we visited was Parque das Nacoes, a park that Lisbon built for the World Expo. For 1996, I think. There was a huge shopping center, a botanical garden, a zoo, an aquarium, and rows of restaurants. We rode on a sky car that went over the entire complex from above.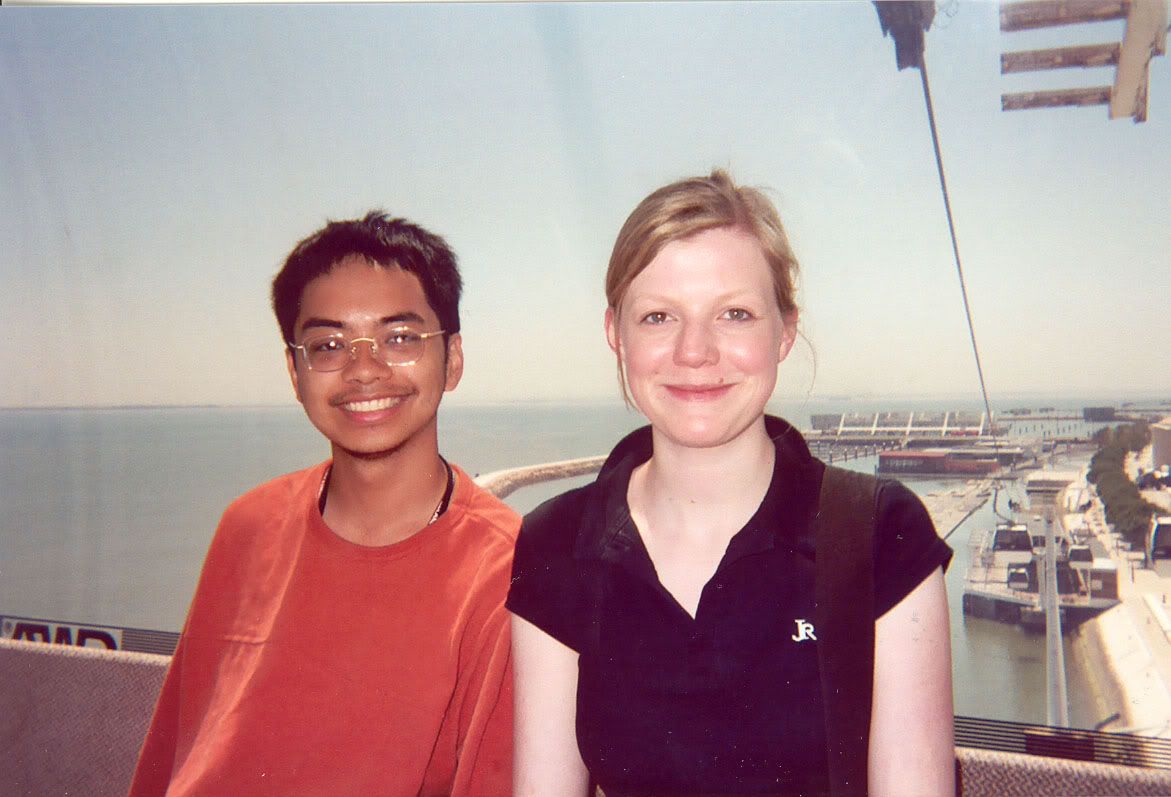 Laura (Germany)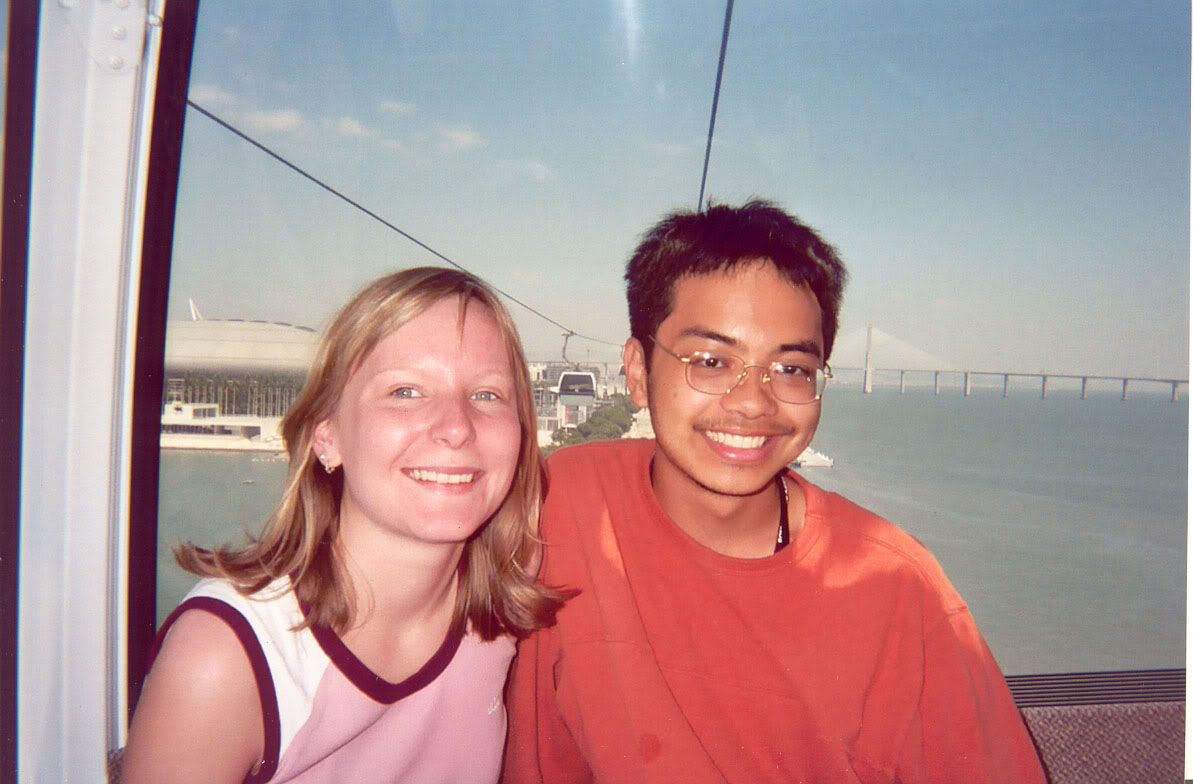 Kirstin (Germany)
That night I met Chris, from Melbourne, Australia. He was a really cool guy. Australians are the hard-core travelers. He had just arrived from Thailand after going through Southeast Asia. He was doing Europe, then going to South America. Wow. I really am a rookie at this travel stuff. Chris was doing 3 continents and I was only doing one. We went out to sample Portugal's famed seafood cuisine. I ate a seabass and he got grilled salmon. The fish was excellent. Only in Europe could I get world-class food at common restaurants.