Here's how I did Vienna in 24 hours. I didn't have that tight a schedule, but the friend I made there did. We were both taking a train from Linz to Vienna (RyanAir flew into Linz but not Vienna). Dan was from Minnesota and volunteering at a homeless shelter in London. He was only here for a short weekend, so he wanted to cram as much as he could into his first day in-country. I got swept along.
Wombat's was one of the nicest hostels I've stayed in, second only to The Circus in Berlin. Clean, colorful, modern, and with a lively hostel bar. I met up with Dan at the reception area our first morning and started our Vienna-at-Mach-speed tour.
Breakfast was at a traditional kaffehaus. Although Paris gets all the press, Vienna is a top place for getting your caffeine fix. We both got coffee with milk. Dan had a croissant. I sampled the sacher torte, a gooey chocolate cake. The German girls I'd met in Lisbon said it was the thing to eat in Vienna. Dan's guidebook had some facts on Viennese coffeehouse etiquette:
--Only order pastries with coffee, anything else is an insult.
--You must linger at the table. No quick in and out American nonsense.
Every big city has one cathedral to see. Vienna's was the Stephansdom. We took an elevator to the top for a view of the city's skyline. The ceiling was a surprise. From the bottom, the church has a dark brown black ancient feel. The ceiling had bright green and yellow tiles.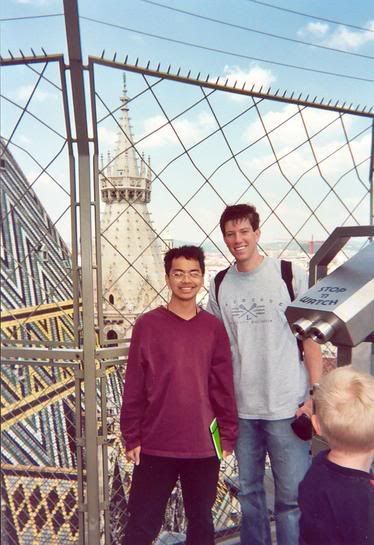 We were walking in front of the State Opera House when a man in a Mozart costume approached us. Would we be interested in seeing a concert in one of the great cities of classical music? He gave us two choices. The first was a Wagner opera for only 2 euro. The catch: it was for standing only, no seats, and the opera was 5 hours long. I could already feel the blisters forming. The other option was a 90-minute Johan Strauss concert, with seats, and ballroom dancers would perform too. We'd have something to entertain our eyes as well as our ears. The catch: it was 26 euro for a Section C ticket, the cheapest he had. Dan asked him if he could confer with me alone for a minute. We went about 15 feet away. Money or comfort? That was the key issue. We knew we'd be doing a lot of walking today. Ending the day by standing for 5 hours was not appealing. We went back and bought two Strauss tickets from the man in the Mozart costume.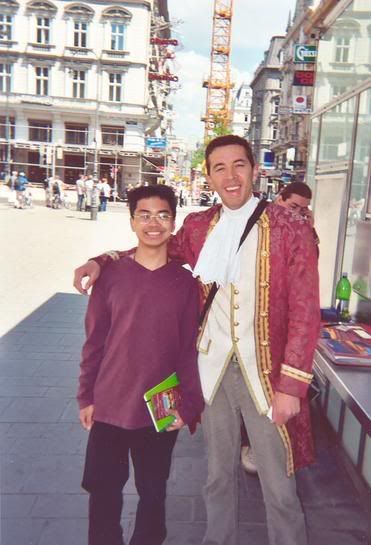 Schonbrunn Palace was Vienna's answer to the Palace of Versailles in France. It felt smaller and brighter than Versailles. We got there late because it took forever to find a place to get lunch in the area. By the time we got in, there was only time to see the gardens. We saw a private garden that was just for the royals, a hedge maze, and hiked up to a building on a hill. The top of that building offered the best view of the palace and gardens.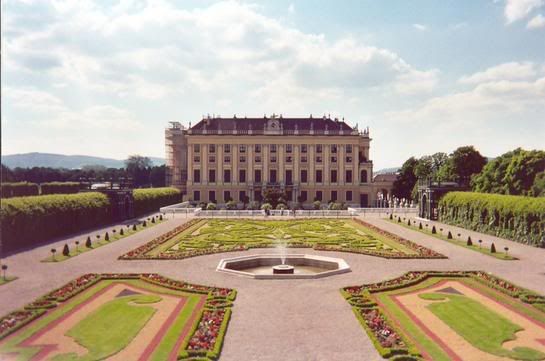 We went to Kursalon, where the Strauss concert was. As we got in line, I noticed how out of place we were. The average customers were couples that had qualified for Social Security ten years ago. They were also better dressed, while we were in the standard backpacker uniform of t-shirts and jeans. Dan said not to worry, the important thing was that we were paying customers too. We entered a grand hall with five crystal chandeliers, one at each corner and a huge one hanging in the center. The seats were already filled with affluent older people. It took a long time to find Section C. We had to walk all the way to the back of the room. There, behind the acres of gray hair, were young backpackers! They were straining their necks around to get a view of the musicians.
"Got the Section C tickets, huh?" I asked.
They all cracked up laughing. Yes, we were that poor.
On the way back to our hostel, Dan and I took a wrong turn out of the U-bahn station and got lost in a bad neighborhood. Poorly lit, strip clubs, the whole deal. We turned around to walk back where had come from. As I was saying something to Dan, a man in black clothes jumped out from a corner and came at us. I instantly threw myself at Dan to push him out of danger. I brought up my weapon, an empty plastic bottle of Lipton Iced Tea. I'd been scared this would happen. My mind went blank, I was operating totally on instinct. I figured that the last thing attackers expect from a victim was speed. Victims are supposed to freeze up when confronted. I was about to throw the bottle in the guy's face and run like hell. It wasn't necessary, because the guy ran past us. Just a guy in a hurry. Dan, however, was really impressed. He said I'd moved really fast. I wondered if he thought I was from the mean streets of Honolulu now.
Travel may seem like it's full of adventure, but a lot of time is spent waiting. Waiting at the airport, waiting on a train, waiting for laundry, etc. A popular feature in most hostels are book exchanges. There'll be a shelf full of used paperbacks. Instead of buying new books and lugging them around, you just trade in your book for a new one.
I didn't discover how much my reading habits have been changed by Europe until I bought my latest book at Stansted airport. I was down to two contenders. The first book was "Chopper" by Mark Brandon Read. It was an autobiography of a homicidal psychopath who terrorized gangsters, sort of a real-life The Punisher, except he's Australian. Right up my alley.
The second book was "Globalization and its Discontents" by Joseph Stiglitz. This was going to be a boring economics book, I suspected. I skimmed through it and found it more fascinating than I thought. When I walked out of the bookstore, I couldn't believe I'd bought an economics book over an action-packed biography. What happened to the old Marcus?